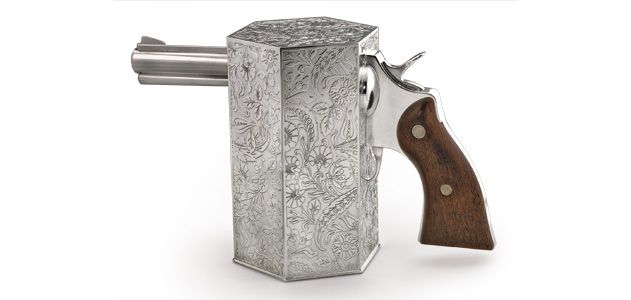 Frontier Foe
John Norton was half-Cherokee but raised in Scotland; he led Iroquois troops for the British in the War of 1812. Discover how that conflict changed America in "1812: A Nation Emerges," at the National Portrait Gallery through January 27, 2013.      
Great and Small
Though the late Jessie Cohen was best known as the "panda photographer" for her pictures of the National Zoo's signature animals, her 30 years of work as a photographer for the Zoo, from 1979 to 2009, embraced enough species to fill an ark!. Her legacy will be on display at the Zoo through December 31.
Tea Party?
Metalsmith Jeffrey Clancy belongs to a new generation of artists who are redefining American craft—his Tea for One (2002), a teapot, combines traditional metalwork with a decidedly contemporary take on forms of etiquette and power. Leave your assumptions at the door of the Renwick Gallery's "40 under 40: Craft Futures," through February 3, 2013.
Endangered
The rhinoceros has been around for 50 million years; biologists are trying to ensure it survives the next few decades. Smithsonian Libraries honors the scientists with an exhibit of books and art at the Natural History Museum through April 12, 2013.
Global Outlook
The Mughal emperors who ruled India from the 16th to the 19th centuries viewed themselves as world rulers. See how their court manuscripts and paintings drew on Persian and European traditions at "Worlds Within Worlds," at the Sackler Gallery through September 17.