Small House Museums
Details on visiting these unique institutions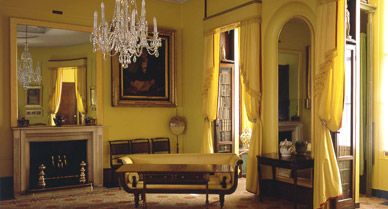 London
Sir John Soane's Museum is at 13 Lincoln's Inn Fields, not far from the Holborn tube station. It is open Tuesday-Saturday, 10 a.m. to 5 p.m.
Telephone: 011-44-20-7440 4240
Web site: www.soane.org.
The candlelit nights are on the first Tuesday of the month from 6 to 9 p.m.; queues form early, so arrive as early as possible. Entrance is free, but groups of more than six people must book in advance. Commercial groups are requested to make a $97 donation. An excellent follow-up to Soane's is a visit to the Hunterian Museum across Lincoln's Inn Fields in the Royal College of Surgeons; its halls are filled with medical specimens, giant skeletons and vintage surgical instruments. London's other great 19th-century survivors are the Wallace Collection, housed in the Hertford House, and the palatial Royal Academy of Arts, where as Professor of Architecture from 1806 to 1837, Soane gave a series of famous lectures.
Paris
The Musée Jacquemart-André is located at 158 Boulevard Haussmann, near Place Charles de Gaulle-Étoile and Metro stations: Saint-Augustin, Miromesnil, and Saint-Philippe du Roule. It is open every day from 10 a.m. to 6 p.m. The $15.50 admission fee includes a free English audioguide, which is surprisingly good. (It includes fun extras, such as chamber music to listen to in the Music Room).
Web site: www.musee-jacquemart-andre.com (in French)
Madrid
The Museo Sorolla lies only a ten-minute taxi ride from the city center, in the Chamberí district, at Paseo del General Martínez Campos 37. It is open 9.30 a.m. to 3 p.m. Tuesday-Saturday, 10 a.m. to 3 p.m. Sunday, and closed Mondays. Entrance fee: $3.70, $1.85 for seniors and students.
Telephone: 011-34-91-310-1584
Web site: museosorolla.mcu.es (in Spanish)
Website: translated to English
Prague
The Black Madonna House: The Museum of Czech Cubism is in the Old Town of Prague at Celetna Street, 34 and Ovocny 19. It is open daily except Mondays, 10 a.m. to 6 p.m. Entrance fee: $6.25.
Telephone: 011-420-222-321-459
Web site: www.ngprague.cz
The Grand Café Orient is open from 10 a.m. to 10 p.m. Tel: 011-420-224-224-240. The museum store sells an excellent fold-out map that tracks other Cubist architecture in Prague. True enthusiasts should head to the Veletrzní Palace (Dukelskych hrdinu 47), a vast museum of 19th-, 20th- and 21st-century art that includes detailed surveys of Czech trends. The most striking literary counterpart is the long-term exhibit at the Franz Kafka Museum (Hergetova Cihelna, Cihelná 2b; open daily, 10 a.m. to 6 p.m.) This is less a traditional museum than a creative interpretation of Kafka's life and work, divided into two sections, "Existential Space" and "Imaginary Topography of Prague," that feature art installations, film, music and photography. History fans should also make time to visit the Cabinet of Curiosities at the Strahov Monastery, where glass-fronted cases display a fascinating array of sea creatures; the twin libraries in the same building are among Europe's most gorgeous.