Sip 'n' Swirl, Y'all
In the heart of the Lone Star state, wineries are giving Texans reason to toast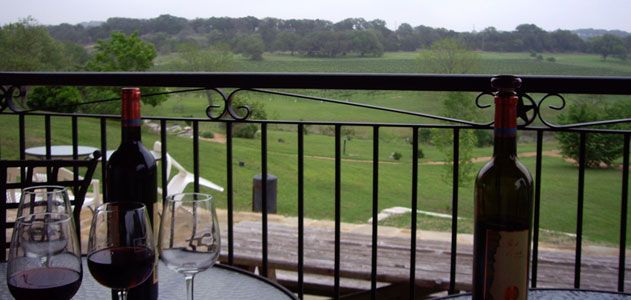 Vicky-Louise Bartier swirls the wine in her glass, takes a sip and smiles. She has a good feeling about the 2005 "Super Texan" Sangiovese blend. The new winemaker at Flat Creek Estate, Bartier is a decorated expert in her field. She holds degrees in enology and viticulture and has garnered more than 600 awards for her wines in Europe, the United States and her native Australia. She's come to the Texas Hill Country because she loves a challenge.
Hill Country covers some 15,000 square miles of picturesque rolling terrain in central Texas. Here, creeks bubble up from springs in the limestone substratum; indigo fields of blue bonnets signal March; and pink, yellow and red wildflowers usher in summer. But the small towns, settlements and ranches dotting the hills contribute Hill Country's best-known attributes: cowboys and barbecue.
Lately, Texans are finding another reason to brag about their Hill Country: the wines. Wine-making in Texas isn't new—in the 1600s Spanish missionaries started a winery in what is now El Paso—but today Texas is the country's fifth-largest wine producer, yielding some 2.5 million gallons annually. Even in rural Hill Country, where summer temperatures sizzle well above what they reach in other American wine regions, the industry is booming.
It's growing thanks in part to changes in state laws. In 2003, the state legislature enabled wineries to sell their goods even in dry counties. And in 2005, it passed a bill allocating up to $2 million annually to develop the industry, which in turn now contributes more than $200 million a year to the state's economy. "Now we're approaching $1 billion [since the industry began] in economic impact in the state," says Dacota Julson, executive director of the Texas Wine & Grape Growers Association.
Today, two dozen wineries operate in Hill Country, and they're gaining recognition with each passing year. In 2005, Flat Creek's 2003 Super Texan, prepared by Bartier's predecessor, won a prestigious double-gold ranking at the San Francisco International Wine Competition. (The "super Texan" moniker plays on the Italian "super Tuscan" movement, born when winemakers in Tuscany bucked traditional winemaking laws by blending grapes that weren't approved for their region.) The 2005 Super Texan, Bartier's first Flat Creek creation, took a bronze medal in June. "I've always gone for bright, fresh fruit out front and a long, really silky palate," she says, meaning the wine's flavor lingers smoothly on the tongue.
As the wine industry matures, growers are learning how environmental factors such as temperature and rainfall express themselves across the Hill Country, and which grapes do best here. "It's a different terroir to most," says Bartier, using the French word for "earth" that winemakers apply to a particular region's growing conditions. "Viticulturally," she says, "there are challenges that are very rare."
Ed Hellman, a professor in viticulture at Texas Tech and Texas A&M Universities, compares the Hill Country climate with that of southern Italy—"pretty hot and real humid." The moisture in the air prevents summertime temperatures from falling very far even at night, so to thrive here, grapes must do well in heat. "The trend lately," says Hellman, "has been to see how Mediterranean varieties do in our hot climate." Examples include Tempranillo, an important varietal from Spain; Sangiovese, grown most famously in Tuscany; and Viognier, a white varietal from France.
The owners of the latest winery to join the Hill Country ranks are more than happy to grow Mediterranean grapes. "Our whole M.O. is Italian varietals grown in Texas," says Damian Mandola, a native Texan who co-founded the Carrabba's national restaurant chain. Mandola's style melds the culture of Texas with the cuisine of his ancestral Sicily, so a winery in Hill Country that specializes in Italian varietals was a natural step.
In keeping with the trend, the new winery brings Old World sophistication to cowboy country. The architecture of the 18,000-square-foot facility he opened with his wife and another couple this year echoes southern Italy, but its milieu is all Texas. A few miles down a country road from Mandola Estates, the widely beloved Salt Lick barbecue joint serves up all-you-can-eat helpings at picnic tables, while country musicians strum up ambience. "My thing is to make quality, memorable wines," he says, "and to take Texas to another level."
Beth Goulart is a freelance writer who lives—and drinks wine—in Austin, Texas.