These Shooting Stars of Broadway Staged the Impossible: A Musical About 'War and Peace'
Dave Malloy and Rachel Chavkin brought the Tolstoy epic to life with Natasha, Pierre & the Great Comet of 1812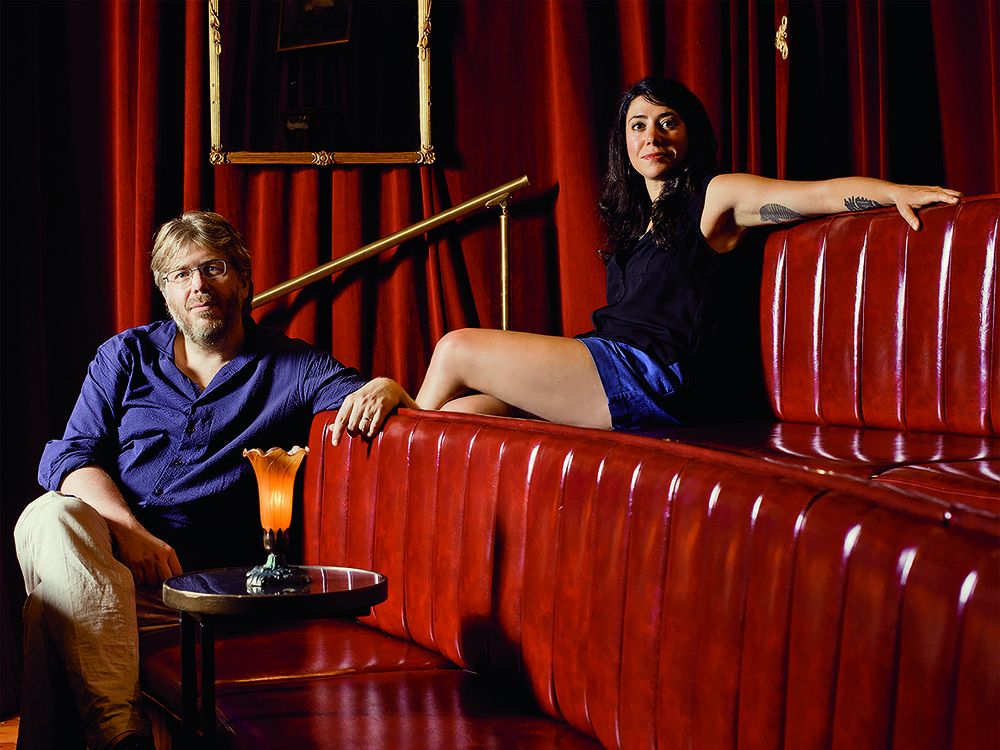 A starburst light fixture sends a golden glow into the sitting compartment that abuts one of the star dressing rooms at the Imperial Theatre in New York. This may constitute a sly design homage to the incandescent chandeliers, suggesting clusters of sparklers, that rise and fall during Natasha, Pierre & the Great Comet of 1812, the thrillingly adventurous musical by Dave Malloy that brought a vitalizing, fresh energy to musical theater during its dazzling Broadway run.
Malloy, who was only temporarily using the dressing room, had been pinch-hitting at a few performances for the pop luminary Josh Groban, who played Pierre when the show opened on Broadway. But it was Malloy who originated the role when the musical first opened Off Broadway back in 2012. His deep identification with Pierre's roiling inner angst was what inspired him to tackle the mighty challenge of making a contemporary pop opera from Leo Tolstoy's War and Peace. "The sheer size of the task was scary," he admits. "All my other works had been collaborations with lyricists and book writers. Now it was just me and Tolstoy."
The show's circuitous route to Broadway began when Malloy took Tolstoy's fat volume along with him in 2007 when he was working the kind of side job aspiring theater artists do: playing piano with a Celebrity cruise ship band for months on end. "I felt socially awkward on the ship," he recalls. "Society is not my scene." Hence his immediate and intense connection to the society-averse Pierre, unhappily married and, despite his wealth and aristocratic birth, a man who finds himself at sea, so to speak. "I had just finished reading the section the show is based on"—the 70-page sliver concentrating on the unhappy love lives of the two title characters—"and I instantly thought this would be a perfect musical for someone to write," Malloy recalls. "I even Googled it to see if someone had." (Nobody had, although of course Prokofiev wrote a fuller operatic adaptation.)
The Great Comet—a shimmering and musically audacious dive into one of world literature's masterpieces—would earn 12 Tony nominations, and win two Tonys for design. The musical was given an indispensable assist from Malloy's frequent collaborator, the director Rachel Chavkin.
Malloy's idea had lain dormant until 2010, when the Off Broadway theater company Ars Nova commissioned Malloy to create a new show. By then Malloy had become established as a breakaway talent, thanks in part to his quirky musical riff on another unusual literary source, the English epic poem Beowulf. "To my horror, when I suggested a 'War and Peace' musical, they said yes," he recalls.
The Great Comet at last made it to Broadway in November 2016. Sadly, as with many a Russian novel, the show's journey had an unhappy ending. Facing financial pressures after Groban's departure and a controversy over casting, the production shut down in September. But its aesthetic boldness remains undimmed. Like Hamilton, Fun Home and Spring Awakening before it, Great Comet pushed beyond the boundaries of standard musical theater forms.
While Malloy was never an ardent student of traditional Broadway musicals, he did recognize that his story contained an arc similar to many classic shows: "It has an 'A' couple and a 'B' couple," he says, with conflicts besetting both. Natasha and Andrey are the primary couple, but the second couple consists of, more unusually, "Pierre and his struggle with God, and to a degree his own psyche. He is fighting to find meaning in life in an aristocratic culture he does not feel at home in. He's asking, 'How do I live among these people and live the best life?'" As Malloy sees it, "Ultimately the message of the show may be that happiness is found within yourself, by doing things for other people," as Pierre will for Natasha at a crucial moment.
The Great Comet blends a variety of musical styles, from traditional Russian folk music to contemporary electropop, to bring alive a historical period that may seem fusty and distant—the stuff of seminars and study guides—collapsing time and dissolving cultural differences. "We both love a messy collision of elements," Chavkin says. "We are drawn to avant-garde works where there is a density of ideas and an interest in layers of meaning rather than single narrative story lines."
In its first incarnations, at Ars Nova, and later in a tent in Manhattan's Meatpacking District, Great Comet audiences were served dinner during the performance, vodka included. But how to recreate that feeling on Broadway? Chavkin, Malloy and set designer Mimi Lien reconfigured the Imperial Theatre's stage to provide seating for audience members on banquettes and at cabaret tables. A parquet runway sliced through the orchestra seating. Throughout the show, the characters chatted, flirted and even sat with members of the audience. The idea was to echo the expansiveness of the novel by keeping the theater resounding with life.
Underscoring the novel's myriad shifts in tone are the varieties of music. "I've always pulled from many genres," Malloy says. "When I'm listening to music I shuffle between Mahler and Jimmy Cliff and Patsy Cline." Malloy's compositions reflect the characters' identities. Pierre is given to ruminative soliloquies, sometimes accompanying himself on accordion, its pleading sound matching his own self-pity. The soulful Sonya, Natasha's dearest friend, has a solo that might almost be a Joni Mitchell tune. Natasha's songs are firmly rooted in the soaring tradition of the Broadway pop opera.
Malloy, who at times drew directly on translations of the novel, offers lyrics that can be cheeky and contemporary, as in the rousing introductory number, which acknowledges the complexity of the story and attaches descriptors to the main characters—so we can keep them straight: "Balaga is fun / Bolkonsky is crazy / Mary is plain / Dolokhov is fierce / Helene is a slut / Anatole is hot / Marya is old-school / Sonya is good / Natasha is young / And Andrey isn't here."
Today, Malloy and Chavkin are deep into a new production based on another massive literary classic. A cruise ship may not figure in it, but a big boat certainly does. Malloy and Chavkin are determined to haul to the stage Herman Melville's Moby-Dick. Malloy, who will appear in the role of Melville, envisions the production, in part, as "a meditation on race in America."
A Note to our Readers
Smithsonian magazine participates in affiliate link advertising programs. If you purchase an item through these links, we receive a commission.