Seven Snarfable Showtunes
In anticipation of Sunday's Tony Awards ceremony, here are some of Broadway's tastiest food-related songs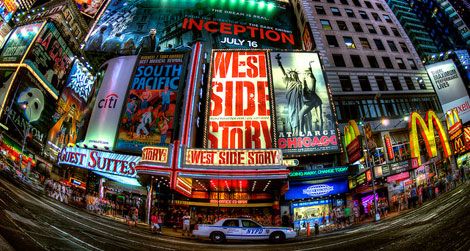 This Sunday, the American Theater Wing will honor the greatest achievements in live theater during the 2010-2011 season at the 65th annual Tony Awards ceremony. As in seasons past, the musicals going head to head for the little gold trophies are culinarily lacking. (And then there are those that are lacking in all respects.)  Members of the food industry have appeared on the stage—Louis the Baker from Sunday in the Park with George, the Baker and his Wife from Into the Woods—and musicals have even spawned their own cookbooks, as is the case of the 1994 revival of Show Boat. But to the best of my knowledge, there has yet to be a bona fide, all-out foodie musical on Broadway. Nevertheless, there are tuneful nibbles to be had here and there. Here are seven snarfable showtunes from some of Broadway's best.
"Strawberry Woman" from Porgy and Bess: There are longstanding debates as to whether George Gershwin's 1935 masterwork Porgy and Bess is best categorized as an opera or a musical, not to mention the debate over the political correctness of the material. I won't even try to tackle those issues. The piece (however you decide to pigeonhole it) is set in a South Carolina tenement and focuses on the relationship between a prostitute and a misanthropic cripple who find redemption in their love for one another. While best known for songs such as "Summertime," I'll draw your attention to a section of music in the show's second act. George Gershwin spent time in Charleston to soak up the local culture, and Porgy is infused with spiritual rhythms as well as his own trademark Tin Pan Alley-style music. He also noticed the musicality of the cries of street vendors selling their wares. During the show, the stage is graced by a woman trying to tempt customers with the prospect of fresh strawberries and men hawking honey and crabs.
"A Real Nice Clambake" from Carousel: Rodgers and Hammerstein followed up their 1943 musical Oklahoma! with this musical adaptation of Ferenc Molnar's play Lilliom. The second act of the story is about the physically and emotionally abusive relationship between carnival barker Billy Bigelow and millworker Julie Jordan—and the second act opens up with a clambake. (It ultimately ends in tragedy, but we won't think about that while there's a good spread of food to be had.) With June bustin' out all over, it's the perfect way to spend a hot summer day—and it's certainly worth singing about.
"Food Glorious Food" from Oliver!: This adaptation of Charles Dickens' tome Oliver Twist opens up in an early 19th-century workhouse full of hungry children who get nothing but bowlfuls of gruel and fantasize about the joys of finer dining—even the indigestion that comes with it. It's the kind of number that will leave you wanting more.
"The Pineapple Song" from Cabaret: Set in Weimar-era Berlin just before the Nazis' rise to power, Cabaret revolves around the seedy nightlife at the Kit Kat Klub, wannabe singer Sally Bowles and her romance with an aspiring writer. Unfortunately, when the stage show was adapted and heavily reworked for the screen, this lovely number was lost: a duet sung between a fruit vendor who shows his affection for a neighborhood landlady by way of exotic fruit.
"Suppertime" from You're a Good Man Charlie Brown: This 1967 show is a series of musical vignettes featuring good ol' Charlie Brown and his friends from Charles Schultz' comic strip Peanuts. This number has Snoopy pining for—and then celebrating—his most favorite time of day: when his supper bowl shows up by his doghouse door. "Bring out the soup dish, bring out the cup / Bring on the bacon and fill me up!"
"A Little Priest" from Sweeney Todd: Never get on the wrong side of Sweeney Todd, a vengeful barber with bloodlust. He slits the throats of those who have slighted him while his partner in crime Mrs. Lovett disposes of the bodies by turning them into meat pies—and in this song, the diabolical pair imagine what their deceased patrons taste like when ground up and baked in a crust. Offhand, murder and cannibalism don't seem to be the stuff of musical theater, and yet, Stephen Sondheim made it work.
"Feed Me" from Little Shop of Horrors: In Howard Ashman and Alan Mencken's adaptation of Roger Corman's nonmusical cult classic, a nerdy flower shop clerk accidentally discovers a strange and unusual plant that secures him fame and fortune. Pity the plant is from outer space and subsists on human blood—its appetite for which is so ably described in this song.
And who knows, with any luck, perhaps something along the lines of this improvised musical staged at a Los Angeles shopping mall will appear on Broadway in the near future.