Salad Days
Karl Bissinger's 1949 photograph of the author and a few friends at lunch in a Manhattan restaurant garden invokes the optimism of youth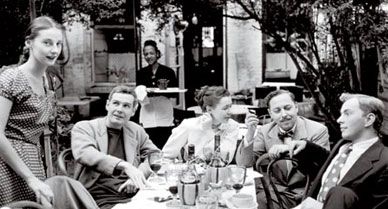 Fleur Cowles, an energetic publisher from a publishing family, decided she wanted a totally new magazine to symbolize the victorious, new America that, as of 1948, was all aglitter in all of the arts, including some where we had had little presence before World War II. Hence the creation of the legendary Flair magazine, for which Karl Bissinger was hired as a staff photographer. After some years immortalizing this flourishing world for Flair and others, he abandoned his artistic pursuits to work for the American Friends Service Committee and the War Resisters League, clipping his marvelous talents prematurely and leaving us to cherish that lost world he captured on film as much as anyone ever could.
So there we sat one day in the Manhattan garden of the Café Nicholson: Tanaquil Le Clercq of Balanchine's ballet company; Buffie Johnson, a painter; writers Donald Windham, Tennessee Williams and me. For me, Karl Bissinger's picture is literally historic, so evocative of a golden moment when we were neither at war—our usual condition, it now appears—nor in a depression. Look at the civilization we could have created!
I don't know what effect the picture has on those who now look at it, but I think it perfectly evokes an optimistic time in our history that we are not apt to see again soon. And it reminds us that, seemingly out of nowhere, came a great ballerina; one of the first well-known women painters; a good novelist, Mr. Windham; and our greatest playwright, Tennessee Williams. This was pretty good for a summer's day in the garden of a New York City brownstone.
Since that day in 1949, there have been, obviously, other interesting figures added to the scene, but none has the power of what I like to think of as the cultural genesis of the United States as depicted by Karl Bissinger. For instance, later figures did not have the gift of his presence and his art. We were not from the planet Mercury, we were homegrown, and the home was a great success for many of us, and we continued to produce in the world of the arts ever more interesting works until our leaders decided it was time for us to go to war again; this time, Korea would be the lucky venue. And off to war we went, and we have not ceased to be fighting wars, many of them quite illegal, ever since. So study this picture, and see what optimistic people looked like as they began what they thought would be lifelong careers, and in some cases indeed lasted as we lost more and more of a country that is no country without Karl Bissinger to make art of it. Where is Johnny Nicholson's garden today?
Gore Vidal, who published his first novel, Williwaw, in 1946, lives in Los Angeles.