In the old Route 66 town of Holbrook, Arizona, close to the Navajo reservation and far from anywhere else, a 41-year-old man named Atsuo Sakurai is making the best sake produced outside Japan. When, by happenstance, I heard about this extraordinary achievement some months ago from a bartender in Los Angeles, I felt compelled to find out how it happened.
The road to Holbrook, population 5,000, is long and empty, and passed through stark red desert. The sky was enormous, the horizons flung out, and the light exuded a polished gleaming quality. Wind had carved rocks into hoodoos and goblins. When I got out of the car, the air seemed aggressively arid, as if it was trying to raid the moisture from my body and win the war against plants at the same time. It's hard to imagine an environment more different from the wet, green Japanese islands where the art of fermenting rice into sake has been perfected over 2,400 years.
Did Sakurai choose Holbrook, I wondered, or wash up there on the tides of fate? Is he viewed as an eccentric? What do the locals make of him, and vice versa? Where does he source his rice? How far does his finished product have to travel before it reaches the nearest sake connoisseur? How does the desert climate affect the making and flavor of the sake? I had never tasted expensive high-grade sake before, which prompted another question. How delicious can a drink made from fermented rice and rice mold really be?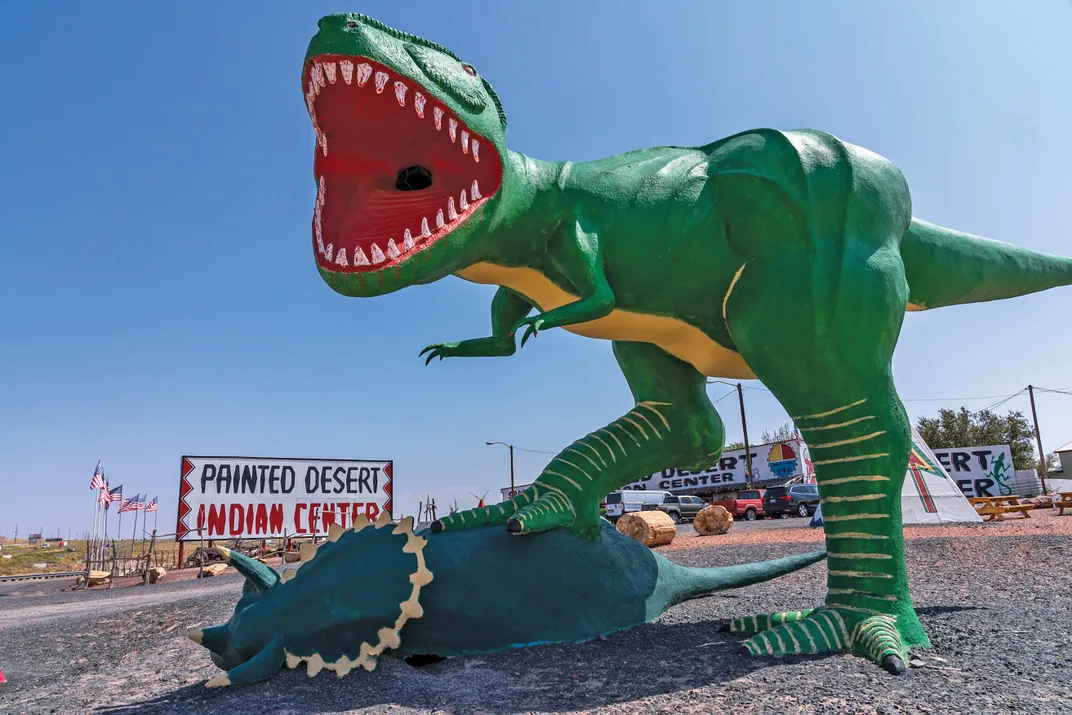 Arriving at last in Holbrook, I was struck by the prevalence of giant roadside dinosaur sculptures, rock shops selling petrified-wood souvenirs, and abandoned buildings. The wind whipped up miniature tornadoes of dust along the railroad tracks. There was a general air of faded Americana. I drove down Bucket of Blood Street, which commemorates a notorious mass killing in a local saloon in 1886. I took a snapshot of a charming landmark, a motel where guests still check into a compound of 1950s concrete wigwams. Early for my appointment with Sakurai, I was pleased to find a bottle of his Arizona Sake at a drive-through liquor store with a vintage neon sign. "Make sure you keep it cold or it'll spoil," the woman at the window advised as she swiped my credit card for $51.15. "And tell Atsuo hey. He's a real sweet guy and we're proud of him for putting Holbrook on the map."
I looked at the bottle and the clear liquid inside. The label described it as junmai ginjo sake, a raw, unpasteurized, unfiltered style made only from rice, water, yeast and the grain fungus known as koji. I was eager to sample it, although I doubted it would taste as good as a $51 bottle of wine.
The precise location of the "sake house," as Sakurai described it by email, eluded the navigation app in my smartphone. But after driving up and down Navajo Boulevard a few times, I spotted a tiny handmade sign on a big empty lot between the Dollar General and the Super 8 motel. It said "AZ Sake Private." A hundred yards behind the sign, surrounded by bare dirt, stood a small white building. It looked newly constructed and had no windows.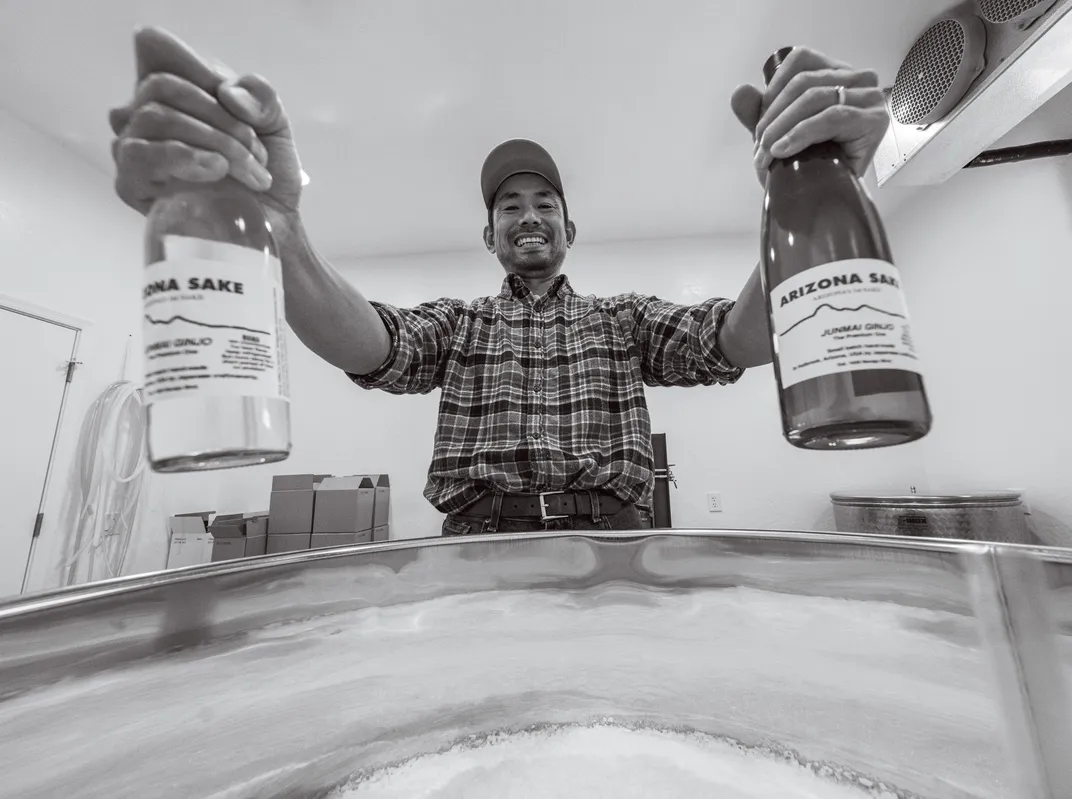 Atsuo Sakurai, 41 years old, greeted me at the front door wearing a tweed sport coat, jeans and a Route 66 baseball cap. He didn't strike me as an eccentric, although he agreed that Holbrook, Arizona, was a very odd place for a Japanese sake master to ply his trade. There were a few Japanese expats married to Americans in northeast Arizona, he said, but no Japanese community. As far as he knew, he was the only certified first-grade sake brewer in the United States, and he felt very fortunate to live in tiny Holbrook, because this is where his American dream came true.
"In Japan, I cannot be free," he said in slow, careful English. "I cannot make my own sake, because there are too many government regulations. Here in Arizona, I am my own boss and this is why I came to America. For freedom and independence. My friends in Holbrook say I am a samurai in a cowboy hat, or that I wear a cowboy hat like a samurai helmet. I love this."
---
As a teenager in the city of Yokohama—a part of Greater Tokyo, the most populous metropolitan area on earth with more than 37 million inhabitants—Sakurai had no concept of Arizona, no dreams of coming to America, and no interest in sake. He wanted to fight climate change and plastic pollutants as an environmental activist. Then he went away to college at Tohoku University in northern Japan, where he studied agricultural sciences and discovered the allure of alcohol.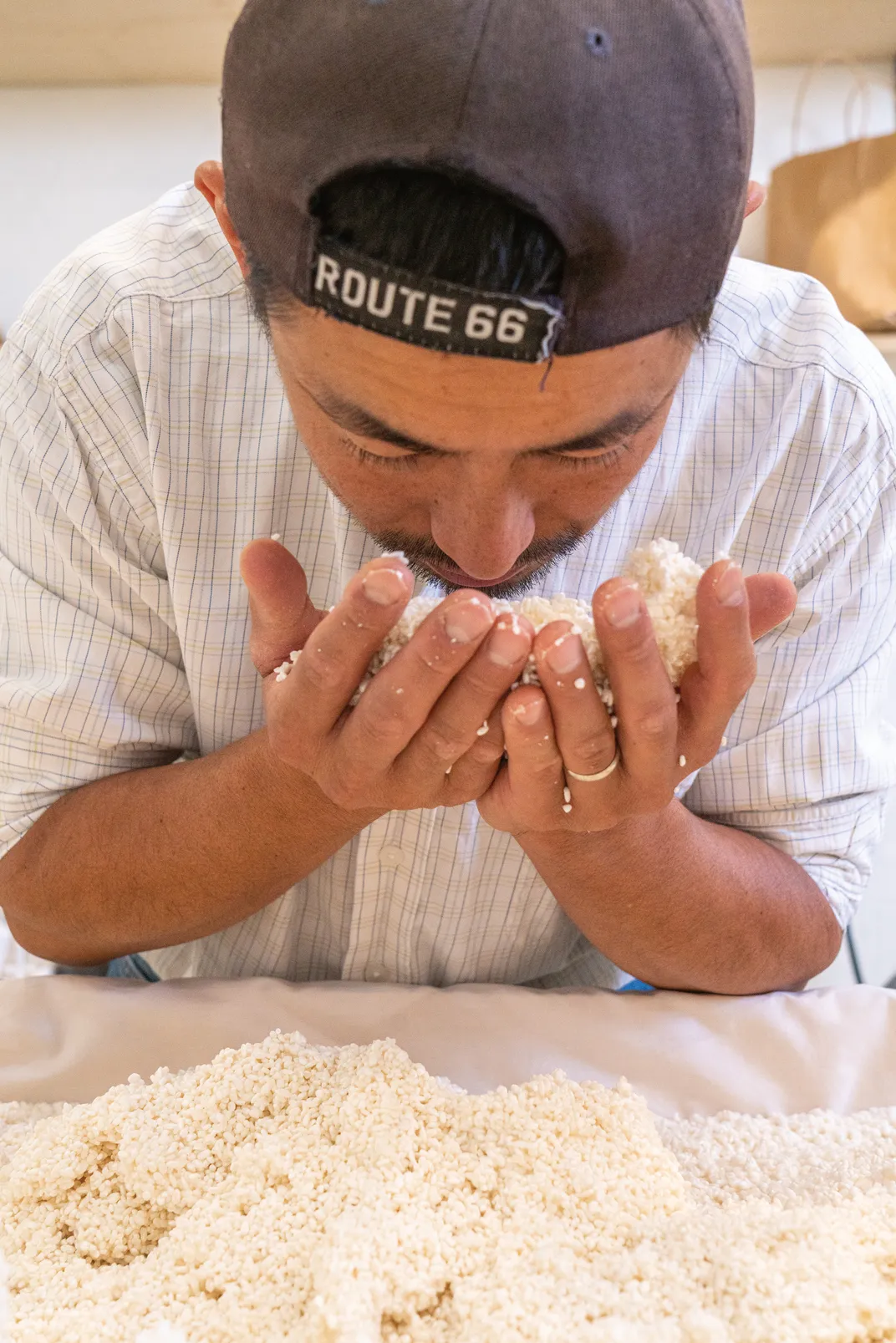 "I had a great time with sake and liquor and the guys," he told me. "You probably think we were drinking like crazy. Sometimes yes, but mostly we were drinking very gently. Graduates would take us to sophisticated bars and pubs. We were fortunate to experience good sake. Eventually I got interested in how to make it."
He took a course on the history and production of sake at the university, taught by the owner of a famous sake company. At the end of the term, Sakurai bested the other students in a blind tasting contest to identify commercial sakes—the first of his many awards. After graduation, in the spring of 2005, he landed a job in a sake factory in the northern city of Akita and learned the trade from the bottom up. "I started out cleaning floors, tools, walls, windows, tanks, and maintaining equipment and machines. Those jobs are boring, but I knew to be very, very important. Contamination can be a big problem."
The sake master at the factory, Tadashi Ito, recognized Sakurai's diligence and curiosity and began mentoring him. "It is difficult to teach sake-making by oral communication," Sakurai recalled. "But Ito let me work with him and I absorbed his philosophy. On days off, he took me to forests, mountains, lakes and rivers, and we collected wild edible plants. To make good sake, it is important to love nature as it is. He was patient—like an oak tree covered in piles of snow—and his manufacturing was careful, thoughtful, never cutting corners."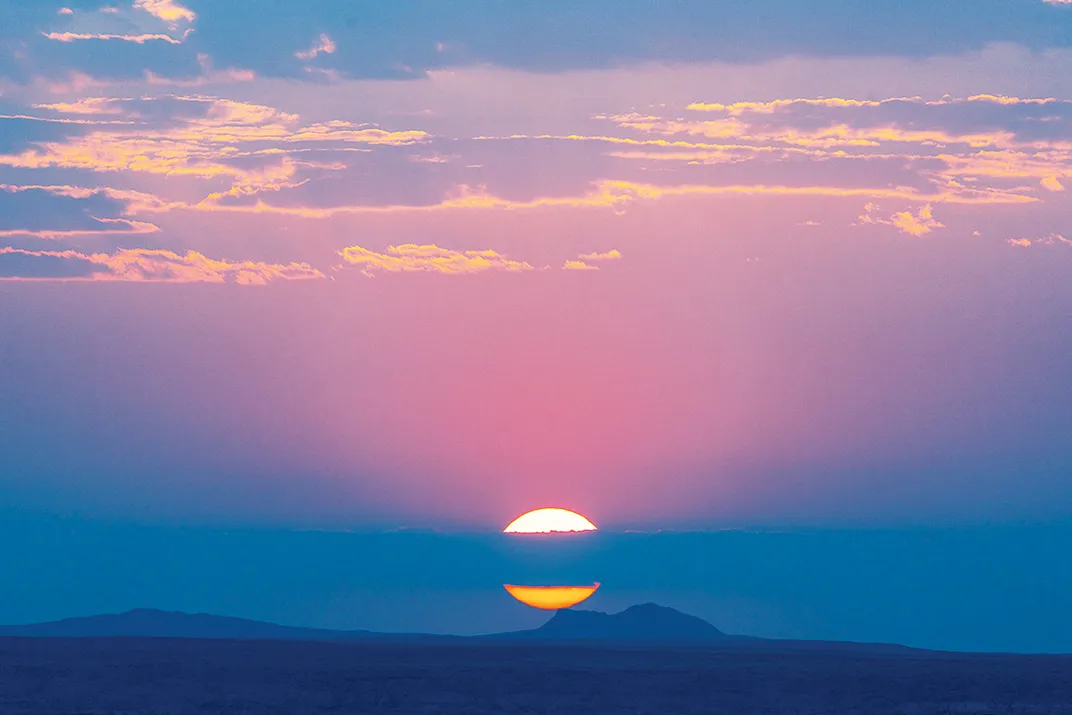 After three years Sakurai rose to a fairly senior position and started giving 30-minute tours of the facility to visitors, in both Japanese and English. One day in 2008, a 25-year-old Navajo American woman, living in Japan and teaching English, arrived at the factory for a tour. Her name was Heather Basinger and her hometown was Holbrook, Arizona.
"I thought she was honest, I don't know what she thought," was all that Sakurai had to say about their first encounter. When I reached her on the phone, Basinger was more forthcoming. "It was a feeling right off the bat, I just knew," she said. "My sister was with me that day and she noticed it too. It was love at first sight."
Sakurai and Basinger moved to Niigata on the west coast of Japan's main island, where they married and had two of their three children. Basinger's mother and aunt flew over from Arizona to help with the babies and meet Sakurai's relatives. Both families were supportive of the unusual match.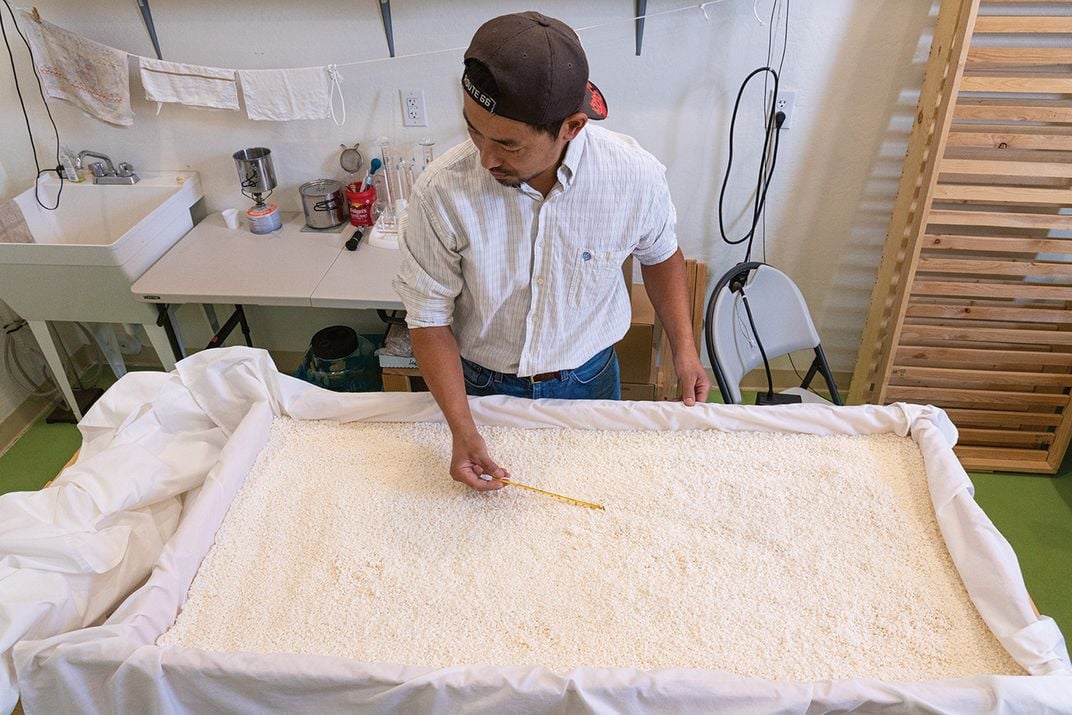 The Niigata region is well-known for its sake, and Sakurai joined a local company. "I was still learning sake with trial and error," he said. "There is an annual competition in Niigata and the first year my sake was rated 120th among 150 others. But I made progress every year until I won third place. It was a big accomplishment, but I had already made a resolution to come to the States to seek independence."
From the very outset of his career, Sakurai's ambition was to run his own sake company. For this reason, he had taught himself how to manage a boiler system, drive a forklift, understand fuel systems, treat wastewater, do his own accounting, and perform any skills he would need as an independent producer. In Niigata, having completed the required seven years of training, he passed the exam that certified him as a first-grade brewer. But he was unable to get a government license to make sake. He still gets angry and frustrated when he talks about the bureaucratic impediments.
"There is no opportunity to be an entrepreneur," he declares. "The government says there are enough sake companies, so they won't give any new licenses. If you have a million dollars, you can purchase an existing sake business, but I didn't have a million dollars. In Japan, I would always have to work for an established company, and obey the strict government rules about how sake must be made. No innovations are allowed."
In 2014, the Sakurai family left Japan and made the long journey to Holbrook. Basinger was glad to come home, but Sakurai was shocked by the smallness and remoteness of the town, the lack of business infrastructure and the climate. It seemed impossible to make sake in a desert, so he moved the family to damp coastal Oregon, near Portland, where the climate is similar to Japan's.
"The plan was simple," he explained. "Find a house to live in and start making sake there. But we needed permits from the neighborhood and the City Council, and we had no connections for financing, or anything else. They weren't going to give a permit for a liquor business to some alien guy from somewhere else."
So they returned to Holbrook. Basinger got a job teaching at a local school and Sakurai grew despondent. He was unemployed, with no business opportunities, in a place that seemed completely unsuitable for making sake. One summer day in 2016, he was watching his children play in a local park, brooding about his problems, increasingly sure that he would have to try again in the Pacific Northwest, when a local man sat down next to him.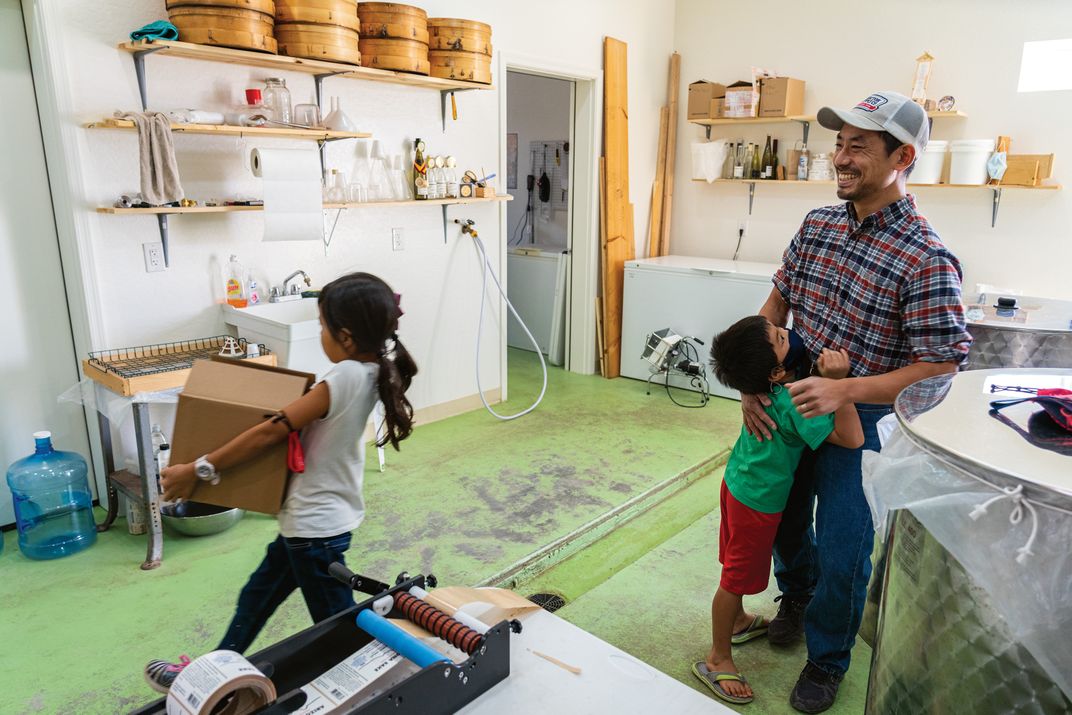 His companion was easy to talk to, a good listener. Sakurai explained that he wanted to start a sake business, but needed somewhere with good water and a climate similar to Japan. The man said, "Why not do your sake here? We have a big aquifer and the water is good. Maybe that's all you need."
It was a moment of revelation: "His words blew away the fog and let in the light. If he was not there in the park that day, I'm not sure I would still be in Arizona." Sakurai began filing license applications and modifying his garage into a very small and rudimentary production facility. He had no water lines in the space, and no room to install large equipment, but he was able to run electricity to the garage so that he could control the room temperature.
The Holbrook City Council was supportive when he presented his proposal. He was granted a permit in January 2017. Tasting his first 50-gallon batch, made with Calrose rice from California and Holbrook city water, Sakurai was delighted with it. Purity is the goal of a sake maker, and in humid Japan this means constant vigilance against unwanted molds, yeasts, germs and other living contaminants. In the parched air of northern Arizona, these age-old problems evaporated and, he discovered, it was easy to brew fresh, clean, pure sake.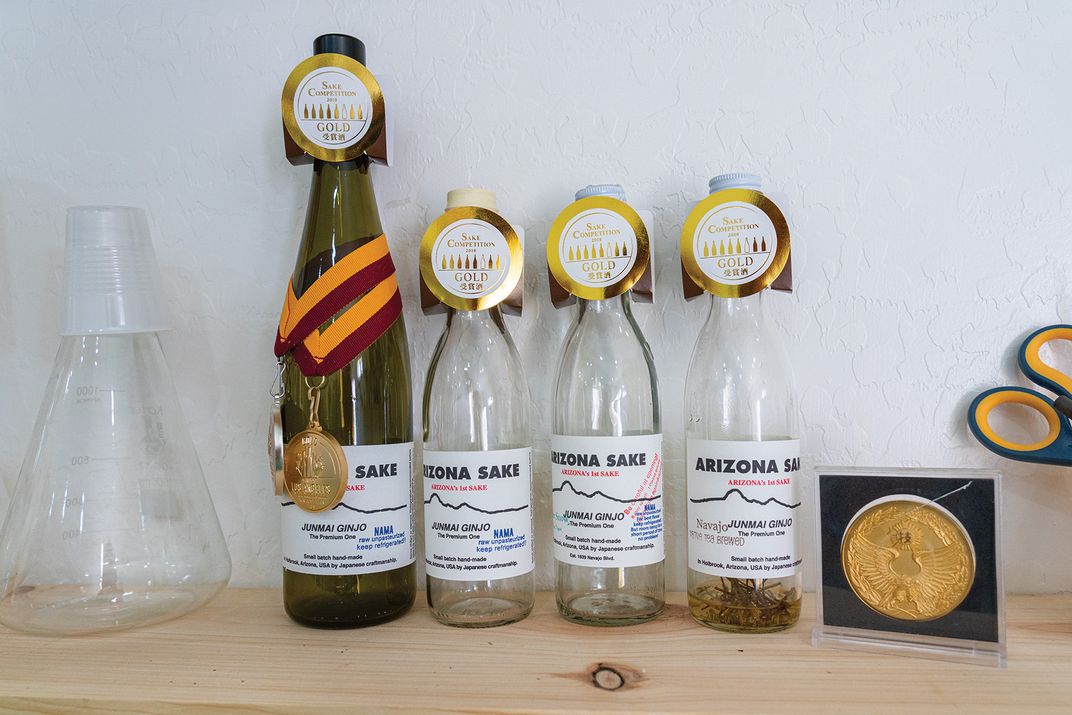 He did everything himself, including distribution. He would load the bottles into his pickup truck and make the long drive to Phoenix and Tucson, where chefs, sommeliers and boutique liquor store owners were dazzled by his sake once they tasted it. The business took off swiftly, and in June 2018, only 18 months after completing his first batch, his Junmai Ginjo Arizona Sake won a gold medal at the Tokyo Sake Competition, as the best internationally produced sake.
This was a personal triumph for Sakurai, who flew to Tokyo for the awards ceremony. But the best thing about the coveted recognition, he says, is how happy it made people in Holbrook and Arizona. Gov. Doug Ducey sent his congratulations. The following year, after Sakurai garnered a gold medal for best sake at the Los Angeles International Wine Competition, he decided it was time for the Arizona Sake Company to move out of his garage. Demand was skyrocketing. His sake was being served at the Japanese Consulate in Los Angeles, and sake connoisseurs were making the pilgrimage to Holbrook to meet him and buy the product at its source.
He had the small white bunker built on Navajo Boulevard, ordered larger tanks and better equipment, and hired a part-time employee, Steve Peck, who has a bushy beard and describes himself as a hillbilly. Sakurai increased production, but continued to do the distribution himself, simply because he enjoys it.
"The most important thing about my sake is to make people happy," he said. "People in Holbrook don't drink sake, but they are happy for my success, and always encourage me. I have wonderful friends all over Arizona, mostly in the food industry, because of my sake. Nobuo Fukuda is a Japanese chef in Phoenix with a James Beard Award. He has recommended my sake to all his chef friends, and I like bringing it to them, having conversations, maybe having lunch."
---
Bamboo baskets, for steaming rice, are stacked on a shelf, and massive steel tanks and pressing machines crowded the one-room building. When I asked Sakurai how he makes the sake, he became a little guarded and I gathered there were secrets he couldn't share. But he explained the basic process. He uses Calrose rice, a medium-grain variety developed in California, milled down, or "polished," to 50 percent its normal size. The outer portion of a rice grain contains more proteins and fats than the core, which is mainly starch and makes the best sake. The polished grains are washed, soaked and steamed. Then he makes the koji by sprinkling mold spores on the steamed rice. Next comes fermentation with yeast, and pressing, to separate the liquid sake from the rice solids.
In a small paper cup, he gave me a sample straight from the pressing machine. He describes his junmai ginjo as "fresh, fruity, full of passion and love." To me, it tasted like sunshine, lemons and pears. Later that day, after saying goodbye to Sakurai, I opened the bottle from the drive-through liquor store. I detected flavors of apple, apricot, banana and walnut. It seemed extraordinary that a bland starchy grain could produce such a range of rich, full-bodied flavors. And because it's alive and unpasteurized, the sake kept changing over time and presenting different suites of flavors and aromas.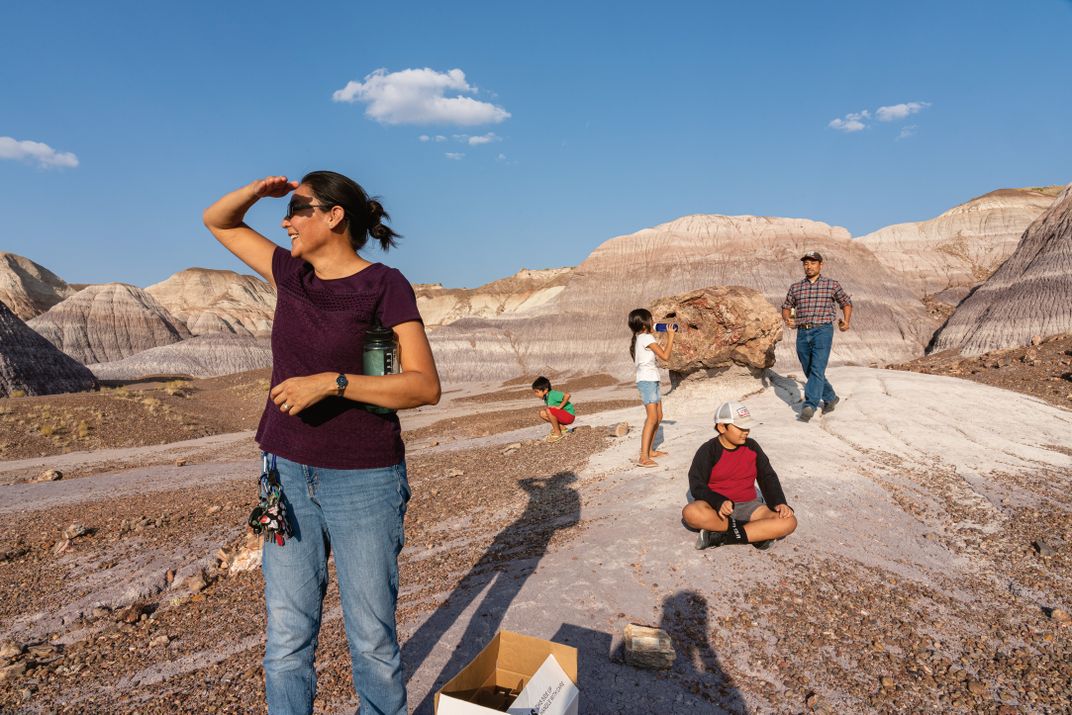 When I emailed my compliments, Sakurai announced his latest project. One of the things he loves about Arizona is spending time with his Navajo in-laws, going out to the reservation, eating mutton and gathering edible plants. He particularly enjoys drinking Navajo tea, a hot aromatic beverage made from the greenthread plant, a kind of wild aster. Now he was launching a new product, Navajo Tea Sake. He puts the sake and the plant in a bottle, and then heats it up. This pasteurizes the sake and makes tea at the same time.
"Heather is a co-owner of the company, so already she's the first Native American in the sake business," he wrote. "Now her culture and mine are blended together in a bottle. Drink it slowly and enjoy a lot!"