Russian Idol
Moscow-born Regina Spektor draws on classical music roots to create and perform pop songs of rare originality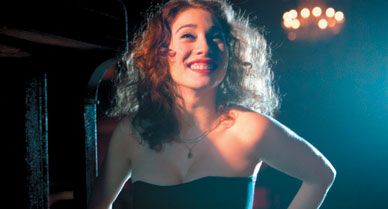 Rock concerts aren't generally known for their thought-provoking tranquillity. But something remarkable happened at this year's Coachella Valley Music and Arts Festival, a weekend concert to which some 50,000 fans flock annually despite 100-degree temperatures. A slight, 27-year-old woman armed only with a keyboard parked herself on the event's gigantic main stage and began to sing in a soft, supple soprano. And rather than continue chattering or make a break for the beer garden, thousands stood stock-still under the blazing California sun, transfixed by the piano pop of Regina Spektor.
Spektor is an arresting artist on any stage. An unpredictable performer, she might bang a drumstick on a chair with one hand while playing the piano and coaxing a litany of gulps and hiccups from her delicate throat. People who write about her tend to lean on adjectives like kooky, funky and uninhibited. "If Kurt Weill and Björk had a love child, she might sound like Regina Spektor," critic David Hiltbrand wrote in the Philadelphia Inquirer. When Spektor's first major-label album, Soviet Kitsch, made Rolling Stone's "Hot List" in 2005, the editors wrote that "Spektor sings quirky, bittersweet tales of spoiled rich boys and rotting love. And she's cute."
She is also elusive, equal parts charmer and chameleon, and her songs often amount to character studies of widely different personalities—a first love, a teenager flirting with suicide, a mother battling cancer. Spektor's best lyrics could stand alone as poetry, were they not paired with springy, graceful arrangements that deftly incorporate folk, blues, pop and classical elements.
Back in the USSR, where Spektor lived until she was 9, her mother taught music in a Moscow conservatory and her father, a photographer, surreptitiously traded music tapes from the West. So Spektor was able to soak up the Moody Blues along with Mozart. When the family moved to the Bronx in 1989 to escape religious persecution, they had to leave their piano behind. (It still upsets Spektor to think about it.) So she practiced by drumming her fingers on furniture until she found, in a synagogue basement, a piano she could use. The only English she knew was the words to Beatles tunes. "I didn't know what anything meant, so I sang phonetically," she recalls.
But it was her years of rigorous classical piano training and exposure to the arts that Spektor credits with making her who she is today. "I think I'm very lucky that I grew up in a world where ballets and operas and art-house movies and poetry weren't looked at as these daunting, elitist things," she says. It saddens her that her adopted country takes a different view.
After graduation from the State University of New York at Purchase in 2001, she headed for Luck, Wisconsin, and a job catching and breeding butterflies. ("Goes to show you what you do with a music degree!" she jokes.) But a run-in with a gun-toting bartender sent her barreling back to the big city, where she began to play regularly on the East Village anti-folk circuit.
In 2003, she went on tour with New York retro-rock band the Strokes. The exposure helped launch her album, Soviet Kitsch, which she had recorded in 2002, and both fans and music critics—from the New York Times to People—took notice. "I think in her songwriting you feel some kind of weight in the music, some kind of substance," says John Schaefer, host of the WNYC, New York City radio program "Soundcheck." "There's a mind, there's a composer behind these songs who understands what the right kind of key modulation will do, what the right unexpected chord in the sequence will do."
Surprise is another key element in Spektor's work. For her 2006 album, Begin to Hope, she recruited two street musicians she had encountered during walks through Central Park; the CD, which defies tried-and-true pop conventions and features Spektor in a variety of roles and voices, sold 400,000 copies and landed her on the music network VH1 and the soundtracks of such TV programs as Grey's Anatomy, CSI: New York and Veronica Mars.
Slipping into different personalities and musical styles lets Spektor toy with the boundaries between truth and fiction, high and low culture, a foreigner's perspective and an American outlook. It's a virtuosity that attracts both mature listeners and legions of teen fans. And yet Spektor manages always to keep something for herself and leaves her audience asking a seductive question: Just who is this curly-haired, cherry-red-lipsticked, bilingual songstress?
Caryn Ganz, a pop music critic and deputy editor of RollingStone.com, lives in New York City.