Roller Derby's Sisterhood
Ithaca's SufferJets may have ironic skate names and elaborate uniforms, but on the track, it's all business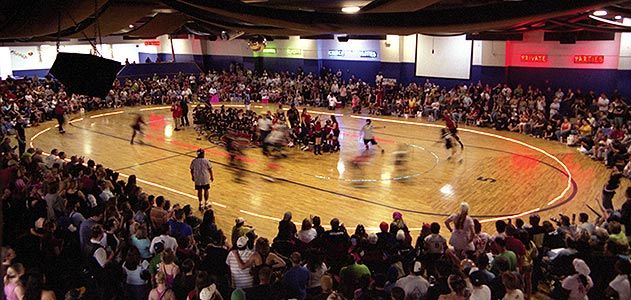 Sitting on the floor of the ice-turned-roller-derby rink in Ithaca, New York, on a sweltering August night, I fanned myself with a cardboard fan on a stick. The young man beside me with a modified mohawk and earlobe plugs thanked me for pushing some hot air his way. "Hot night," he said, then added, "It's a bit like being in a crock pot."
Before us, fluorescent tape marked the track on which Ithaca's SufferJets and the Wilmington Ruff Rollers from Wilmington, Delaware, skated in a pitched battle. At that moment, the SufferJets were skating two players down because jammer Sarabellum and blocker S---- 'N Gigglz sat in the penalty box (an area adjacent to the track with metal folding chairs surrounded by shower curtains). Wilmington's lead jammer Leslie B. Gangsta was deftly skating through the pack, racking up points.
The crowd roars as head referee Elvis Refley sends Wilmington jammer Lil Red Riot Hood to the box. The skaters fly by in a pack on the small oval track, and Sarabellum tries to muscle her way through the wall of Wilmington blockers. Sarabellum grabs the back of teammate Motley Crouton's uniform who then whips her forward around the wall. The crowd goes wild, spurred on by announcer La Cucaracha and three male cheerleaders in red coveralls.
Born in America during the 1930s, roller derby's popularity rises and falls with periodic regularity. The sport is currently resurgent, particularly among women, in part due to the 2007 film Hell on Wheels, which documents all-women leagues in Austin, Texas. Today hundreds of leagues exist across the United States and Canada, though fewer than 80 are sanctioned by the Women's Flat Track Derby Association, a nonprofit body that sets amateur league rules and competition guidelines.
Witty, sometimes bawdy, skater names and costuming lend an air of performance to the sport. Although the uniforms can be pure theater, with ripped fishnet stockings covering tattooed legs and ironic skate names emblazoned across the backs of tight t-shirts, the action on the track is all business.
Two teams skate against each other in a roller derby bout, which has two thirty-minute periods that are further divided up into two-minute jams. At the beginning of each jam, four skaters from each team line up to create the pack – these are the blockers – the lead blockers are called pivots (they have a helmet with a stripe). The two jammers (they have stars on their helmets) line up 30 feet behind the blockers.
Teams amass points when the jammer passes the other team's blockers as they circle counterclockwise on the track during a jam. A jammer will use a move called a "whip"—she'll grab the arm of a blocker or the back of her shirt—to propel herself forward by taking advantage of another skater's momentum.
SufferJet team founders Sarah Davidson (Sarabellum) and Kitty Gifford (Chairman Meow) fell in love with roller derby at first sight. "It took me an extra year to get my doctorate because I was spending so much time on roller derby stuff," said Sarabellum, but she finally finished and is now a research associate at Cornell University.
The Ithaca team's name pays allegiance to local area ties to the women's suffrage movement—nearby Seneca Falls hosted the 1848 Woman's Rights Convention. "I think women skate to not only get out of the house but to have something different going on in their lives," says Sarabellum. "It's much like being in a rock band. They want to have a different identity. They want to perform. And it happens to be a fantastic form of exercise that's also fun."
Skating fosters a kind of athletic sisterhood that's tough to find once you leave high school or college. And anyone who's in reasonably good shape can get out there and participate. Paleontologist Trisha Smercak, the team's powerhouse blocker known as Mass Extinction, moved to Ithaca for a job and started skating because the area didn't have a women's rugby team.
The SufferJets range in age from 20 to almost 50 and are graduate students, massage therapists, scientists, writers and acupuncturists. They practice several times a week, learning how to skate, block, and most importantly, how to fall. Injuries can be severe--team members have already suffered one broken ankle, a torn knee, a broken finger, and many, many bruises since the SufferJets started playing in 2008. Each skater has to have personal health insurance to skate on the team.
"We teach them how to fall small," says Gifford. "If you try to stop your fall with your hands, you run the risk of breaking something, not to mention getting your fingers rolled over by other skaters." Skaters have to wear quad roller skates, a helmet, mouth guard, wrist guard, and elbow and kneepads. Additionally, the SufferJets wear padded shorts under their uniform, a short gray polyester dress.
Ithaca loves the SufferJets, and the team supports the local community. On game nights, the little ice rink is packed with 800 to 1,000 spectators, and at $10 a head suggested donation, the SufferJets are well in the black. They give ten percent of the take at the door to a local charity and are visible at most local events.
The SufferJets lost to Wilmington 106 – 146 on that steamy August night, and when I give my condolences to Sarabellum, she takes one look at my very athletic 16-year-old daughter and says, "How old is she?" When I tell her, she says, "In two years, I want her."