Return of a Giant
A fully restored Vulcan—Birmingham, Alabama's 100-year-old statue— resumes it's rightful place in town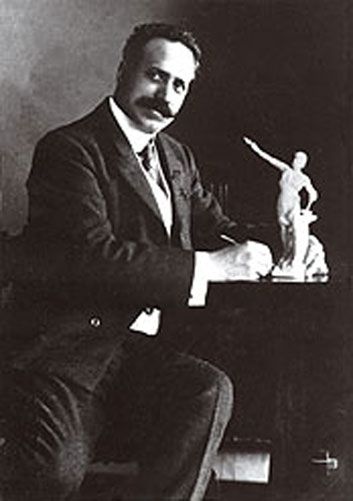 It sounds like the plot of a three-hankie biopic: a ruggedly handsome fellow comes out of nowhere, becomes the top draw at a world's fair, then goes to pieces and is reduced to working as a carnival huckster. In a stunning comeback, he stars in a one-man show, until a lethal ailment threatens his very existence and his fans rally to save him.
That's the story of Vulcan, the iconic Iron Man of Birmingham, Alabama. Though little known outside the region, the 55-foot-tall figure is the largest cast-iron statue in the world and the largest statue of any kind in the United States after the Statue of Liberty. Now, after a few years in rehab, the big guy is back on top, just in time to celebrate his 100th birthday. A gala is planned for June, but Vulcan's refurbished viewing platform recently opened to the public.
The $14.5 million restoration of the statue and surrounding VulcanPark was paid for by contributions large and small, including one from Save Outdoor Sculpture, a program cosponsored by the Smithsonian Institution.
Founded in 1871, Birmingham grew rapidly into a major iron-making center. To trumpet this fact at the 1904 St. Louis World's Fair, local business leaders decided on a surefire attraction—a colossal iron statue of Vulcan, Roman god of the forge. In its marriage of art and commerce, its build-it-and-they'll-come confidence, the project was a classic bit of American boosterism. Oversized and conspicuous, the figure would be a bravura feat for both the city and Giuseppe Moretti, the Italian-born sculptor who accepted the commission in November 1903—just five months before the fair's opening.
Moretti, a master of Beaux-Arts technique, had already produced a statue of Cornelius Vanderbilt (now at VanderbiltUniversity) and bronze statuary for Pittsburgh parks. The metal-mad Medicis of Birmingham's Commercial Club quickly approved his two-foot-tall clay model, the basis for an eight-foot-tall working one that followed. It depicted Vulcan, bearded and brawny—wearing only gladiator sandals and a blacksmith's leather apron—examining a spear point held in one hand and resting a hammer in his other hand on a tree stump. Except for minor changes (the stump became an anvil), this model closely resembled the final version.
Moretti handled the daunting scale of the full-sized figure by producing half of it at a time, in an unfinished church in Passaic, New Jersey. There he began by sculpting clay applied to a wooden armature. He covered this with burlap-reinforced plaster, which was then used to mold plaster casts. (A photograph splashed across newspapers in New York and Chicago showed a carriage passing between the towering legs of Vulcan's lower half.) The plaster giant was shipped to Birmingham in pieces, from which brick-and-loam molds were formed to make the cast-iron Vulcan. The statue was cast in 15 parts and bolted together internally. Making such large, complicated molds taxed the skills of the city's best foundrymen, who toiled 60 hours a week for four months.
In a fundraising campaign that tried every gambit from benefit baseball games to selling statuettes, captains of industry anted up as did the United Mine Workers. Perhaps the rank and file saw Vulcan as a fellow laborer, steeped in the travails of ore and forge. Even Moretti, known for his baritone voice, sang a solo to help the cause.
When the St. Louis fair opened on April 30, 1904, Vulcan was there, if only up to his knees, as work at the foundry continued at a feverish pace. But the Brobdingnagian calves and Ben-Hur sandals alone inspired awe. No doubt these fragments evoked the crumbled colossi of the ancient world. In less than a month, they were joined by the rest of the statue. It dwarfed everything else in the Palace of Mines and Metallurgy. The upraised spear point almost touched the ceiling. During the fair's seven-month run, thousands of visitors came to gape at Vulcan. The statue won a grand prize, while Moretti and the foundry received medals. San Francisco made a bid for Vulcan, but the Commercial Club was determined to bring the Iron Man home.
Once back in Birmingham, however, Vulcan went from icon to outcast. Many civic boosters wanted to place him in the city's main square, now called LinnPark. Today framed by government buildings and office towers, in 1906 the park was surrounded by expensive homes. And the upper-class ladies of those houses were not about to welcome a bare-bottom Roman giant into their midst. They deemed Vulcan ugly and ill-proportioned. He was no Adonis, certainly: Moretti had scaled up the head and upper body, which makes the statue appear more realistic when viewed from below. In a Birmingham Age-Herald story, one woman spoke for many: "Vulcan belongs on [the nearby 1,000-foot] RedMountain. It was never intended to be in a park with smaller monuments."
In fact, at the time, Vulcan was on RedMountain—dismembered and scattered on the ground after being dumped there because of unpaid freight fees. He would ultimately find an upright home on the mountain years later, but not before more tribulations.
After months of debate, the Alabama State Fairgrounds offered Vulcan a perch. For three decades the statue loomed over the fairground racetrack. Parents would tell their children, "If you get lost, meet me at Vulcan's feet." But in this incarnation, his upper extremities had been hastily and improperly reassembled, and he no longer held the spear point and hammer. Worse, fair managers turned him into a billboard. An ice-cream company put a plaster cone in his left hand. He promoted Coca-Cola and Heinz 57 pickles. As workers took to the bread lines in the early 1930s, Vulcan also hit the skids, restyled with black eyebrows, rouged cheeks and a gigantic pair of overalls from a local manufacturer.
The New Deal helped bail out Birmingham and its fallen god. With the help of WPA funds, the statue became the centerpiece of an inviting new park at the crest of RedMountain. Placed on a stone-clad pedestal 12 stories high, overlooking the main north-south highway, he could be seen for miles. "Vulcan had a magnetic attraction for people," says Marjorie White, director of the Birmingham Historical Society. They came to enjoy the vistas from the pedestal's viewing platform, to picnic and fly kites and propose marriage.
But in 1946 local Jaycees turned him into a traffic safety beacon. His spear point was wrapped in a neon-lit cone; normally green, it glowed red for 24 hours after every local traffic fatality. An unfortunate "modernization" completed in 1971 produced a bulky, marble-clad pedestal and visitors' platform that curtailed close-up views of the statue.
By the '90s the once-buff behemoth was rapidly succumbing to cracks and corrosion. In 1999 the Vulcan Park Foundation was formed to restore him to his 1904 prime (though half of those polled wanted to keep his traffic beacon role). Workers repaired and recast damaged parts and, using historical photographs, re-created the missing spear point and hammer. Ten-acreVulcanPark was brought back to its rustic, WPA-era origins. Today, the muscular figure stands once again on a slender, 124-foot stone pedestal, above a new visitors center that illuminates the history of Birmingham and its ferrous mascot. Vulcan was rotated slightly to put his anvil closer to its original position. But his bare derrière still faces a suburb to the south—a feature known locally as "Moon over Homewood."
Once Vulcan surveyed a landscape of fiery mills and soot-stained air; today this uniquely American alloy of industry and artistry, capital and labor, carnival hype and pure civic pride watches over a postindustrial center of banking and medicine. Newly resplendent, he's ready for his next hundred years.