Re-envisioning the Statue of Liberty
Sculptor Danh Vo deconstructs the American icon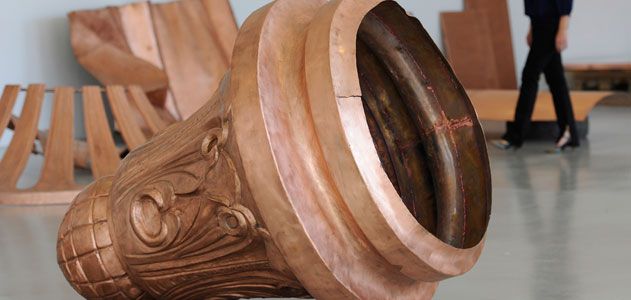 Dislocation has been a recurrent theme for the Switzerland-based artist Danh Vo, who in 1979, at age 4, escaped with his family by boat from Vietnam and was eventually granted asylum in Denmark.
Vo—recently declared "one of the most stimulating figures on the international [art] scene" by the New York Times—has reimagined the greatest symbol of the worldwide refugee experience: He is re-creating the Statue of Liberty, piece by massive piece. One hundred components are in a traveling exhibition, currently in a 21,000-square-foot space at the National Gallery of Denmark in Copenhagen.
He envisions his monumental Statue of Liberty sculptures as works-in-progress. He estimates that the project is roughly 50 percent completed. For Smithsonian, he describes the installation's genesis and its underlying meaning.
At what point in your life did you first encounter the Statue of Liberty? What did you think about it?
Actually, I never saw it for real before I started the project. Looking back, I know that there were several works that I was rather obsessed with, by artists who had in some ways incorporated the Statue of Liberty.
How did this work come about?
Do you know the museum in Kassel, Germany, the Fridericianum? It's quite a large museum, the first public museum in mainland Europe, established after the French revolution. The curator approached me, suggesting that I exhibit in the whole space, usually given over to 2 or 3 artists at a time, because the space is that large.  He mentioned that he had seen several of my exhibitions —he liked the way that I was able to deal with empty spaces.
When people have a kind of presumption of what I might do, or who I am, for that matter, I tend to work against it. I'm like a kid—I don't want to be put in a box. So I thought, 'Okay, I better think of a project that could stuff the whole museum with something, really big.' That was basically how it came about.
What about the Statue of Liberty grabbed you, in particular?
When I began to research the Statue of Liberty, I bumped into this very interesting fact—that she was only the thickness of two pennies. Suddenly, everything made sense. I saw that I was capable of reproducing the skin [the copper sheathing] only, which was quite interesting.
Physically, how did you go about making such a giant piece?
We were researching sites where the piece could be produced, including sites in China. Another advantage of China was that, in Asia, you still build these colossal Buddhas, and that's basically made in this old technique of hammering the copper.
To what extent does this piece connect to your personal identity, as someone who was born in Vietnam and then moved to Germany? Was this a comment on your experience?
Of course, it's naturally connected. That's the structure of the art world—the subject of the work is so connected to the artist itself. Everybody is doing work from their own personal experience.
Why did you decide to split up the work and send it around the world in this way?
I don't think it's necessary that when you build a monumental thing, it has to be in one place. It's almost a conceptual idea—that it exists, but you never comprehend everything at once.