Q&A: Jayson Musson Breaks Down Coogi Sweaters
With the '80s and '90s status-symbol clothing a bargain on eBay, the Brooklyn artist buys, disassembles and reconstructs them to make abstract "paintings"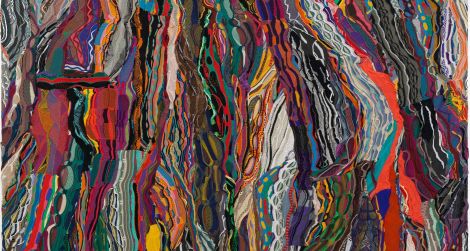 Coogi sweaters bring to mind Bill Cosby dancing around with a silly grin wearing the bulky pullover with a pair of nice slacks, Notorious B.I.G. shouting them out as a status symbol in "Big Poppa," and my 70-something-year-old Jewish grandfather sporting them in the early 1990s because that's what my grandmother told him to wear. It makes me a little nostalgic for a time when Cliff Huxtable, Biggie and Grandpa Oscar somehow all shared a colorful, swirly and knitted heritage. Now, the Australian-jumpers-turned-American-status-symbols have been reworked and stretched onto canvases by artist Jayson Musson (best known as the hilariously sharp YouTube art critic Hennessy Youngman, host of Art Thoughtz) for his solo show, Halcyon Days, at Salon 94 in New York City. I exchanged emails with Jayson about what made him deconstruct these recognizable pop culture symbols in the name of abstract art.
What's your specific memory of Coogi sweaters growing up?
My memories of the sweater rest squarely with Biggie. None of my peers growing up had the money to actually own a Coogi sweater and the people I did know who could afford the sweater weren't really into wearing such, uhm . . . "loud" clothing, so the garment existed only as an image, as a signifier of opulence.
Jim Jones said, "Back then, Coogi was like one of the finer things to buy. They were like 300, 400 a pop. If you got the special-edition ones, they was running you like 600, 700 — you know, the fruity colors." How'd you feel taking apart these once sought-after garments to create the pieces in Halcyon Days?
At first I felt somewhere between stupid and being a sucker for deconstructing the sweaters because I normally seek to use the cheapest means possible in creating an artwork so the process of purchasing material was antithetical to my normal process of getting over and getting by.
To make these pieces, you purchased most of these sweaters from eBay. I've been a little obsessed with the stories people post on eBay about the clothes they're selling. Did you come upon any stories about the provenance of the sweaters you purchased?
Not really.  The most interesting thing I got out of the purchasing process of these sweaters was a pack of Yo! MTV Raps trading cards. The pack is still unopened in my studio.
You've described the pieces in Halycon Days as "painterly." What is it about the textile design and fabrication that lends itself to that characterization?
The Coogi garments I selected seem painterly because they are concerned with a figure/ground polemic. They mimic the plane that paintings occur upon, which is what initially led me to wanting to work with them as a material to make paintings.
Can you envision making an Art Thoughtz video that examines the relationship between art and fashion? For example, Yayoi Kusama and Louis Vuitton, Olaf Breuning and Bally, K8 Hardy and J.F. and Sons, Salvador Dali and Elsa Schiaparelli have all collaborated in a way I'm sure you have an opinion about.
Ha, I'm not sure about that. Hennessy's future is a big blur to me. I just have too many involved projects on the horizon to produce another Art Thoughtz episode for some time.
If you were going to collaborate with a fashion designer, who would it be?
I would want to collaborate with South Pole, a company that produces knock-off North Face and urban wear for the cost-conscious buyer. I wore a lot of South Pole as a kid thinking I was the shit. I don't know much about the company, but I feel that my vision would fit into their already bobo design aesthetic.
Catch Jayson Musson's show, Halycon Days, at Salon 94 in New York City before it closes August 17, 2012.