Q&A: Chris Carter of "The X Files"
The creator and writer behind "The X-Files" reveals his inspiration for the sci-fi series and motivation behind the upcoming film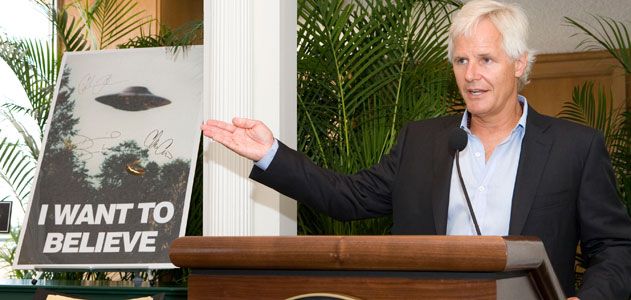 Chris Carter, creator and writer of The X-Files came to the Smithsonian's National Museum of American History to donate several props and posters—including the original pilot script—from the popular television sci-fi series. The items were courtesy of Carter, producer Frank Spotnitz and 20th Century Fox.
After the donation ceremony, Carter sat down with Smithsonian magazine's Jesse Rhodes to discuss the life of the series and the upcoming film The X-Files: I Want to Believe in theatres July 25, 2008.
Where did the "I Want to Believe" poster from Mulder's office come from?
It [the poster donated to the Smithsonian] came from Gillian Anderson's collection. All the rest of the original posters had been stolen or, I assume, destroyed.
The original graphic came from me saying, "Let's get a picture of a spaceship and put—Ed Ruscha-like—"I want to believe." I love Ed Ruscha. I love the way he puts text in his paintings. (I actually got to say to him, "I was inspired by you.") When I saw the [finished] poster I recognized the photograph because it came from a series of photographs taken in Europe by a guy named Billy Meier. And I said, "Did we get the clearance for that photograph?" And they said, "Oh, yes!" Ten years went by and all of a sudden I got a call from Fox legal: "We have an intellectual property lawsuit we have to depose you for." And there was a lawsuit and they had not done the proper clearance for that photograph.
While you were working on the show, did you ever have a sense that your creation was a major piece of American pop culture?
The first inkling was when James Wolcott wrote about it in The New Yorker and I figured that if someone at The New Yorker wrote glowingly about The X Files that it had made an impact in a place I consider to be something for the record. But beyond that, I have to tell you that other than the Nielsen ratings and other than X-Files references, I had no sense of its popularity and to this day I don't have a true sense of its popularity. Even if I see 300 X-Files fans together, I can't fathom—I cannot imagine—the audience itself. All I think about is the show and all I think about is why I like it and why I like to write it and why I like the characters and what I have to say through them.
What inspired you to write The X-Files?
All the shows from my childhood. All the scary shows: Alfred Hitchcock Presents, Night Gallery, Outer Limits. There was a particularly good show on when I was in my early teens called Kolchak: The Night Stalker starring Darren McGavin. They were two two-hour movies. They were fantastic. Scary. Those things were my inspiration in terms of entertainment. Silence of the Lambs was an inspiration. It's not a mistake that Dana Scully has red hair like Clarice Starling in The Silence of the Lambs. So there were a variety of inspirations. But the idea itself came out of my religious background and my interest in science. My brother is a scientist. He's a professor at MIT. He brought science fiction into my world. But I am a person of faith and so it's the combination of those two things.
Barring the episode titled "Jump the Shark," as a writer, do you think The X-Files ever "jumped the shark?"
I don't think X-Files jumped the shark and that tongue-in-cheek title was our way of lowering the boom on anybody who thought that it did. I think it was good till the end and I think that while it changed with the exit of David Duchovny, I believe that during that period there was excellent work done, excellent storytelling, and I'll stand by all nine years of the show.
The show has been out of production for six years. What are you hoping to achieve with the upcoming film?
It was an opportunity to give the fans of The X-Files what they wanted: more Mulder and Scully. It was also an opportunity for me, having stepped away from it, to look back at it and imagine what it might be six years later and how the series might be re-evaluated by the work that is done in this movie. [Hopefully] you can look back at [the series] and realize that it's not just a scary show, it's not just a suspense thriller. It's a show about two people who have built-in personal conflicts. One is a medical doctor, a scientist who is a religious person of the Catholic faith. The other one is a person of no particular religious faith who has a great passionate belief in something that I'll call spiritual or metaphysical, which is tantamount to a religious belief. And so you've got these warring ideas inside the characters and you've got them together in a way that, for me, addresses and asks a lot of the important questions about life itself.