Q and A With Diosa Costello
The first Latina on Broadway dishes on her career and how she got her breakout role in South Pacific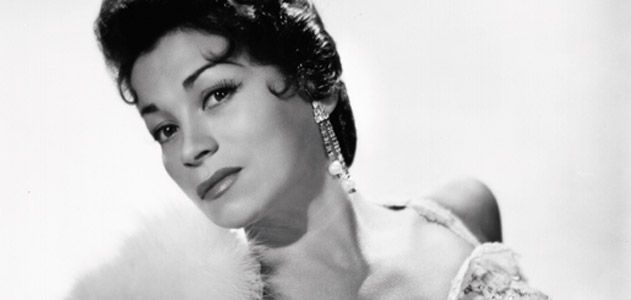 Diosa Costello was a pioneering performer of music, film and theater who, in 1939, became the first Latina on Broadway. She recently donated 11 costumes from her personal wardrobe to the National Museum of American History. She spoke with the magazine's Joseph Stromberg.
What sparked your passion for performance from such an early age?
When I was 5 years old, my father had pneumonia. He owned a little box. I remember that it was narrow, long and yellow. Painted on the box were pictures of people dancing, holding hands and singing. I used to try to imitate those pictures. That's how I entertained my father when he was sick. After he died I kept on singing and dancing and entertaining people in the street. They used to give me pennies. But when I got back home, my mother, she would punish me. In those days, if a young girl wanted to be in show business, it meant that eventually she would be a bad woman.
But that was in Puerto Rico. Then they brought me to the United States. A woman friend of my mother, she used to say: "Why don't you take your children to America? They go to school, they read, they learn." And my mother listened to her, and we came to this wonderful country. To me, they call me New Yo-rican, because I was born in Puerto Rico, in a town called Guayama.
How do you feel about your costumes being on display at the Smithsonian?
At first, I didn't want to give them my clothes. Even though I'm not going to perform anymore, those clothes are very special, and I love them. But, after back-and-forth pleas and rejections, I finally said, "Yes, yes, yes." I'm still numb. I asked the curator Dwight Blocker Bowers, "I'm going in a museum?" And he said, "It's not just about your clothes, it's that you're a legend." I didn't know that I was all those things. But instead of an exhibit, what I really want is a special window, where I can charge people to see my clothes!
In your nightclub act, you would dance and sway your back so that you could shake your behind with a glass of water on top of it. At the time, did people think your act was too edgy?
Yes, are you kidding? I could dance all over the place, without spilling one drop. That got me a picture in Ripley's Believe It or Not. I'm very uninhibited. If I think something, I do it, you know? And because I used to sort of ad lib everything.
Who would you want to portray you in a movie?
I would want JLo to play me. She's a Puerto Rican from the Bronx. I lived in the Bronx for a long time (in a Jewish, not Latina neighborhood). She married a skinny musician, I was married to Pupi Campo, who was a skinny musician. She's got the tuchis; I have the tuchis—although mine is the original, the cutest. … When I did my show in the Catskills, believe it or not, most of it was just talking for two hours, I'd be leaving and the people would be yelling "more, more, more."
You were cast in the role of the Polynesian Bloody Mary character in South Pacific, replacing Juanita Hall, who originated the character on Broadway. How did that happen?
I had a secretary and she was up on everything that happened on Broadway. She had read James Michener's story, and she said, "You know, you would be very good for Bloody Mary." And I said, "What's that?" I thought it was a drink, I didn't know what the hell she was talking about.
So I went to George Abbott, who was my director in Too Many Girls (1939), and we were great friends. George and I were dancing partners, and we used to go out everywhere to dance nightly after I would finish my show at La Conga. I used to call us "Abbot and Costello." George said, "Well, let me think about it, but I think she's got something here." He said, "Let me discuss it with Josh Logan," (who was the director) and let me see what he thinks. So he discussed it with Josh, and Josh said, "Let's go to James Michener." According to what I was told, James Michener said that when he wrote the story, the original Bloody Mary was a wiry kind of woman who was always trying to sell something and cheat the soldiers and all that kind of stuff.
And Josh said to Michener, if you don't hire Diosa for the part, then I'm not interested in directing the show. And I said, "Oh wow, I've got it made." And I did get the part!
So what was it like?
I was so nervous. The orchestra leader was trying to train me and tell me how to sing. I have never had any singing lessons in my life. And he would say, "You're not breathing right, that's why you can't get your notes, because you're not breathing right." And I was trying to do what he told me.
Now, general rehearsal is just like if the show went on. No matter what mistake you make, you go on. We were at some kind of theater in Cleveland, because we were going to open there before we came to Broadway. Dick Rodgers [of Rodgers and Oscar Hammerstein] was a very quiet man, very proper. But he knew his business. So at dress rehearsal one night while I'm singing "Bali Ha'i," which is a very difficult song, I hear "Stop!" And I think, "Holy Toledo, what the hell did I do?" I thought it was something I had done wrong. He says to me, "You're not singing right. You're not singing like yourself." So I told him that the musical conductor had been coaching me. So he went over to the musical conductor and said, "Stop coaching her, I don't care if she can sing right. She stops my show and that's all that matters."
What advice do you have for young performers?
You gotta be sure of what you've got. This is what the old performers had that the new performers don't. If you go on stage thinking, "I'm Diosa Costello, you're going to like me," you're going do it right. If you go out there a little bit shaky and unsure of what you're doing, it's not going to come out right.