Q and A: Amy Adams
The actress discusses her role as aviatrix Amelia Earhart, filming at the Smithsonian and the magic of museums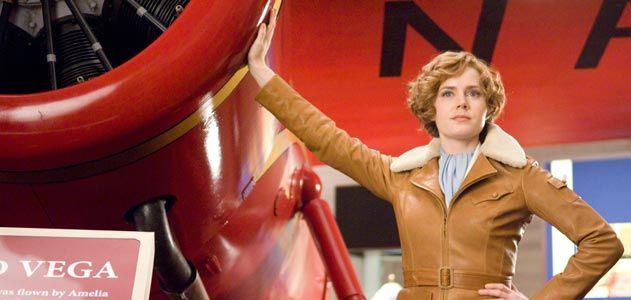 Actress Amy Adams, 34, has appeared in 25 films and received two Academy Award nominations—most recently for her role as a young nun in 2008's Doubt. In Night at the Museum: Battle of the Smithsonian, she plays Amelia Earhart. Adams spoke with Smithsonian's Beth Py-Lieberman.
Do you see yourself in Amelia Earhart?
I think most women do. There's a sense of fun and a sense of adventure that she represents—a woman succeeding in a man's world.
What did you think about the Earhart exhibit?
We did our shooting in the Air and Space Museum at night, which allowed me to have an intimate experience with the exhibit. When you see how small her plane was, you really understand her fortitude. And the more research I did about her, the more I liked her. When people would ask her, "Why do you fly?" she would say, "For the fun of it." I think that's something that gets lost when you first learn about Amelia. It was her spirit more than anything that we were trying to capture.
Did any other exhibitions stand out?
The one that somewhat startled me was the plaster life mask of Abraham Lincoln [made by sculptor Leonard Wells Volk in 1917]. That was probably one of my favorites because I've only seen Lincoln in photos and I could imagine what he must have looked like back then. I was so moved by it.
You once said: "I find that every film I do becomes a deeply personal experience, and my own life begins to manifest these weird realities." Anything weird to report after you finished this film?
Not necessarily weird, but Amelia is a lot more of a spitfire than anyone I'd ever played before—a lot more confident. That definitely manifested itself, in terms of speaking my mind, diving headfirst into situations and sort of throwing caution to the wind.
What was your favorite moment filming?
I really loved it when, in one scene, Ben Stiller and I were up on the Lincoln Memorial at night and no one else was there. We were able to look over Washington while there was a full moon. It was just a beautiful evening.
No major movie has been shot inside the Smithsonian until now. How do you feel about being in the first one?
I think it's awesome. In this day and age, when kids can access the Internet, it sometimes deprives them of the impact—and inspiration—that comes from seeing something in person. When I heard we were actually going to shoot in the Smithsonian, I hoped that it would get kids excited to go and actually see these exhibits for themselves and then learn about history and art.
In the film, artifacts and historical figures come to life. Is there any magic to be found in a real museum?
Oh, yeah. The beauty of museums is that when you're in them and take the time to really look at the exhibits, they come to life in your imagination. That is the magic.