Is This a Portrait of One of the World's Most Influential Philosophers?
One Dutch art dealer is convinced that he owns the only portrait that Baruch Spinoza sat for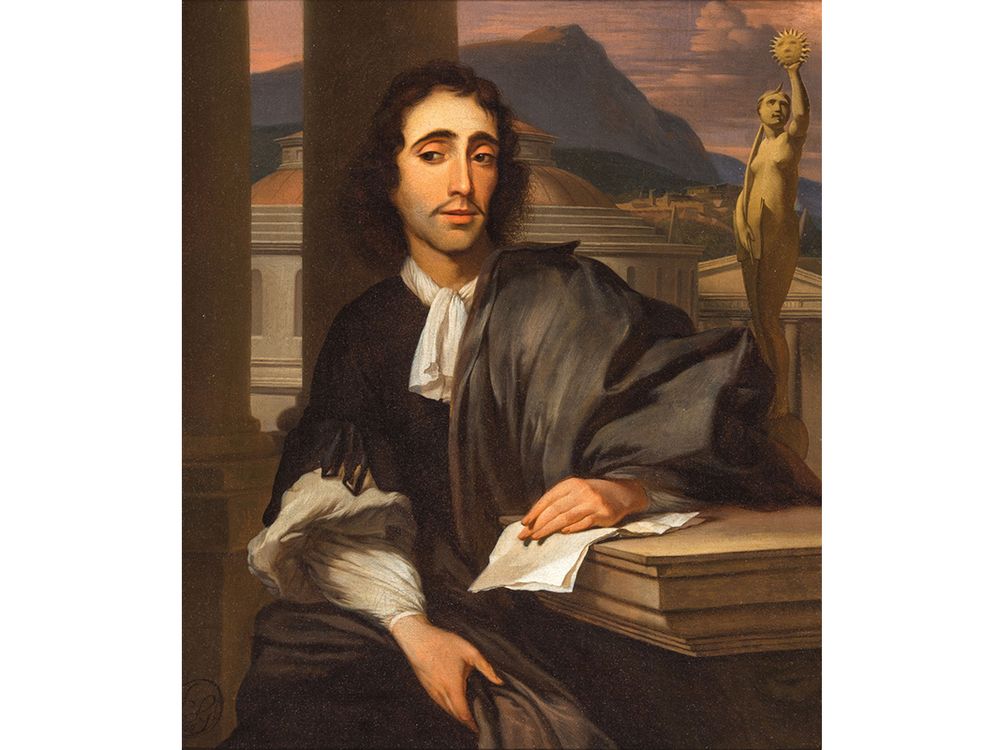 When Constant Vecht flipped through the October 2013 catalog from a Paris-based auction house, lot number three immediately leapt out. It was identified as a 1666 work by 17th century Dutch painter Barend Graat, and given the nondescript title of "a portrait of a man in front of a sculpture." But Vecht immediately pegged the sitter as the famous Dutch philosopher Baruch Spinoza.
More than 350 years after his death, Spinoza's work is still influential. The Stanford Encyclopedia of Philosophy notes, "Of all the philosophers of the 17th-century, perhaps none have more relevance today than Spinoza." As an early figure of the Enlightenment, Spinoza rejected some of the predominant religious beliefs of his time, including the absolute veracity of the Bible as well as the immortality of the soul. For his perceived heresies, he was excommunicated by Amsterdam's Jewish community in 1656. Today he is often hailed as an early proponent of atheism, although his writings were more pantheistic, and is also appreciated for his scientific work as a lens-maker.
Vecht, the director of the Amsterdam-based art dealership Kunstzalen A.Vecht, had grown up seeing Spinoza's face on the Dutch 1,000 gulden note. (The Euro replaced that currency.) "In Holland, we are familiar with the face of Spinoza, but in France not. Nobody had the ID," says Vecht.
So he flew to Paris and bought the work for €3,000, a price at the low end of the auction estimate. After commissioning Holland's two largest forensic institutes to compare the portrait with known, posthumous, depictions of Spinoza, Vecht concluded that he had in hand the only known depiction of the philosopher created during Spinoza's lifetime. Every detail of the lips, the eyebrows, and the off-kilter eyes matched up. (Another work said to be of Spinoza during his lifetime, in the collection of New York's Jewish Museum, has been otherwise attributed.)
"This must be Spinoza," Vecht says. "It is assured."
According to Vecht, the figure's moustache is consistent with a contemporary description of the young Spinoza, and the sculpture over the subject's left shoulder is an appropriate allegory of truth, which Spinoza, like countless philosophers before and after, sought to define and explain. Admirers of Spinoza owned works by Graat, so the two had intersecting networks. Vecht isn't bothered by the lack of documentation of the work's provenance because Spinoza was a dissonant who had already been excommunicated by the Dutch Jewish community. One wouldn't flaunt owning a portrait of Spinoza in one's records, says Vecht.
"Normally, those documents are very superficial," he says. "They state 'one painting' or 'two cups of earthenware.'"
Vecht brought the portrait to The European Fine Art Fair (TEFAF) last March, where he attached a cool $2.5 million price tag to it. Flipping a Spinoza, evidently, holds promise of more than a 700 percent profit. But several months later, the painting is still in Vecht's inventory. His identification still has a lot of doubters, it would seem.
The biggest issue is the truncated provenance, a paramount concern of Eric Schliesser, a professor of political science at the University of Amsterdam who has written critically of the painting on his blog. "My heart is fully convinced, but my head not," he wrote.
"I want to believe it's not a fake," he says in an interview. "My brain recognizes that it could easily be a forgery." That the painting was unknown until very recently, and that there is no trace anywhere of the painting in records that detail its arrival in France, or its fixture in a single family's collection for centuries, present cause for skepticism.
"Assuming that the forensic experts are right about how similar the figure is to the posthumous portraits of Spinoza, it's quite possible that the head was modeled on these posthumous paintings and added to the painting," he says.
Schliesser is one of several critics who question whether sitting for a portrait to begin with was in line with Spinoza's personality, or whether the pagan imagery in the background (the sculpture in the work is a woman holding a sun) was consistent with Spinoza's writings.
"I'd love to think that this is a genuine portrait of Spinoza, but nevertheless I don't," says Rebecca Newberger Goldstein, a professor and author of the book Betraying Spinoza: The Renegade Jew Who Gave Us Modernity.
"The dreamy-eyed, sensitive youth certainly answers to our ideas of what we'd like Spinoza to look like," Goldstein says. But it would be quite surprising, given what's known of Spinoza, if he sat for a portrait. (The eyes are best described as anticipatory of the cartoon Droopy character.)
His philosophy, explains Goldstein, largely renounced being fixated on personal identities. "We're urged to identify so much with all that isn't ourselves," she says. "That we will care nothing at all about our own personal demise."
There would be "extreme irony" in the philosopher, who was busy grinding glasses lenses in his day job and penning revolutionary books and "copious correspondence" at night, sitting for a portrait "as if that outer presentation represented the essence of the man," Goldstein says. And Spinoza was poor. One of his wealthy supporters might have commissioned the portrait, but even then, the philosopher would likely have disapproved of such vanity, she adds.
According to Goldstein, the Roman cityscape in the background of the painting also presents evidence that counters Vecht's identification. The architecture could symbolize Spinoza's reliance in his writing and thinking on Roman and Greek philosophy, but the appearance of the Pantheon, a symbol of imperial power, is an odd choice, as is the sculpture hoisting the sun.
"If one wanted symbols for Spinoza, they would most likely be those suggestive of the geometrical method," Goldstein says of the style in which Spinoza laid out his proofs. (The frequent line breaks between elements evoke a movie or dramatic script.) "I would imagine that Spinoza would have had some criticisms of this background."
Vecht dismisses the arguments about the painted sculpture and the Roman cityscape, suggesting that those elements typically appear in Graat's backgrounds. And for a patron who could have commissioned the work, Vecht points to Spinoza's teacher, Franciscus van den Enden, who was a former Jesuit and may have become an atheist or pantheist himself. After moving to France to found a school, van den Enden was hung for his suspected involvement in a plot against Louis XIV. If he commissioned the Graat portrait of Spinoza, it would have been confiscated by the state and would have disappeared along with van den Enden's other belongings, according to Vecht.
"This is pure hypothetical," he says. "This can be the reason we found this painting in France."
But when push comes to shove, Goldstein leaves the door slightly open. "It would be extremely interesting if true," she says. "It would be fascinating precisely because it so clashes with our grasp of what the man was like."
Steven Nadler, a professor at University of Wisconsin-Madison who has written extensively on Spinoza, agrees. "I am doubtful that Spinoza would have commissioned, or even sat for, a portrait of himself. Call it just an intuition, but it doesn't seem in keeping with his character or values," he says. "But if it is Spinoza, that would be really interesting, since it would have been done from life
A true portrait of Spinoza, though interesting, wouldn't reveal much more than what the philosopher looked like. "It certainly does not help us understand his thought or offer any clues on that matter," Nadler says.
Tom Morris, chairman of the Morris Institute for Human Values in Wilmington, N.C., and a former philosophy professor, of 15 years, at University of Notre Dame, sees more of a potential connection between Spinoza the thinker and Spinoza the portrait subject.
"An image of Spinoza during his lifetime would indeed be special. There would just be something particularly nice about the thinker, who ground lenses and helped others to see, both physically and metaphysically, to himself be seen after all this time," he says.