Please Extend a Laurel and Hardy Handshake to the New Film 'Stan & Ollie'
The movie showcases the famed comedy duo at the twilight of their illustrious careers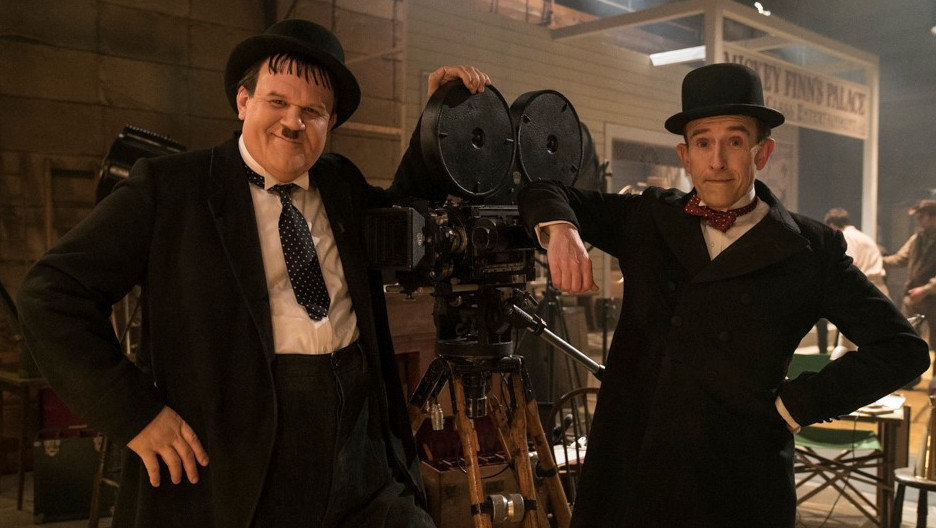 The lithe Stan Laurel had yet again gotten his portly partner Oliver Hardy involved in "another nice mess," this time in 1937's Way Out West. (As any member of the diehard Sons of the Desert fan club will tell you, Another Fine Mess is the 1930 film; the actual catchphrase is often misquoted.) The legendary comedy duo was on top of the world, in the middle of a slew of hit movies, including 1932's The Music Box, which won the first ever Academy Award for a live action short film. When all was said and done, Laurel and Hardy would appear together in an astonishing 106 films of varying length between 1921 and 1951. The bulk of their output came in the years 1927 to 1938 as they moved from silent shorts to "talkie" shorts to sound features.
Laurel and Hardy, however, didn't start out their careers as a unit. Born in Lancashire, England, the son of a theater manager and an actress, Laurel began his career on stage as a teenager in Scotland, eventually joining a troupe of British music hall actors that included a young Charlie Chaplin. They toured the United States, but Laurel decided to stay, so he headed to Hollywood and made his film debut in the 1917 silent short Nuts in May.
Oliver Hardy, meanwhile, was born in the small town of Harlem, Georgia, and grew up in the rural south until he went to Atlanta as a teenager to study music and sing. He then went to Jacksonville as a vaudeville performer and ended up appearing in 1914 short made in Florida, Outwitting Dad. Nicknamed "Babe" for his resemblance to a rotund infant, he too lit out for Los Angeles and quickly found work for several studios.
Laurel and Hardy first appeared on-screen together in the 1921 film The Lucky Dog, but not as the comedy team still popular today. (In it, Oliver robs Stan at gunpoint.) Both men had successful individual movie careers going, but they wouldn't become "Laurel and Hardy" until pioneering film producer and director Hal Roach cast them in the 1927 silent short The Second Hundred Years. Roach recognized how well they paired on-screen—starting with the basic Big Guy-Little Guy visual—and tapped into a style uniquely their own.
Typically, comedy duos have a designated straight man and a funny foil. Laurel was the manchild who drove Hardy up the wall, but in their films, the two swapped roles and didn't stick to expectations rotten-tooth-and-nail.
"By virtue of comedy team alchemy, the straight man is usually a jerk, or at least always stern. Abbott was mean to Costello; Bert is serious while Ernie gets to goof off," says Kliph Nesteroff, author of The Comedians: Drunks, Thieves, Scoundrels and the History of American Comedy. "Hardy was the stern one but only long enough to give the camera a really funny look, then he goes back to being sweet. The dynamic between Laurel and Hardy is lovable, and they have a certain charm that no other comics of the era had, I'd say even more so than Charlie Chaplin."
The arrival of feature-length talkies in 1927 could have meant doom for the duo. According to Nesteroff, peers of Laurel and Hardy, like Buster Keaton, suffered during the industry's transition from silent films. Keaton, who had a gruff voice, jolted audiences out of their preconceived notions of their favorite screen stars. "Laurel and Hardy successfully straddled the silent-to-talkie film period in a way a lot of their contemporaries didn't," says Nesteroff. "Their essentially charming likable characters remained intact when they first spoke on screen. Their talkies are also much better than their silents, which isn't the case for Keaton, Charlie Chaplin, or Harold Lloyd."
In 1931, Roach produced the duo's first feature-length film, Pardon Us, which would begin a run of hugely popular and profitable movies such as Pack Up Your Troubles, Babes in Toyland, and Way Out West. A new film in theaters this week, Stan & Ollie, stars Steve Coogan as Laurel and John C. Reilly as Hardy and opens on the set of the latter film, but it doesn't linger. Instead, the movie showcases the duo at the twilight of their incredible career.
Roach, who also brought the world the equally enduring Our Gang, was the best thing that ever happened to Laurel and Hardy. And the worst. Roach knew exactly what they needed to make great films, which included artistic freedom, and the budgets to do so, but he was hard-nosed businessman who never gave the talent what they truly deserved: ownership of their work a la Chaplin.
While they were well-compensated for their success, the flat wage Roach paid them meant that the duo wouldn't enjoy the lucrative stream of global residuals. And they played all over. Roach would have Laurel and Hardy reshoot scenes in German, French, Italian, and especially, Spanish, to capture those film markets. It was an exhausting costly process requiring tutors for each man, lines translated phonetically on blackboards just out of camera range, and entirely new supporting cast fluent in the respective foreign languages, but it made the duo worldwide stars. (Hardy had an easier time with Spanish enunciation, but there was a lot of comic mumbling.) Roach also shrewdly staggered their contracts so they would expire six months apart, keeping them from negotiating as a team.
By 1953, when Stan & Ollie takes place, Laurel and Hardy's career was an actual mess, catchphrase be damned. Movie audiences had forsaken them in favor of the louder antics of Abbott and Costello and Martin and Lewis. Hardy's love of gambling and alimony payments to his ex-wife put him in a constant need of money. Divorce haunted both men. Laurel had three ex-wives, one of whom he divorced twice. (Both Laurel and Hardy found happiness later in life, with Ida Raphael and Virginia Jones, respectively. The wives, played by Nina Arianda and Shirley Henderson in the movie, are an amusing comic pair in their own right.)
In desperate financial straits, Laurel and Hardy embarked upon a series of live theater shows in the United Kingdom. The tours, put together and managed by Lord Bernard Delfont, are the focus of Stan & Ollie.
The three post-World War II tours—Stan & Ollie contracts it into a single tour—aren't particularly well-known outside of classic Hollywood devotees, because at least initially, they weren't all that successful. In the late 1950s through the dawn of cable television and home videos, Laurel and Hardy would enjoy a rejuvenation in both the U.S. and the U.K., but in the early part of the decade, the former box office kings were down and out, at least in the movie houses. At some stops early on, Laurel and Hardy were performing classic bits to half-filled houses, but they were mobbed during the 1953 final lap, cathedral church bells in Cobh, Ireland, even rang out their famous theme, "Dance of the Cuckoos."
Stan & Ollie screenwriter Jeff Pope became fascinated by this forgotten Laurel and Hardy moment and spent the better part of a decade learning all he could. He read a half-dozen books, including the comedy team's first major biography, John McCabe's Mr. Laurel and Mr. Hardy, and A.J. Marriot's The British Tours—essentially a scrapbook and a compendium, a treasure trove of private correspondence and theater reviews. Pope also combed through a vast rich archive of Laurel's letters, and talked to experts like film historian and preservationist Richard W. Bann, all of which led him to one major screenwriting breakthrough.
"What I realized in doing the research is that I wasn't writing a biopic," says Pope. "I was writing a love story."
Pope's Stan & Ollie research roots go back to Saturday mornings as a boy growing up in 1960s London. Pope came to love the duo because they were one of the few entertainment options available.
"In those days, television programming wasn't on all the time. There was an hour-and-a-half in the middle of the day for young school children and then there was nothing until the evening, so having funny Saturday morning films was a treat," says Pope, a longtime British television writer and producer who, in 2013, received an Academy Award nomination with Coogan for co-writing Philomena. "Silents and early talkies were celebrated and Laurel and Hardy were the most popular. I think it's because they have Old World sensibilities, politeness, gentleness, daintiness, so they really resonated in the U.K."
Director Jon S. Baird, meanwhile, grew up in Aberdeenshire, Scotland, and also had a thing for Laurel and Hardy, but he knew very little about the U.K. tours. Ironic, considering Laurel's Scottish roots and his own childhood love of the comedy pair
"My mum has a picture of me at eight or nine, dressed up as Laurel with a friend dressed as Hardy. It's quite a cute photo, I had forgotten how much I was into them as a boy," says Baird. "They have a humanity and an innocence, two adults acting like children, living in their own little uncomplicated world, something about the simplicity has stood the test of time. I thought Jeff's script was really smart, to take two faded stars in need of money, allowing us all to concentrate on the characters and not be episodic about it."
On screen, Laurel and Hardy fit together perfectly, physically, emotionally, temperamentally, and comedically. In real life, however, they weren't all that close and didn't socialize together that often. Hardy saw himself as an act-for-hire, a professional who would show up and do the work. But when the shoot was done, he was off to carouse with his drinking buddies, playing cards and betting the ponies. Laurel was a workaholic, the film world his entire life. At day's end, Laurel would be in the editing room, or with the writers, or by himself working on the plots for two movies down the line.
In the middle of Stan & Ollie, there's a key scene of public conflict between Laurel and Hardy. At a celebration following a tour performance, the two men argue. Old grievances and mild resentments lead to Laurel throwing food at Hardy, which is applauded by partygoers mistaking it as a bit. It's an invented moment, but Pope found hints of tension in his research.
Their working relationship never devolved into a Dean Martin-Jerry Lewis situation, where jealousy and ego led to a bitter split, but they did feel industry pressures. With savvier and coordinated negotiations, they could've had financial security for life, but they didn't, and Hardy died broke. While Laurel attempted to get out from under their onerous contracts with Roach, Hardy made Zenobia with Harry Langdon, who essentially played Stan Laurel.
"They were lifetime friends for sure, but Sons of the Desert would have you believe there was never a cross word between them," he says. "I find that astonishing."
While Laurel and Hardy had decades to understand each other, Coogan and Reilly had just a few weeks. For Stan & Ollie, they had to learn the classic bits which were performed on the U.K. tours, like the beloved dance number in Way Out West, and come up with new ones that were alluded to but which have no film footage, like a silly double-door train station routine audiences ate up. Baird and Pope succeed in keeping the film fairly accurate to the history. Where Stan & Ollie deviates tends to be in service of dramatic momentum—namely the time and tour schedule crunch—but it is also neither a hagiography nor does it make Laurel and Hardy's relationship more toxic than it was, so it works beautifully as a simple story of two longtime chums winding down the family business. It even succeeds with the biggest tightrope act of all, turning Reilly into the corpulent Hardy.
"The fat suit was my number one terror going into the movie. Stan & Ollie could have been killed stone dead from the outset if it didn't work," says Pope. "It wasn't just Hardy's body either. It's an emotional film and it requires close-ups, so the face make-up had to be spot on as well, we couldn't have the audience pulled out of the picture thinking about Reilly's prosthetic double chin."
Baird trusted Mark Coulier, the two-time Academy Award winning makeup artist, to get it right. By 1953, Hardy was 350 lbs. and then some, so his knees, not too mention his heart, were taking a pounding.
Both Baird and Pope credit Reilly for pushing to get his on-screen body in awful shape. He went so far as to add extra weight to has padding for even more authentic lumbering.
"It wasn't just the foam rubber suit, Reilly added 70 lbs. worth of sandbags, so he was lugging around 100 lbs. when shuffling through his scenes," says Pope. "We shot Stan & Ollie in the summer and had to add a cooling system. Pipes circulated cold water throughout Reilly's massive Oliver Hardy body."
Pope got firsthand stories from ventriloquist Ray Alan, who toured with Laurel and Hardy as part of a variety show, to understand the severity of Oliver Hardy's rapidly deteriorating physical state. Laurel's response to it helped Pope understand how close the men came, far from the lights of Hollywood.
"Simply walking around the stage would tire Hardy out," says Pope. "To learn from Alan how much Stan fussed over Oliver, making sure he took his tablets, building their bits around his health issues, and just generally looking after him, was a great insight."
The U.K. tours effectively drew the curtain on Laurel and Hardy. They appeared a few more times, like on a 1954 episode of "This is Your Life," but the two stars' declining health prevented them from making any more movies together. Hardy actually dropped more than 150 lbs. on doctor's orders, but a series of strokes was too debilitating for a comeback. Oliver Hardy died in August 1957. Laurel was too depressed to attend the funeral, but said "Babe would understand."
In February 1965, Stan Laurel died of a heart attack. Out of respect to his lifetime comedy partner, Laurel never appeared on stage or in a film after Hardy's passing.
"As a boy, it struck me as the most wonderful thing that when Laurel and Hardy stayed in a guesthouse, they shared a bed. What's better as a kid than having your best friend sleepover and pull the covers over your heads?" says Pope. "Late in life, while on these tours, Laurel and Hardy became as close as they had been in their movies, so in Stan & Ollie, I got them back in bed together."
A nice mess, indeed.