Play With Your Food
Some playthings veer off into sheer ridiculousness when it comes to interacting with what's on a plate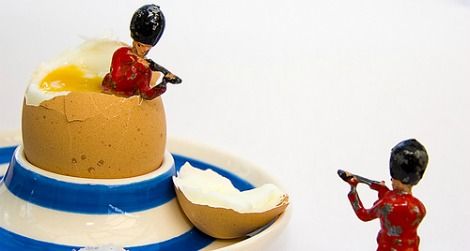 When a new parent is trying to get a toddler to eat, playing the spoon-swooping game of "here comes the airplane" or "here comes the train" may very well do the trick. (And, for those who remember the dinner scene in A Christmas Story, a round of "Show me how the piggies eat" turns out to be another successful stratagem a mother uses to get her picky child to clean his plate.) But as kids get older, that game gets tired and they demand more sophisticated ways to, well, play with their food. Some toys, such as the Easy Bake Oven, are miniaturized versions of home appliances meant to prep the young, aspiring chef for cooking in a real kitchen. But then there are foodie playthings that veer off into sheer ridiculousness when it comes to interacting with what's on our plate. Here are a handful of notables:
Ice Bird: This 1970s-era toy from Kenner invites kids to crack out a bright orange duck that will shave a block of ice for the purpose of making ice-cold sno cones. With flavor packets, two cups and a bucket for freezing water in, it's not a bad toy for summertime entertaining. (And when it's 90 degrees out, who does tea parties?) Certainly there were other toy sno cone machines on the market at that time, but Ice Bird has an awesome jingle and its unabashedly exposed grating plane is a wicked reminder that our toys did not always intend for us to survive childhood without a few nicks and dings.
Happy Hot Dog Man: This "As Seen on TV" offering is a specialized plastic slicing device that turns a plain old hot dog into a smiling stick of mystery meat with whimsically wiggling arms and legs you can dress up with pickles and condiments. I am also a fan of the octo-dog, where you can use the knives already in your kitchen to create hot dog octopi that can be eaten alone or used to dress up other dishes.
Build a Meal Plates: With cranes and buckets installed in the plate that encourage kids to construct their meals, you can give your kids an early sign that an adult's kitchen can be like a construction zone.
Lightsaber Chopsticks: My chopsticks skills are very hit and miss—but the Force may be with me if I try plying these puppies. (Sure, these are cool for the kids too.) And how could you pass up an opportunity to make all the appropriate lightsaber sound effects as you ingest your meal? (Just make sure you're among fellow Star Wars fans before you do.)
This list is by no means comprehensive. If you know of more strange and funny food toys aimed at kids, share your memories in the comments section below.