Park(ing) Day's Roadside Attraction
The founders of Park(ing) Day discuss the birth of their idea and how it became a global phenomenom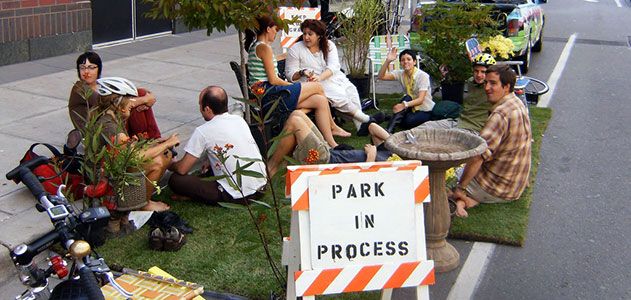 Did you participate in this year's Park(ing) Day? Submit your photos and we'll include them in a special photo gallery.
If aliens were watching the Earth from space, they might well assume that cars are the planet's dominant species. Humans, they'd quickly observe, seem to exist in order to feed and groom their well-armored masters, and propel them from place to place.
That image long peeved Matthew Passmore, who decided to do something about it. Passmore, 41, is a consummate idea man who manages to seem both laid-back and highly enthusiastic. His résumé is all over the place: philosophy major at UCLA, professional bassist, intellectual property lawyer. But art has always been his passion, and in 2004—along with two friends—Passmore created Rebar: a maverick design studio based in San Francisco's Mission District.
Rebar's chief interest is "the commons:" shared space in the urban community. Its projects have included imaginative playground structures, inflatable "Sho-Globes" for outdoor festivals and an effort to protect an endangered seabird that nests on California's Año Nuevo island (a feat that involved designing ingenious ceramic habitats). But its best-known project is Park(ing) Day: an annual tradition of turning parking spaces into actual parks that will be held this year on Friday, Sept. 16th. It's the urban equivalent of beating swords into ploughshares.
The genesis of Park(ing) Day began in 2005, while Passmore was working in a downtown building, watching cars going in and out of metered spaces. "I had a vision of time-lapse photography, and started thinking: What if an art gallery came in for two hours, or a park came in for two hours? I looked into the law and found that, in San Francisco, it's technically legal to do something with a metered parking space, apart from storing your car there."
Passmore, along with Rebar co-founders Blaine Merker and John Bela, thought about what they would put in a parking space. An office cubicle? A bed? They ultimately agreed on the idea of a park. Civic-minded, they decided to site it in an area of San Francisco that had been singled out as "lacking public green space."
"We did it on November 16, 2005, on Mission Street," Passmore recalls. "It lasted two hours: the maximum time offered on the meter." Despite his legal research, Rebar's foray into guerilla landscape architecture was filled with trepidation. "We actually had speeches prepared for the police: speeches about how we were acting in the public interest, planned to clean up after ourselves and so on. Because we were sure we were going to be arrested."
But nothing happened. "A few meter maids scooted by," Passmore says with a laugh. "They must have assumed we had a permit—because no one in their right mind would try to do something like this otherwise."
The event swept through the blogosphere. Suddenly, people all over the country wanted to turn parking spaces into parks. "People were asking us to replicate our project in their cities—which was difficult to do. We were just three guys with day jobs. Rebar was something we did on weekends. So we decided to make a how-to manual and let people do it on their own."
As the response grew, the Rebar team decided to focus the energy onto a single day—a celebration of the core principles behind their initial inspiration. "Parking Day would be a vivid showcase of alternative uses for public space traditionally used by automobiles," says Passmore. "It would be a day for citizens to become involved, take ownership of their city and change it for the better."
In September 2006—with support from the Trust for Public Land (a nonprofit land conservation organization)—Rebar announced the first official Parking Day. The concept went viral, attracting participants in Italy, Scotland, England and other countries. By Parking Day 2010 there were 850 documented parks in 183 cities, across 30 countries and six continents.
There's something surreal about seeing flat gray parking spaces transformed into a tiny universe. During the five years since Parking Day has gone international, there have been some sensational uses of those humble bits of real estate.
"People have done some beautiful sculptures," Passmore reflects. "Some parking spaces have hosted music festivals. There have been demonstrations of solar power, as well as xeriscaping: landscaping that requires no water and little maintenance. One of my all-time favorites was a clinic, where nurses from a San Francisco hospital set up to give free health advice." Other spaces have featured inflatable pools, ball pits, even a small library. In a Washington, D.C. space, a team from the State Department created a grass-lined badminton court.
Rebar doesn't oversee any of these projects. "Our job now," Passmore asserts, "is to keep the spirit of the event alive, and maintain the generosity, playfulness and absurdity at the core of Parking Day."
There are some rules. Rebar has trademarked "Parking Day," and asks that participants agree to the simple terms on its website. These include strictly noncommercial use of the parking space and respect for the maximum time allotted on the meters. "I think the message is much more powerful that way," says Passmore. "So we encourage people to stick to the time limit, and move when it expires."
In practice, many people stay put all day. I wondered if anyone had actually gotten a ticket.
"I don't think so," Passmore says. "I did ask one meter maid about it. He said no, he wouldn't know what the infraction was! Also, a ticket goes to a license plate—and there's no license plate, right?"
One of Rebar's goals for Parking Day was that people would find ways to transform their city landscape on a more permanent basis. Passmore—whose father was a San Francisco city planner for more than 40 years—sees it as a philosophical issue.
"Because what you're doing, when you take part in Parking Day, is raising a bunch of very interesting questions. How is urban space divided? Whose values are being expressed? And how can you, as an artist and a citizen, participate in those improvements—even on a temporary basis?"
These questions were taken to heart in San Francisco. In 2009, inspired by Parking Day, the city's Planning Department sat down with Rebar and created a permit process that, as of 2010, allows some metered parking spaces to be transformed into semi-permanent public plazas.
Called Pavement-to-Parks, the program has already green-lighted 25 of these "Parklets:" spaces where people can stop, relax and enjoy the city around them. Some are created by businesses, some by community organizations, others by individuals. Permits are for one year, but can be renewed annually.
But what about all the change that would have been fed to those now-uprooted meters?
"The city does lose out on parking meter revenue," explains Andres Power, who manages San Francisco's Pavement to Parks and Parklets programs. "But recent studies show that people who visit neighborhoods by foot, bike or public transit spend more money than those who drive there." Increased sales taxes, in other words, might well make up for those lost dimes and quarters.
The idea is spreading, with New York City and Philadelphia launching their own programs. Other cities—including Portland, Palo Alto, Oakland and Chicago—are following suit. "The potential designs for Parklets is limitless," says Power. "I'm excited to see where creative minds can take this."
Meanwhile, the creative minds at Rebar continue to branch out. During my last visit to their offices, the workshop was filled with huge pink "Bushwaffle:" inflatable, star-shaped cushions that can be joined together, transforming city streets into personal living rooms.
If this keeps up, those aliens may be in for a surprise. Humans might yet prevail in the end.