Owen Edwards on "In Vogue"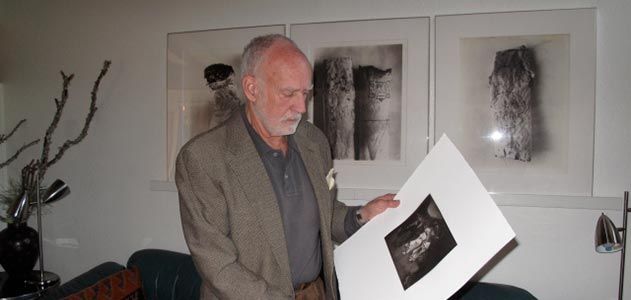 Freelance writer Owen Edwards writes the "Object at Hand" column in Smithsonian magazine and occasionally contributes feature stories. His most recent story, "In Vogue," about fashion photographer Edward Steichen, in the May issue is timed with a new book by Todd Brandow and William Ewing, Edward Steichen in High Fashion: The Condé Nast Years 1923-1937, and an exhibition through May 3 at the International Center of Photography in New York.
What drew you to this story?
I used to be the exhibition critic for American Photographer and as such I've always been interested in Steichen. He kind of orbited like Haley's comet. Sooner or later, somebody would be influenced by him, or there would be a show of his work. I've been equally interested in fashion photography. So this was a story that brought both of those subjects together, which very much appealed to me. Not too long ago in writing an [article for Smithsonian], I talked to someone who worked for Steichen in World War II. (See video at right) I had recently had Steichen very much on my mind as a result of interviewing him. So this came kind of as serendipity that this fine book just came out and this exhibition at the International Center of Photography.
What was the genius of Steichen's work?
He was many things other than a fashion photographer, and I think what one sees with Steichen is a kind of Protean figure who really could do almost anything. The other thing about Steichen, typical of his age for an artist, was he went to Paris and lived for many years in Paris as a painter. That really I think taught him to have a high level of visual sophistication that some photographers who just photograph and start working in a studio real young and stay right in the studio from then on don't have. I don't think they quite have the 360-degree culture that Steichen had. You can see in his fashion photographs the influences of painting, literature and society. He knew which fork to use, and when he got people dressed up to be sitting at a dinner table in a fashion photograph they looked like whoever put the photograph together had sat in some pretty good restaurants. I think it's a complete cultural identity that he had that made his photographs so good.
His photographs were mostly studio shots, different from fashion shoots today. But what makes them relevant even today?
I spoke with a photographer for the piece named Howard Schatz. Howard is a fashion photographer in New York who also has a monthly portrait photograph in Vanity Fair, so it seemed to me that he was kind of a modern day Steichen. I asked him what made the pictures relevant and he said that he felt that it was the attention to detail, that that's why a photographer can always learn from Steichen's work. One learns that it may take 1/125th of a second to do the photograph, but it needs meticulous planning to get it right.