Overcooking Rice on Purpose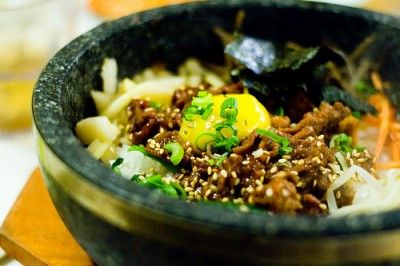 As I've mentioned before, I live in a rural area that is not very diverse in its restaurant offerings. So when I go to New York City, as I did over the weekend, I don't rush for the traditional New York specialties—pizza and deli sandwiches, say. I want foods from faraway places.
I got to satisfy one of my long-denied cravings this trip, for dolsot bibimbap. Standard bibimbap is one of the best-known Korean dishes—a bowl of rice with some combination of vegetables, meat and, usually, an egg on top. It's good as is, but when made in a dolsot—a heavy stone bowl that is heated to a very high temperature—it adds a whole other textural dimension.
Brought to your table sizzling in the bowl, the rice cooks into a crispy bottom crust that, especially with a healthy dose of the Korean hot sauce called gochujang or kochujang, is every bit as satisfying (at least to me) as a good slice of pizza, if far less portable.  The elaborately carved dolsots at the restaurant I went to must have weighed at least five pounds. Not that I would have tried picking one of these scalding bowls up, unless I wanted to turn my hands into Korean barbecue or reenact the old "hot plates" skit from "Saturday Night Live."
There are any number of variations of the dish. My favorite is made with only kimchi and bean sprouts atop the rice, but some versions have a mixture of vegetables and meat topped with a raw egg that cooks in the bowl. You can buy a dolsot and try making it at home or improvise with a cast iron pan, as this blogger did. It sounds like the perfect recipe for people like me, who can't seem to make rice without burning it anyway.
Koreans aren't the only culture to have discovered the joys of overcooked rice. It features in Chinese sizzling rice soup, and in Iran, a dish called tahdeeg is made in a regular pan but cooked long enough for a crust to form at the bottom. This crispy layer is loosened and served on top. I haven't tasted it, but from this recipe, which includes yogurt, saffron and lentils, it sounds delicious.
By the way, in between the Korean, Middle Eastern and Japanese food I ate over the weekend, I did manage to squeeze in a pretty delicious slice of New York pizza.