Orange Wine: What's Old Is New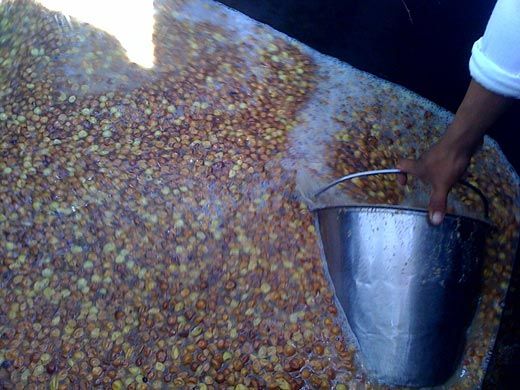 Some people prefer red wine. Some swear by white. A few like rosé. Personally, I like 'em all (or at least some kinds of each color). And I just discovered another color to add to my wine palette: orange.
So-called orange wine is not made from oranges (although, apparently, some people do make such a thing). It is the name frequently used to describe white wines in which the macerated grapes are allowed to have contact with the skins during part of the fermentation process. Although this was once, centuries ago, common practice in Europe, it fell out of favor in the 20th century. But in the past few years some adventurous winemakers—with a concentration in the Friuli region of Italy, near the Slovenian border—have been experimenting with orange wines.
So, how is orange wine different from rosé wine? Standard winemaking practice is that red wines are made from red or purple grapes (e.g. pinot noir, cabernet sauvignon, merlot), with the skins left on during fermentation. White wines are usually made with white grapes (Chardonnay, sauvignon blanc, riesling), although they can also be made with red grapes with the skins removed (one example is Champagne, which often uses a blend of chardonnay, pinot noir and pinot meunier). Rosé is generally made with red grapes with the skins are left on for only part of the time.
Orange wines are made the same way as reds or rosés—allowing some skin contact—but since they use white grapes, the skins only color the wine a little, ranging from a light amber to a deep copper. But they also add tannins, the compounds normally associated with red wines that give it a slight bitterness and structure. The wine editor of the San Francisco Chronicle, Jon Bonné, wrote a good article on orange wines last year, including a history of the "mini-movement."
I got my first taste of an orange wine last week, when I attended part of the Food & Wine Weekend at Lake Placid Lodge, an upscale Adirondack hotel. One of the sessions was a New York wine tasting with Channing Daughters winery of Long Island and Hermann J. Wiemer, from the Finger Lakes region. Channing Daughters is one of only a handful of wineries in the United States experimenting with orange wines. We tasted Envelope (so named because they are pushing it, explained the winemaker, James Christopher Tracy), a blend of Chardonnay, Gewurtztraminer and Malvasia bianca grapes.
It was nothing like any other wine I've tasted—aromatic, almost floral, fairly dry, with none of the acidic zing that many white wines have. I'm not a very practiced taster, but I thought I noticed a little of a citrus-rind flavor. According to the winery's description, there are notes of "quince paste, apples, brown spice, roses, lychee, guava and dried papaya." Tracy said the wines pair especially well with earthy fall foods.
Judging by the reaction in the room, orange wines can be polarizing. But I found the one I tasted intriguing—not something I'd want all the time, but every once in a while. I'd be interested in trying others. Since they are still relatively uncommon, though, it may be a while before I cross paths with an orange wine again.