Only in New York: The Lady in Lime Green
As models flaunt designer wear during fashion week, a subway rider imparts her own bold style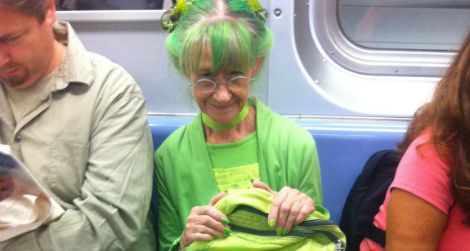 Yesterday, while riding the F train into Manhattan from Brooklyn, I saw Elizabeth Sweetheart. She was sitting on the subway, wearing lime green from head to toe, glowing. Her hair, backpack, necklace, nail polish—everything—was that vibrant shade. Before she got off the train in downtown Brooklyn, I introduced myself to her quickly and asked if I could snap her photo on my phone. I don't know what prompted me to ask the only other question I had time to blurt out before we arrived at her stop – How long have you been dressing in green? Her response: 16 years. And then she was gone.
With New York Fashion Week winding down, and one waiflike model after another taking to the runways wearing designer clothes most of us could never afford, I found Elizabeth, and her decade-and-a-half-long monochromatic look, to be a refreshing reminder of what style can also be. Of course, watching the shows to see what's on the fashion horizon (patterns, prints, bold colors, if you're curious…) and what trends we can expect to trickle into stores like H & M and Forever 21 is one fun way, yes. But, as Elizabeth's sartorial inclinations reinforced, it can also be a decision to not take things too seriously and do it your own way.
We've seen these kinds of D.I.Y. stylistic interpretations throughout history, and to equally satisfying results. Take, for instance, this dress, highlighted in a recent post on the Smithsonian's Around the Mall blog about how the Institution's costume collections, although historic and D.C.-based, contribute to the New York Fashion Week conversation:
Feedsack dresses were an economic necessity for the hard-hit farming families of the 1920s and '30s. But that doesn't mean women didn't take pride in creating one-of-a-kind designs. The bag manufacturers even began responding to market demand, according to the American History Museum, by printing ever-more colorful patterns on their products. Fashionable and frugal, the feedsack trend continued through WWII with regional contests for women to show off their skills.
But back to Elizabeth. So there she was, a petite, 70-something-year-old woman, squished between two people on the F train, just being her vibrant self. After taking her photo and exchanging a few words, I posted the image on Facebook only to learn that not only is she a New York institution, but she's also just a lady who can be seen running errands in Carroll Garden, Brooklyn, in one of her many pairs of hand-dyed green overalls. As she explained to New York Magazine in 2008: "I'm from Nova Scotia, where green is in your surroundings. I missed nature when I moved to New York. I started wearing green nail polish, and it spread all over me."