Now 90 Years Old, Willie Nelson Is Always on Our Mind
A look back at the life of the country music rebel, superstar, and elder statesman who is back on the road, again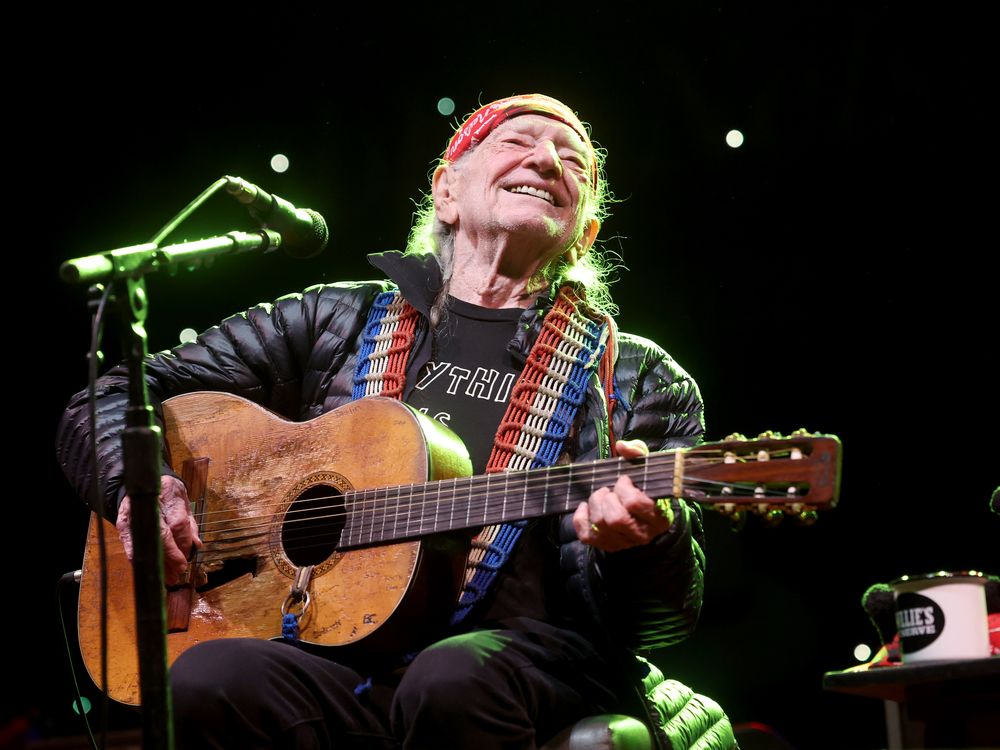 Willie Nelson's unofficial theme song, "On the Road Again," remains accurate as he turns 90. The country music legend, who celebrated his birthday this past Saturday, is on tour, with dates scheduled into October.
Assessing Nelson's legacy is challenging, because there are so many Willies to assess. There is historical Willie Nelson, child of the Depression. There is iconic Willie Nelson, near-embodiment of Texas myth. There is outlaw Willie Nelson, revolutionizing the country music industry. There is activist Willie Nelson, Farm Aid's co-founder and biofuel pioneer. There is Willie Nelson the songwriter of rare and poignant gifts, and more Willie Nelsons yet to be named.
As a Texas music historian, I find that Nelson's legacy also challenges appraisal because the concept assumes closure, a pastness, while the man at 90 still seems to be active everywhere. The LBJ School of Public Affairs at the University of Texas recently announced the Willie Nelson Endowment for Uplifting Rural Communities. Nelson headlined a star-studded tribute concert weekend in honor of his 90th birthday at the Hollywood Bowl on April 29 and 30. And the country outlaw is a current nominee for the Rock & Roll Hall of Fame.
While Nelson's story is vast, it can be distilled down to this: He sprang from the Texas cotton fields and earned his spurs in the state's dance halls before becoming one of Nashville's signature songwriters in the 1960s. He then returned to Texas a prodigal son, fostering Austin's musical ascent and, as the story goes, brokering a peace between the warring rednecks and hippies. He redefined country music's image and industry through the outlaw revolt of the 1970s. He catapulted to pop stardom in the 1980s but always went out on the road making music with his friends, night after night.
From Texas to Nashville and back
Born on April 29, 1933, in a small town between Waco and Dallas, Nelson and his sister, Bobbie, took to music at a young age. Nelson joined his first band at 10 and was a songwriter by 12. We know this in part from a curious artifact in the Wittliff Collections at Texas State University. Nelson's first songbook has all the doodles of a child's arts and crafts project. The songs inside, though—"Hangover Blues," "Faded Love and Wasted Dream," "I Guess I Was Born to Be Blue"—speak to honky-tonk themes far beyond Nelson's years.
He spent the next years chasing the life in those songs, hitting the road as an itinerant performer. Like most aspiring country artists, Nelson ended up in Nashville. In 1961, he joined Ray Price's band, the Cherokee Cowboys. Price had been a roommate of Hank Williams Sr.'s, and the Cherokee Cowboys built on Williams' legacy, at various times including not just Nelson but also his pals Johnny Bush, Johnny Paycheck and Roger Miller.
Nelson moved from success to success as a songwriter, with Price singing "Night Life," Faron Young singing "Hello Walls" and Patsy Cline singing "Crazy." He likely would have made it to the Country Music Hall of Fame with this early songwriting alone. He did record, but Nelson's flamenco guitar, jazzy phrasing and eccentric lyricism did not fit the mold of 1960s Nashville. Facing personal and professional challenges that culminated in his house burning down, Nelson left Tennessee for Texas by decade's end.
There had already been inklings of the countercultural turn that came next. Willie had a soulful cover of the Beatles' "Yesterday" on a 1966 live album. In 1971, his resonant voice opened Yesterday's Wine, before any music began, with a New Age declaration:
"There is great confusion on Earth," Nelson mused, "and the power that is has concluded the following: Perfect man has visited Earth already, and his voice was heard; the voice of imperfect man must now be made manifest. And I have been selected as the most likely candidate."
This was not Chet Atkins' country music. The qualities that made this imperfect man a Nashville outsider transformed him into the most prominent symbol for a new cosmic cowboy style that was coming together in Austin venues like the Armadillo World Headquarters and events like Nelson's own annual Fourth of July Picnic, which is scheduled for its 50th anniversary this July 4.
Willie Nelson's classic band came into shape while gigging in Texas with sister Bobbie on piano, Mickey Raphael on harmonica, Bee Spears on bass, Jody Payne on guitar and Paul English on drums. They were a family band—in the country sense, like the Carter Family—but also in the hippie sense, a roving carnival akin to Ken Kesey's Merry Pranksters. The group's sound mixed traditional country with the improvisations of psychedelia and jazz. You can hear the crackling combination in live performances from the period, including the pilot episode of the long-running PBS television program "Austin City Limits."
Rise of the outlaws
Nelson's albums from the 1970s blazed new paths for country music. Nelson secured complete creative control for his album Red-Headed Stranger, released in 1975, and its success struck a blow in support of artists' independence from the constraints of the country music industry in Nashville, a rebellion that took further root with Wanted! The Outlaws the following year. That album—a collaboration with Tompall Glaser, Jessi Colter and frequent partner Waylon Jennings—named a movement.
Nelson's band performed on the pilot episode of "Austin City Limits" on October 17, 1974.
Outlaw country was in part a marketing move for country artists who wore their hair long, leaned into rock's grit or wore biker leather. On another level, though, Nelson and Jennings lodged a successful critique of industry practices for country artists who wanted to use their own bands in the studio, have a greater say in the material they recorded and be regarded as serious artists rather than simply the label's hired help.
The outlaw years took Willie to a new class of stardom. He made films with the likes of Robert Redford and duetted with Julio Iglesias.
There were twists in the path, though. In 1990, the outlaw image turned literal in a high-profile dust-up with the IRS. The loss of his son Billy the next year was a much more harrowing setback. Through it all, he kept on the road, kept recording and stuck with family, community and song.
Advocate and elder statesman
It was, perhaps, these ups and downs that made Nelson a prominent advocate for others.
He held the door open for the sorts of folks who had traditionally had a hard time breaking into country music. He has consistently showcased artists and issues from just outside the bounds of traditional country, from early support for Black artist Charley Pride and benefits for the United Farm Workers in the 1970s to his cover of the gay-themed "Cowboys are Frequently, Secretly Fond of Each Other" in 2006. More recently, in a moment when country music's gatekeepers have not been generous with women artists, Nelson has championed new voices like Kacey Musgraves, Margo Price and Allison Russell.
Nelson has been an elder statesman for a very long time, but he has chosen to stay in the thick of things, even as the wheels on the bus begin to slow. Members of the Family Band that traveled so many miles with him have been exiting the stage of late: Bee Spears died in 2011, Jody Payne in 2013, Paul English in 2020 and sister Bobbie in 2022. Nelson's sons Lukas and Mikah have often joined the band in the meantime, as has Paul's brother Billy English.
Things change, seasons pass, but there is continuity, too, in Nelson's world.
He reminds us that eccentricity is among the most traditional of country music's verities. In a single concert, the joking wink to mortality of "Roll Me Up and Smoke Me When I Die" can share the set with a rousing gospel closer, Nelson singing "Will the Circle Be Unbroken?" or "I'll Fly Away" as he points skyward, imploring the audience to join in on what he calls "the big finish."
This article is republished from The Conversation under a Creative Commons license. Read the original article.
Jason Mellard is the director of the Center for Texas Music History at Texas State University