Norman Lear Talks Art, Activism and the 2016 Election
For the famed showrunner, TV has always been a chance to make the political personal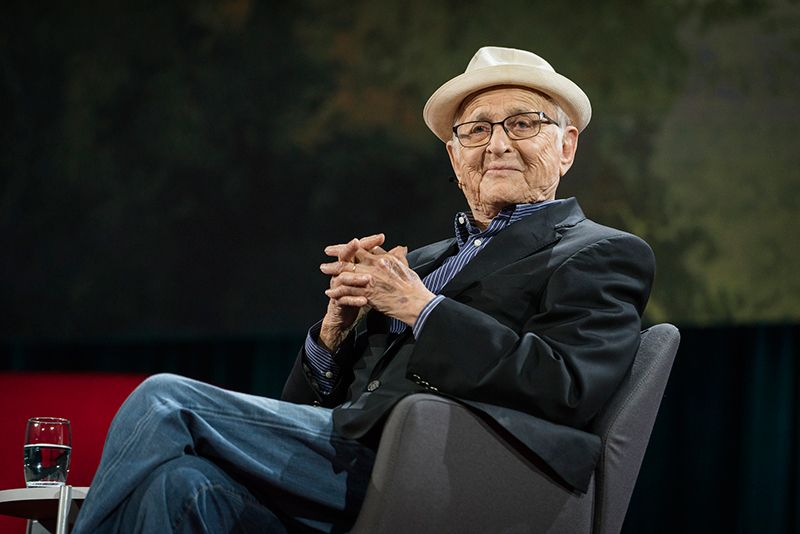 In January 1971, Americans tuned into CBS got their first look at a blue-collar Queens brood fighting culture wars still being fought today. The show opened with the tinkling of a spinet piano and the distinct white working-class inflection of a New York gone by.
"Boy, the way Glen Miller played…"
"All in the Family" would go on to become one of the most-watched television shows of all-time, finishing in the top Nielsen spot from 1971-76. A hysterical and trenchant look at 1970s America, the show made Archie and Edith, Gloria and Mike, and all the other people in the Bunker universe household names, including its creator Norman Lear. The 94-year-old writer, producer, civic warrior, and raconteur just received the well-deserved "American Masters" treatment with the documentary Norman Lear: Just Another Version of You, available at PBS.org until November 24. In the film, which is structured around Lear's 2015 book tour for his memoir Even This I Get to Experience, one bedrock of his life shines through. For Norman Lear, there is no separation between artist and activist.
Listening to Norman Lear tell his stories is to hear the last 100 years. His life encompasses the rise of the United States as a superpower, the ever-present American struggle for equality, the evolution of technology and the spread of homegrown pop culture to the farthest regions of the planet. Lear has witnessed all of the changes over the previous century. For better. For worse.
"Television, entertainment, and activism are intertwined, because I have always wanted to be a good citizen," says Lear. "When I was nine, my father was taken away, sent to prison for fraud, but through public school civics classes I learned I lived in a country that considered me an equal. Despite the fact my father was a criminal, despite the fact that we were Jewish, despite the fact there was a Father Coughlin, I had guarantees under the law. I was protected. I was as good as the next guy. It was a hugely comforting thing."
As a young boy, the anti-Semitic radio rantings of Father Charles Coughlin would have a profound impact on Lear, even if he didn't recognize it as a frightened child. The invective the popular Catholic radio host sent out over the airwaves, direct to Lear's crystal radio set, was the beginning of his political consciousness and of an understanding of mass media's power. Taking them head-on has been central to his career, which began when he dropped out of Emerson College to fight in World War II. Father Coughlin's tirades, which were sympathetic to the Nazi Party in Germany, and included a justification of the Kristallnacht terror, never left Lear's mind. He gave up his collegiate exemption to serve in the U.S. Air Force. His goal, as stated in the documentary, was to be a "Jew who served…to battle, to bomb…to kill."
Following his service as a bombardier, Lear moved to California and got into comedy writing, eventually landing in the young medium of television. It took years of writing material for comedians like Jerry Lewis and singers like Tennessee Ernie Ford before making a leap into the big time. For Lear, a shot at fame meant a chance to imprint his political beliefs on national television.
"All in the Family", which won 22 Emmys and was named Rolling Stone's 9th best show of all-time as recently as a month ago, spawned other smashes like "Maude" and "The Jeffersons." Add in other hits like "Good Times," "Sanford and Son," "Mary Hartman, Mary Hartman" and "Fernwood 2 Night," and Lear had a showrunner's run like no other. These sitcoms weren't niche shows like so much of today's respected "Prestige TV," either. Everyone watched Lear's shows, on the same night, at the same time, and usually on the same television set. At his career's height, he captured 120-million viewers a week, but for Lear, the personal is political—and he never backed down from including hot-button issues like poverty, bigotry, the Vietnam War, sexism, rape and abortion. In the 1970s, Lear was thrilled that his programs were a part of the country's nightly dinner table discussion—he made Nixon's infamous "Enemies List"—but he's equally tickled they've found a home in the 21st-century streaming universe.
"I love that these shows live on. I've been traveling around the country for my book and the documentary and I hear from people about all the laughter they bring families, even today," he says. Then, noting the outlet he's speaking with, "To think people can walk through the Smithsonian and see Archie and Edith's chairs? George and Louise Jefferson's fancy clothes in the new African-American museum? It's a kick."
This isn't to imply Lear is going gently into the night. He's still making television and just wrapped up thirteen episodes of a Cuban-American version of "One Day at a Time" for Netflix. But he's not entirely sold on the new television paradigm.
"I believe it'll air January 6 and who knows? Two days later, fans who like the show might have seen it in its entirety," he says. "Netflix will have all the data. That's brand new for me. America's number one product is excess. Wherever the f*** you look? Excess."
So the art continues, as does the activism. In the advent of the Reagan era, Lear turned his attention away from television to the Moral Majority, a right-wing group led by Jerry Falwell. Televangelists calling out for a Christian America, going so far as to pray for the death of a Supreme Court justice, had overtones of Father Coughlin, so Lear founded an organization to fight for progressive ideals. The People for the American Way is still going strong.
"Norman is as active now as he has ever been," says Michael Keegan, president of The People for the American Way since 2009. "He generates creative ideas, serves as a sounding board, carries our message in the public arena, and helps us find supporters for our work. Norman's consistency and tenaciousness are truly unique. I don't know of any organization founders who are just as passionate and active 35 years later."
Lear outlasted Falwell, but there are always new battles to wage, new powers-that-be to take on, and new demagogues in town.
"I'm a bleeding-heart conservative. Really believing in the Constitution and its equal protection laws is a conservative position," says Lear, who toured the country with a copy of the Declaration of Independence in 2000. "I totally trust in those instruments and my heart bleeds for those who don't get equal opportunity. I don't fight as hard as I might despite my big mouth, but I'm still trying."
To wit, Lear is a producer of the new Epix documentary series America Divided. His episode looks at housing inequality in the rapidly-gentrifying Brooklyn Crown Heights neighborhood. And just last week he wrote a Hollywood Reporter editorial calling for a thorough defeat of Donald Trump, demanding voters "beat his ass so soundly that his dangerous message is thoroughly discredited and for all time." (For the record, Lear believes Archie Bunker was "far wiser of heart" than Trump).
"There is no Moral Majority today and People for the American Way might've had something to do with that, but the essence of what they were doing lives on. Human nature hasn't changed. If 2,000-years of the Judeo-Christian ethic hasn't mattered, I don't know that one of my sitcoms, even one as well-known as "All in the Family," is going to make a difference," Lear says.
Lear may not feel as if his creative life has made a dent, but he hasn't stopped making political battles personal.
"Norman isn't motivated by partisanship but patriotism. He thinks the First Amendment is something precious that everyone should want to protect," says Keegan. "People For the American Way is a direct outgrowth of Norman's love for this country and its ideals. He often tears up when he recites 'that all men are created equal, that they are endowed by their creator with certain unalienable rights.'"
Lear, who personally took the Declaration of Independence to over 30 states, still gets chills from the experience "Watching families wait in lines around the block was incredible. It was a giant affair whether in a big city or a small town, it traveled across America in a sixteen-wheeler donated by the U.S. Postal Service," he says. "I truly believe that all of us are versions of one another. Even Donald Trump. He's a version of us, a silly horse's ass of a version, but I don't wake up in the morning without hope."
This is the essence of Norman Lear: showmanship, entertainment, civics, and a fervent belief in American ideals. To listen to Lear, to really take in his stories, is to hear the story of 20th-century America and beyond. As he edges closer to 100, Lear keeps on working because he knows those were the days, but these are the days too.