"No More Long Faces"
Did Winslow Homer have a broken heart?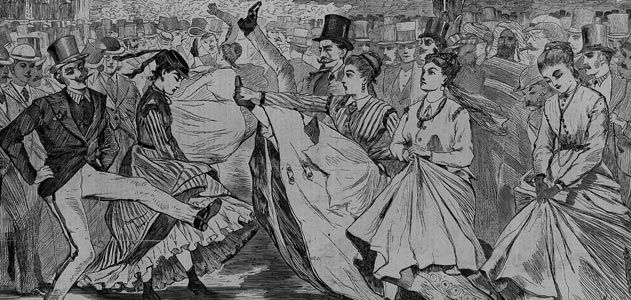 Gawking at the love lives of public figures–from Brangelina to Eliot Spitzer–is something of a national pastime these days, and things weren't much different during the lifetime of celebrated American artist Winslow Homer (1836-1910).
While prolific in depicting the outside world, Homer adamantly refused to reveal his inner landscape to an increasingly curious public throughout his career. Perhaps that is why, nearly a century after his death, we're still interested: Secrecy often suggests something worth concealing.
Homer himself hinted at this sentiment in a 1908 note to a would-be biographer: "I think that it would probably kill me to have such a thing appear–and as the most interesting part of my life is of no concern to the public I must decline to give you any particulars in regard to it."
Although Homer remained a bachelor for all of his 74 years, after his death, one of his close friends told biographer Lloyd Goodrich that the artist "had the usual number of love affairs." No conclusive evidence is available about any of these, but a thin trail of emotional clues exists amid Homer's correspondence with friends and family, as well as in his work.
The first such clue comes in a March 1862 letter to his father, Charles Savage Homer. The young Homer is planning to travel to Washington to illustrate Civil War action for Harper's Weekly, and mentions a comment made by his editor: "He thinks (I am) smart and will do well if (I) meet no pretty girls down there, which he thinks I have a weakness for."
Homer spent ten months in France in 1866-7, and had an active social life there, if his vivacious engravings of Parisian dance halls are any indication (see above sketch). For the next five or six years, back in America, he continued to paint generally cheerful, lively scenes, often featuring pretty young women.
"The numerous portrayals of fetching women suggest a longing for feminine company…these scenes may have been this shy man's way of safely bringing women closer," Randall Griffin wrote in his 2006 book Winslow Homer: An American Vision.
Specifically, it seems the painter yearned to be closer to Helena De Kay, an art student and the sister of Homer's friend Charles De Kay. She was the apparent model for several of Homer's works in the early 1870s, until she married the poet and editor Richard Watson Gilder in 1874.
As fine arts scholar Sarah Burns explained in a 2002 article for The Magazine ANTIQUES, Helena De Kay's correspondence shows how Homer may have tried to court her. Homer often asked her to visit his studio, an invitation he rarely extended to anyone, and she is the only painter he ever offered to instruct (though there is no evidence she accepted). In one note, he even compared a photo of her to a Beethoven symphony, "as any remembrance of you will always be."
Perhaps Homer's circa 1872 oil "Portrait of Helena De Kay" reflects his realization that he would likely lose his beloved to Gilder, who began courting her that year. It was an unusual work for Homer's style up to then – a somber, formal portrait, and an uncommissioned one at that.
In the painting, DeKay is seated on a couch in profile, dressed in black and looking down at a closed book in her hands. The indoor setting, presumably Homer's studio, is dark and empty but for a small spot of color on the floor–a discarded and dying rose; a few of its petals scattered nearby.
It is "a very suggestive picture, and unlike any other he painted," says Nicolai Cikovsky Jr., a Homer biographer and retired National Gallery of Art curator. "I'd say she is the most nameable candidate (for a love interest), certainly."
A letter from Homer to De Kay in December 1872 indicates that something had come between them. He asks her to pick up a sketch he had made of her, adding a few cryptic words of reassurance: "I am very jolly, no more long faces. It is not all wrong."
The next year, another of Homer's notes alludes to his feelings by what it omits: "My dear Miss Helena, I have just found your picture. I think it very fine. As a picture I mean, not because, etc."
It is unclear whether Homer ever actually proposed to De Kay, but he painted a picture of a proposal scene in 1872, with the telling title, "Waiting For an Answer," and in 1874 he painted an almost identical scene minus the young suitor ("Girl in an Orchard"), suggesting that the girl's answer had been to send the boy away. Around the same time, he painted several other pictures of "thwarted love," as Burns describes it.
Some scholars think he fell in love again a few years later, when he was around 40 years old. He visited friends in rural Orange County, New York, and painted several pictures of women there. One of them, titled "Shall I Tell Your Fortune?" shows a saucy-looking lass seated barefoot on the grass, holding playing cards in one hand. Her other hand rests palm-up on her hip, and her direct gaze seems to be asking the painter much more than the title suggests.
A similar woman appears in other Homer paintings from the mid to late 1870s, and this may have been the schoolteacher referred to by Homer's grandniece, Lois Homer Graham, in a piece she wrote for the book Prout's Neck Observed decades later: "The year 1874 found all of the Homer sons well established in their careers…Winslow had courted a pretty school teacher, but lost her to his career."
It does seem clear that Homer wanted a major change of scenery and lifestyle rather suddenly at the end of the 1870s. As Cikovsky puts it, "something was stirring in Homer's life, and I think some sort of intimacy gone wrong was part of that."
The artist withdrew from society, moving first to an island off Gloucester, Mass., then the remote fishing village of Cullercoats, England, and finally in 1883 to Prout's Neck, Maine, where he stayed the rest of his life. He developed a reputation as a grumpy recluse, discouraging visitors and turning down most social invitations, although he remained close to his family. His personal life may have suffered, but his professional life flourished in these years, as the seacoast inspired some of his best works.
Interestingly, Homer never attempted to sell the painting of the fortune-telling girl. It was still on an easel in his Prout's Neck studio when he died in 1910.
But before you get too wrapped up in the romance of that idea, keep in mind that alternate theories abound. Homer scholar Philip Beam thinks the mystery woman was no woman at all, but rather a boy modeling as a woman for the "girl-shy" painter.
At least one reviewer has argued that Homer was homosexual, though most art historians now reject the theory. Others, including Beam, think he was simply married to his work.
"To an artist of Homer's caliber much is given, but if he is to put his great gift to its fullest use, much is also demanded. So much that there is little time left to share with a wife," Beam wrote in Winslow Homer at Prout's Neck (1966).
The truth, it seems, remains as stubbornly elusive as the artist himself.