A New Tool From This American Life Will Make Audio as Sharable as Gifs
A tech company best known for creating Twitter bots has put its skills to help make podcasts go viral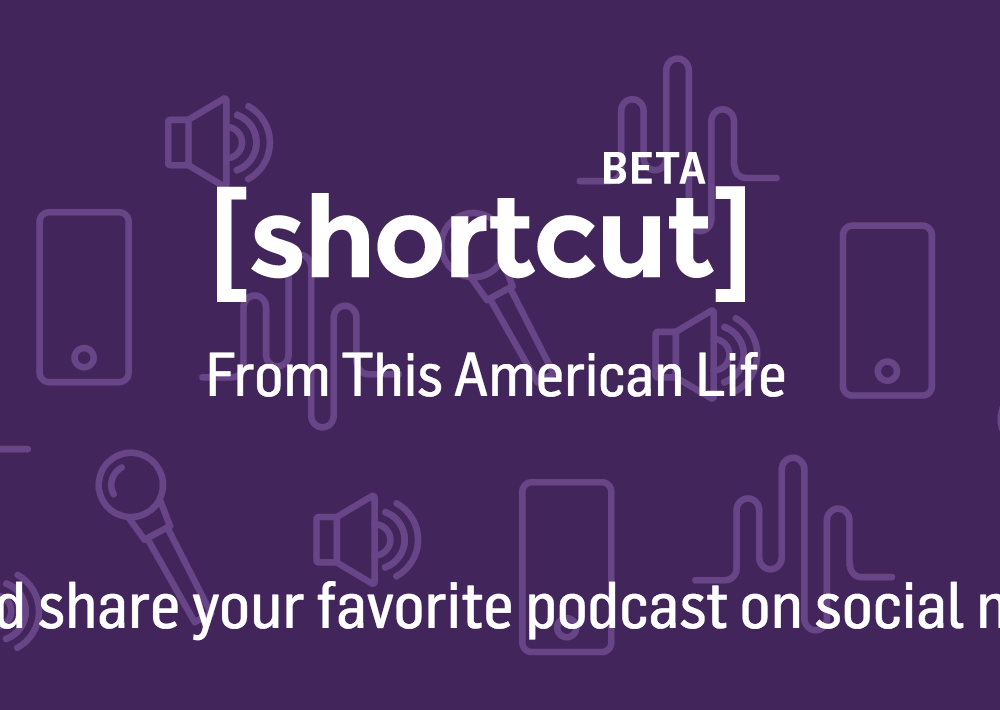 Gifs have existed for nearly 30 years. The animated image format is the Yiddish of the digital age, the perfect vehicle to convey a feeling that would otherwise take sentences to emote. These moments, whether they are from movies, television shows, newscasts, sports events or videos shot with a phone, are the language of today's communication. But they've always been, until now, visual.
Today, a technology collaborative and the producers of "This American Life" are releasing Shortcut, a new platform designed to add audio clips to the digital vocabulary. Even in the current technological landscape, options are limited for anyone seeking to share a short audio recording, such as a quote from an interview: they can either link to a page with the audio, or post a screenshot of the transcript. 
This technological incompatibility has caused particular frustration for the podcast and radio show community. Stephanie Foo, a producer at "This American Life" the immensely popular, long-running program, says that she and other producers felt that audio sharing was in "a dismal place, in terms of sharing segments from podcasts, compared to text or video." The show hosted a hack-a-thon of sorts in the fall of 2015 to troubleshoot this problem. "Our goal was to get a lot of journalists and developers into a room, improving audio sharing," says Foo.
The hack-a-thon was a success in that solutions were presented, some more viable than others. "We thought this could be like Giphy for audio," says Foo, referring to the popular gif-sharing site. But of course, it wasn't that simple. To help her with the logistics of such an endeavor, Foo connected with Courtney Stanton, a project manager by training and worker-owner with Feel Train, a technology collaborative that they co-founded with their husband, Darius Kazemi. (Stanton prefers to use the third-person pronoun.)
Kazemi gained fame, and a cult-like following, for creating small-scale, interactive programs, often in the form of automated Twitter accounts, known as bots. He's created Twitter bots that mash up two different headlines, tweet a metaphor every two minutes, and generate completely random flow-charts. He has created nearly 250 such projects and has been heralded by the Guardian as "the Oscar Wilde of Internet Bots." Der Spiegel wrote about "Bot Master Kazemi and his Art Machines." The Boston Globe called him "The botmaker who sees through the Internet." Headlines about him, when seen together, read like the semi-repetitive, exclamatory output of a typical Kazemi bot.
His first major project launched in November of 2012, Amazon Random Shopper. It was a program that would run an Amazon search with a random word, and order the first item that came up under a pre-determined budget. Kazemi also created a tool that would generate endless versions of "a meandering essay" called Content, Forever. "I've always done this kind of stuff," says Kazemi. "I have computer programs that I wrote that I was in high school that fit right in with what I do today. I never considered it an artistic practice until about 2012."
Kazemi often wrote about his projects on his blog, Tiny Subversions, a name that nicely encapsulates his aesthetic: quirky, intimate-feeling projects that make for playfully subversive, interactive commentary on the weirdness and serendipity of today's internet culture. By 2015, the year Kazemi's Sorting Hat Bot went viral, Kazemi and Stanton were growing increasingly unsatisfied with how little their day-to-day work impacted the world positively. That summer, they founded Feel Train, to better effect change through their tools and technology.
What Feel Train does can best be understood through what it has already accomplished. One widely acclaimed project was their Stay Woke Bot, a Twitter account created in collaboration with prominent online activists DeRay Mckesson and Sam Sinyangwe. The bot sends new followers empowering messages and, upon prompting, provides instructions on how to lobby your senators on behalf of gun control legislation. "We do work that is interesting to us and ethically good," says Stanton. "If it's not ethically good, we don't do it." Other Feel Train projects include a commission for the digital art platform EO1, and creating a Twitter bot for the Atlantic and Bloomsbury Literary Studies' project "Object Lessons."
Shortcut, in the form that is launching today, is an application that allows users to search through the entire "This American Life" archives, clip portions of audio, and share and embed them. Powerful confessions, idiosyncratic bursts of laughter, meaningful exchanges – these snatches of audio can now be used to promote an episode, to share a favorite moment, or applied out of context to communicate a reaction. "I have sent my own coworkers quotes of themselves," admits Foo. Apparently a clip of her laughing made the rounds, as well.
Feel Train has plans to expand the scope of Shortcut in the coming months, publishing the project code on an open source platform. "Making it entirely open sourced was the stipulation of our grants," says Foo. "We're not interested in doing this to make money. It's something that all podcasts are going to be able to use and we're going to make it really easy for them to use it." (The Knight Foundation, the Tow Center for Digital Journalism, and the Neiman Journalism Lab funded the project.)
This American Life's audio gif challenge didn't start out as a Feel Train project, though it may well be the epitome of one. "When it comes to making the world better," says Kazemi, "I'm a big fan of making information more accessible. And there's the idea of people being able to trawl through archives and share, plus the open source component."
"It very much fit into a lot of what we believe in, and our aesthetics," says Stanton. "I have a deep, deep love of remix culture, I think that's a lot of the strength of the internet, letting people chop up and play around with media, letting people create and discover and transform, trusting them with that. Shortcut is a very new, modern kind of tool for that."