America's First Writers Museum Is Slated to Open in May
A new home for celebrating American literary titans, titles and traditions takes root in Chicago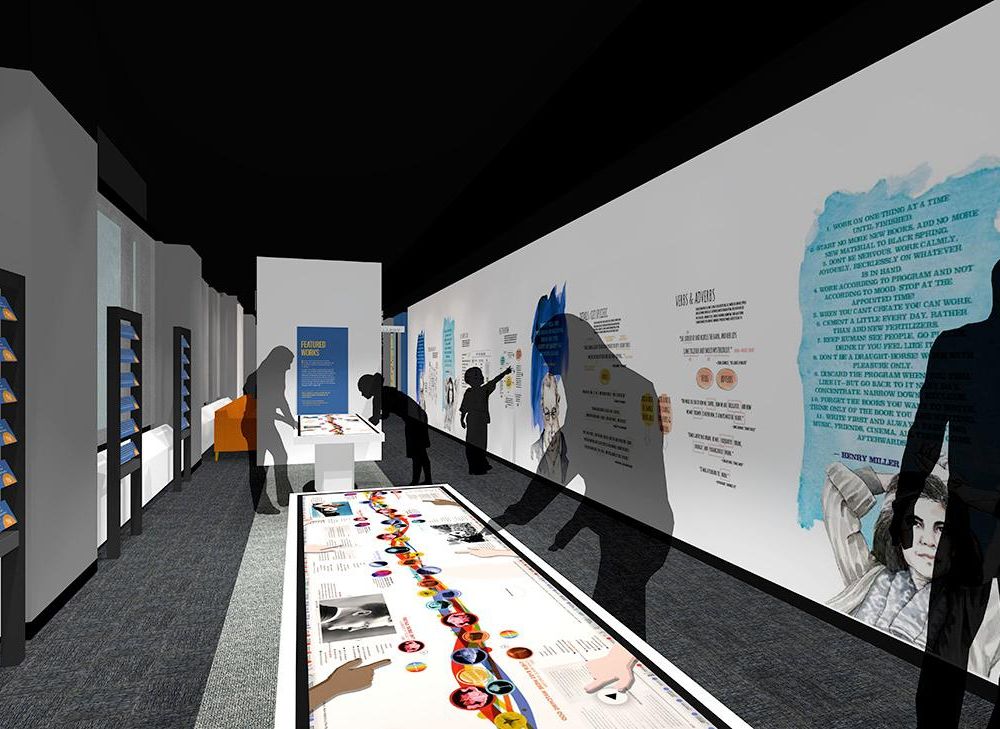 Malcolm O'Hagan had books on his mind after an annual visit to his native Ireland. While there, he had visited the Dublin Writers Museum and immersed himself in Ireland's literary tradition. The trip got him thinking: where was the American equivalent of this museum? It turned out there wasn't one. 
"The U.S. has an incredibly rich literary tradition," O'Hagan says. "If we can celebrate rock stars and football heroes, why aren't we celebrating the contributions of great writers?" 
The question sent O'Hagan on a seven-year journey to fill that niche. He hoped a new museum would remind people that America had essentially been founded on the written word. As Thomas Jefferson wrote in 1816, "Where the press is free, and every man able to read, all is safe." But even with resounding support from every person O'Hagan talked to, including the former literature director for the National Endowment of the Arts, David Kipen, the path hasn't been an easy one. It turns out creating a museum to celebrate the act of writing is far easier on paper than in execution. Among the most pressing questions: What exactly should the museum include? Which authors should be featured? And where should it be located? 
First, O'Hagan's team of curators and designers agreed on what the American Writers Museum would not be. They quickly concluded it wouldn't be a traditional museum of artifacts. As a business owner and retired engineer, O'Hagan spends part of his time volunteering as a docent for the Library of Congress where he observed visitors regularly walking past the Gutenberg Bible without pausing to look at it or learn more about its history. 
"The same used to be true in Ireland with the Book of Kells," O'Hagan says. "The book sitting there by itself is meaningless to most people unless [one is] a scholar. The important thing is the story of the book." 
Museums are typically places that house collections, but to see long rows of books, one need only visit a library. Instead, O'Hagan conceived the American Writers Museum as a temple for the act of reading and writing, featuring American masters of the craft. 
Andrew Anway, the founder of museum and exhibit design firm Amaze Design, was given this seemingly impossible mission: translate the intimate, solitary experience of reading a book into a series of interactive exhibits that allow visitors to be informed about and inspired by the creative process of America's greatest novelists, poets, journalists and playwrights—and do it without books.
"It [has been] such a big task to figure it out," Anway says. "People ask, 'What do I see in a writers museum? Do I see mannequins of writers?' We have so many things that I hope are unexpected—in a good way." 
Anway got involved right at the start of the project and, over the course of nearly a decade, has helped to develop a high-tech concept for the museum. The exhibits will feature touch screens and visual displays that allow visitors to dive into the history of famous writers, their works and the cultural and historical context behind them.  Kids can play games to create new words or try to identify writers by their sentence style, and older readers can learn odd facts about books at the Surprise Bookshelf exhibit.
A cornerstone of the museum will be the "Featured Works" display: two touchscreen tables, each eight feet long, display a stream of titles running like a spine down their center. Visitors can touch and drag the works, or symbols attached to a particular work, such as a green lantern for The Great Gatsby. From there, the visitor can see the author's edits to the piece, how it was interpreted by scholars, whether the writing was ever translated into other media (like film or radio) and if the author has any connections with other works featured on the table. To start, the tables will display 25 feature works. Every six months, five new works will be added. 
"The Featured Works tables are probably the coolest thing I've ever seen," says museum president Carey Cranston. "It's very fun and very communal. I can be reading about someone, look up and see you're reading about someone else, and we can have a discussion." 
Turning reading and writing into a shared experience is one of the museum's major goals. In addition to the Featured Works tables, visitors will also be able to contribute to the Story of the Day, a daily display that starts with a museum-generated prompt and allows visitors to add to the story. Visitors can also use a Goodreads database to share their favorite authors at a kiosk in the Readers Hall. The visitor-ranked authors will be displayed on the kiosk and may even influence which texts are featured in future exhibits.
This touches on the next major hurdle in the creation of the museum: which authors to include.   
"One of the fears of the museum was that if you talk to scholars about writers and try to make a list of who you want to feature, the list becomes endless and everything becomes very superficial," Anway says. So rather than making the museum an intro-level college survey of famous white male writers, they looked for a variety of voices. "One of the things we were really after was diversity. Trying to find female writers, African-American writers, Latino writers, Asian writers."
Around three-dozen scholars, authors, publishers and literary critics acted as curators for the museum, many of them as volunteers. Their combined perspective on what constitutes great literature resulted in an expansive list of featured authors that includes modern Latino poets, historical Native American orators and African-American playwrights, like August Wilson, in addition to more well-known names. 
"If we had another 50 spaces just for the 20th century, we could've filled them in an afternoon," says Reginald Gibbons, a professor of arts and humanities at Northwestern University and an early member of the museum's content leadership team. One of his biggest tasks was identifying 100 dead authors to feature in the "American Voices" portion of the museum. 
"It took us a while [to narrow down the list]," Gibbons says. "There was a lot of back and forth, but I think we made the case for all the writers [we selected]. We had different perspectives and it was a great process."
Diversity was also a major reason for ultimately choosing Chicago as the city to host the museum. In addition to being centrally located, with a large number of tourists visiting it every year, Chicago was home to luminaries such as Carl Sandberg, Upton Sinclair, Ida B. Wells, Studs Terkel, Gwendolyn Brooks and Saul Bellow. 
"Chicago has historically been open to the world and will continue to be open to the world," said Chicago mayor Rahm Emanuel at a press conference for the museum. "I cannot think of a better accomplishment and milestone for Chicago to add to its cultural mosaic than the first ever museum [of its kind] in the United States, a writers museum."
With the last round of funding underway, the museum space on the Michigan Avenue "Cultural Corridor" partially filled and the technology tested, the American Writers Museum is racing towards its opening date of May 16. Every person involved with the project is thrilled that their collective vision is finally coming to fruition, and no one more so than O'Hagan.
"My hope is that after a number of years this will develop into something bigger," O'Hagan said. He envisions a standalone building in Millennium Park, filled with even more exhibits. But for now, he's happy simply to see his dream take a physical form. 
"My prime motivation is helping people understand the role that great writing has played in shaping our history and culture," O'Hagan says. "Writers entertain us, they make us think, they help us understand who we are, who other people are. I think writers are hugely influential in our lives." With the inauguration of this museum, O'Hagan and his associates have taken an important step toward ensuring that writers remain an important and influential part of the American experience for years to come.
Editor's note, March 9, 2017: This article previously stated the Book of Kells was displayed in the Dublin Writers Museum. It is in the Library of Trinity College, Dublin.