Nearly 1,000 Years Old, This Text Shows the Ingenuity of Chinese Woodblock Printing
An 11th-century collection of aphorisms is a part of a new exhibition in California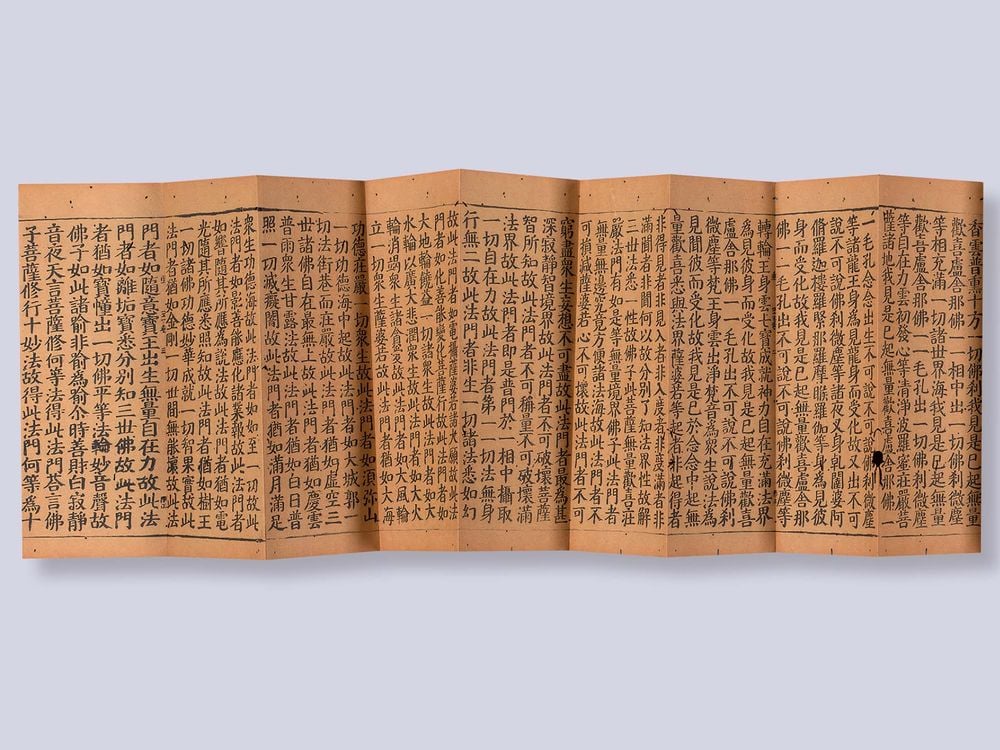 Nearly four centuries before Johannes Gutenberg produced the first Bible on a printing press, monks and artisans in China were drawing on their own rich printing tradition, crafting more than 165,000 wood blocks to create a religious canon far, far longer than the Bible.
The extraordinary text is at the center of a new exhibition at the Huntington Library in California, where visitors can view The Scripture of the Great Flower Ornament of the Buddha, created in 1085. Part of a larger compendium of Buddhist law and aphorisms, it was the third attempt in Chinese history to centralize, translate and print Buddhist scripture. Each page is joined to the next accordion-style; unfurled, it stretches to 31 feet.
To create this anthology, a temple in the province of Fujian commissioned thousands of monks and artisans. Once they'd gathered suitable wood, the workers wrote the characters of each page on a piece of paper, then transferred the page to a wood block while the ink was still wet. Only then could the carver engrave the wood blocks. This monumental effort, which took place over 32 years, resulted in The Great Canon of the Eternal Longevity of the Chongning Reign Period, a 5,850-volume work containing sutras and legal philosophy meant to help readers lead a moral life. Historians believe several editions were produced, though we don't know how many. No complete edition survives today. The Huntington specimen, which entered the library's collection in the early 2000s, represents just one surviving volume; a few others can be found across China, Japan and elsewhere in the United States.
Twenty-one feet of the book will be on view through December in a custom display case. It was rare for Chinese books from this era to carry print on both the front and back of pages, and the case includes a clear acrylic book cradle positioned at an angle that renders each side visible. Keen viewers might spot annotations carrying the names of woodblock cutters and printers. The exhibition, says Li Wei Yang, curator of the library's Pacific Rim collections, shows visitors "there was another printing tradition happening throughout East Asia."