Model Arrangement
In Milton Greene, Marilyn Monroe found a friend as well as a photographer who captured the range of her vibrant personality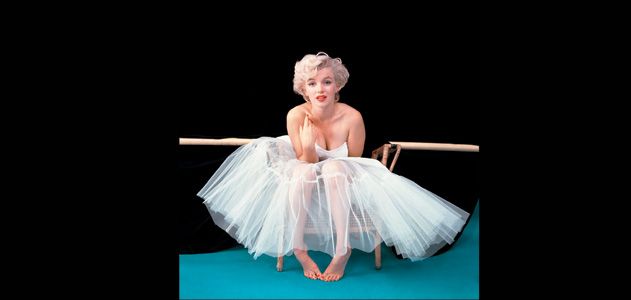 Writers as diverse as Norman Mailer and Gloria Steinem have waxed lyrical about Marilyn Monroe's enduring appeal, but they have rarely doted on her movie performances. Instead, they consider her image in photographs: the playful, precociously sexual Norma Jeane, so carefully cloaking her harrowing childhood; the iconic platinum-blonde glamour girl who wanted only to marry a millionaire; the dreamy and heartbreakingly worldly woman of the fabled "Last Sitting," photographed six weeks before she died. One could say that her greatest role was a nonspeaking one: Marilyn, the Portrait.
"She could, arguably, be the most photographed person of the 20th century," says producer and director Gail Levin, whose PBS "American Masters" documentary, "Marilyn Monroe: Still Life," aired in 2006, the year its subject would have turned 80. In justifying how Monroe could qualify as an "American Master"—she was technically not the artist, but rather the artist's muse or model—Levin told an interviewer, "Not only did she master her own image, create it and ultimately control it, she was the subject of many of the great masters of photography of the 20th century." One of these was fashion photographer and portraitist Milton Greene (1922-1985), whose photos reveal a little-recognized turning point: the moment at which Monroe began to take control of both her image and her life.
Ironically, Greene's photographs—such as the winsome shot from his 1954 "Ballerina" series shown here—have been at the heart of a legal struggle over who owns the rights to images of celebrities. Is it the photographer who obtained a model release, made the photos and holds the copyright for them? Or is it the subject or his or her heirs? In Monroe's case, the company Marilyn Monroe LLC—controlled by Anna Strasberg, widow of acting coach Lee Strasberg, to whom Monroe left her estate—asserted a "right of publicity" to her image but lost in California and New York courts. The stakes were not trifling: Monroe has made Forbes.com's list of "Top-Earning Dead Celebrities" every year since it was inaugurated, in 2001. She was ninth last year, with earnings of $7 million.
When Monroe laid claim to her image for the first time, in the 1950s, Greene was her co-conspirator. They met on a shoot for Look magazine in 1953 and "became instant friends," says Greene's son Joshua; soon they hatched a plot to free Monroe from her restrictive contract at 20th Century Fox, and she left Hollywood, moving in with the Greene family in Connecticut for a time. In this haven, Joshua Greene says, Monroe and his father formed their own company, Marilyn Monroe Productions, which in 1956 co-produced with Fox (under a new contract that gave her more control over her career) Bus Stop, the first film to showcase her dramatic capabilities.
Meanwhile, Greene was photographing Monroe—in Connecticut, New York and Los Angeles—in ways she had not been photographed before. They raided studio costume departments for whimsical outfits; they grew playful with settings and moods. "Everything leading up to 1953 was either on-set photography or glamour shots," says Joshua Greene. "My father was determined to break that mold and capture the real person, the soul, the emotion. He wanted to show the range of her capabilities as an actress."
A radiant, natural, wistful Monroe emerged from these improvised sessions. In the "Ballerina" series, for instance, her tulle dress was too small to fasten so she clutched it in a gesture of instinctive diffidence, evoking both the demure child and the voluptuous siren. In addition to other studio sessions, Greene took a multitude of candids—at cocktail parties, in front of the Greene Christmas tree and, eventually, at Monroe's private wedding to Arthur Miller in 1956.
Monroe reportedly once described Greene as unique in her life: a male friend and protector who treated her with respect. The pictures reflect that relationship, says Carol Squiers, a curator at the International Center of Photography in New York City. "Marilyn never had a father, and she shuttled between foster families," Squiers says. "Milton incorporated her into his family. He provided a kind of sanctuary that was both professional and personal. She trusted him and relaxed with him, so there's not that sex-goddess tension you see in most Marilyn pictures."
By 1957, however, their relationship was all but over—Joshua Greene says his father and Miller differed over the direction of Monroe's career (though she also accused Greene of having mismanaged their company). One oft-repeated story from the fraught set of The Misfits (1961), her last completed film, has her shrieking at Miller in the last throes of their marriage: "You took away the only friend I ever had! You took away Milton Greene."
The photographer and his muse spoke to each other only one more time, on the phone a month before Monroe died, at age 36 on August 5, 1962. "They were both happy to renew the friendship," Joshua Greene says. They planned to meet when Greene returned from shooting the Paris fashion shows that fall. But by then she was gone.
Michelle Stacey, an editor-at-large for Cosmopolitan, is the author of The Fasting Girl: A True Victorian Medical Mystery.