Miami Splash
Art Basel Miami Beach is a giant fair that's fueling the city's explosive arts scene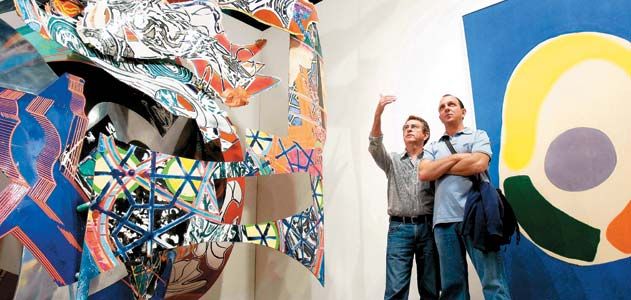 Miami has had its moments. In the 1980s it was "Miami Vice"—remember Don Johnson's five o'clock shadow and T-shirt-cum-blazer? In the 1990s it was South Beach, when seedy old Art Deco hotels blossomed into glamour destinations, luxury condos mushroomed all over town and supermodels rollerbladed along the beach. But since 2002, the year of the first Art Basel Miami Beach, it has been the city's art moment.
When the Miami Beach Convention Center opens its doors to the public on December 6 for the annual four-day Art Basel expo, a tsunami of artists, dealers, collectors, critics, curators and art-world followers will flood the 262,960-square-foot exhibition space to ogle, and possibly buy, everything from Impressionist landscapes and Cubist collages to neon sculptures and avant-garde video art—220 booths displaying the works of some 2,000 artists from 30 countries.
"Art Basel Miami Beach has one of the planet's highest concentrations of wealth and talent," boasts fair director Samuel Keller. "It's an explosive mixture of art, intellect, glamour and money." The art mart (a spinoff of the international fair held annually in Switzerland) has some of the glitz of Hollywood's Oscars, but it has also become one of the key events of the art-world calendar, a place where trends get set, deals get done and names get made—even if it has been criticized for its frenzied atmosphere and rampant commercialism. The New York Times has called it "an Art Costco for billionaires," and conceptual artist John Baldessari, whose work is marketed at the fair, observes: "You have to understand that it's not about mounting an art show, it's about selling art." But, he adds, "It's a chance to see a lot of good art in one place, even if it's not under optimum conditions."
"Art collectors love the sort of mall experience that art fairs provide," says Walter Robinson, editor of Artnet Magazine. "You walk down aisles and there's pressure to buy because the collectors know that there are other collectors there vying for the same choice artworks and they know they've only got a few days, if that, to make their move."
Why Miami Beach? "It seemed a good place to bring together the art scenes of the Americas and Europe in winter," says Keller, who is also one of the fair's founders as well as the director of Switzerland's fair. "The city was open and ready for a new international art show with a contemporary concept, and the South Florida art community was willing to actively support and embrace it."
While most of the action takes place at the convention center, there are a dozen or so subsidiary fairs—Pulse, Scope NADA, Aqua and Wave, among others—that have sprung up in Miami Basel's wake. An ancillary Design Miami fair, across Biscayne Bay in Miami's booming Design District, showcases furniture, lighting, antiques and objets d'art.
Sparked by Art Basel, Miami's art scene is enjoying a rapid escalation. Galleries in the Wynwood Art District, not so long ago a run-down area of old industrial buildings, warehouses and factories, are opening left and right. And two of the city's largest museums have announced ambitious expansion plans. The Miami Art Museum (MAM) is building a new $220 million space downtown, and North Miami's Museum of Contemporary Art (MOCA) will nearly double in size. The city's art mania is also due in no small part to a handful of energetic collectors.
Mera and Don Rubell, for example, moved to Miami from New York City in 1993. Three years later they converted a 40,000-square-foot former Drug Enforcement Agency building in Wynwood into a gallery for their contemporary art collection. For the first few years, viewing was by appointment only, but in 2000 the gallery opened to the public on a regular schedule. Four years later, the Rubells renovated the warehouse, doubling its exhibition space and adding a sculpture garden, café and library. Wynwood now boasts some 70 galleries and art spaces. "We used to be the only ones here," says Mera Rubell. "Now we hand out maps."
The founding in 1999 of the Margulies Collection at the Warehouse by real estate tycoon and arts patron Martin Margulies (whose private collection includes Rothkos, De Koonings and Miros) was another factor in the transformation of Wynwood. The 45,000-square-foot Warehouse specializes in video and installation art and photography. In a normal week, the exhibits might attract 200 people, but during last year's Art Basel Miami, some 7,000 came to see such highlights as spice-filled biomorphic sculptures by Brazilian artist Ernesto Neto, a fabric sculpture of a bathroom by Korean artist Do-Ho Suh and Works Progress Administration photographs by Walker Evans. In October, the Warehouse inaugurated an exhibition of sculpture from Margulies' private collection of such artists as Isamu Noguchi, Richard Serra and the late Sol LeWitt.
During Art Basel, collectors Rosa and Carlos de la Cruz open their waterfront residence on Key Biscayne by appointment. The home is an apt setting for their contemporary art collection, which includes pieces by the late Cuban conceptual artist Felix Gonzalez-Torres and Mexican post-Minimalist Gabriel Orozco. For last year's installation during Art Basel Miami, the couple featured works by mixed-media installation artist Christian Holstad, German artist Sigmar Polke and painter Peter Doig. Their plans for this year's fair include a room devoted to the paintings of the young New York-based art star Dana Schutz.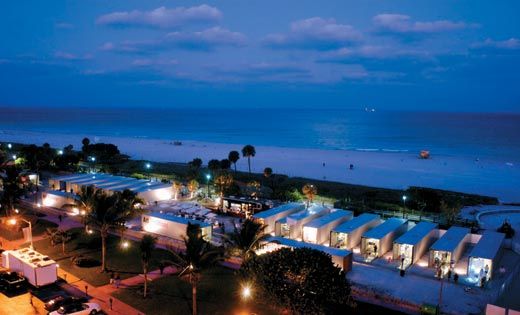 In 2001, Rosa de la Cruz and developer and collector Craig Robins founded Moore Space, a not-for-profit exhibition venue in the Design District that regularly features contemporary art shows. Now de la Cruz has another project in the works—a 28,000-square-foot art space in the Design District to house her permanent collection so that it will be more easily accessible to the public.
Each year for Art Basel, Dennis and Debra Scholl, whose collection includes contemporary art and photography—from an eye-catching staircase emblazoned with bright-colored strips of tape by artist Jim Lambie to conceptual works by photographer and installation artist Olafur Eliasson—ask a curator to organize a selection of works in their bayside home. They also have a gallery they call World Class Boxing, in a former boxing gym in Wynwood, where they show large-scale installation art by the likes of Dutch video artist Aernout Mik.
The Wolfsonian Museum, which occupies a refurbished 1920s former storehouse amid the restaurants and hotels of South Beach, contains some 100,000 industrial design objects, prints, paintings and sculptures dating from 1885 to 1945—all collected by its founder, Micky Wolfson, heir to the Wometco movie theater and amusement park fortune. On the second floor, there's even a 1930 train station lobby that Wolfson found in Milan. "Our mission is to look at design as a cultural agent," says curator Marianne Lamonaca. "To look at the impact, both obvious and more subtle, that design has on our daily life—whether in architecture, everyday objects or advertising." In 1997 Wolfson donated his entire collection and the building that houses it to Florida International University.
North Miami's MOCA is about to get an $18 million addition, designed by its original architect, Charles Gwathmey. For Miami Basel this year, the museum is mounting the first comprehensive U.S. exhibition of the work of Los Angeles-based artist Jorge Pardo. "The Miami art scene is really hitting stride and maturing," says MOCA director Bonnie Clearwater. "The city's institutions are starting to reach the critical mass that will provide the same kind of excitement of Art Basel Miami Beach on a year-round basis."
MAM, which began establishing a permanent collection only ten years ago, is generating the most buzz. Founded in 1996, the museum currently occupies an unassuming stucco building on Flagler Street in downtown Miami. Enter Terence Riley, the former curator of architecture and design at New York City's Museum of Modern Art (MoMA). Riley, who was one of the key people involved in MoMA's $858 million renovation, completed in 2004, was appointed director of MAM in 2006, and he is now charged with overseeing the creation of its new museum. Designed by the Swiss firm Herzog & de Meuron (the architects responsible for the Tate Modern in London, the expanded Walker Art Center in Minneapolis and San Francisco's new de Young Museum), the 125,000-square-foot building will occupy a four-acre downtown site overlooking the bay. "I don't want to build an iconic museum," Riley says. "I want to build a great museum. I want to do it the old-fashioned way, and if for all the right reasons it becomes an icon, that's great." Riley plans to unveil models of the new building during Art Basel Miami this year.
Last December, MAM and collector Ella Fontanals-Cisneros, who in 2003 founded Miami Art Central (MAC)—an innovative exhibition space for contemporary art in Coral Gables—announced a merger between MAM and MAC. "This city really needs a great anchor museum," says Fontanals-Cisneros. "Miami has been growing very fast, but it is still lacking that big part of the picture." Other new spaces are on the horizon. Real-estate developer and collector Craig Robins recently moved his company, Dacra, to a building in the Design District that has plenty of room to display his art. "By the time Miami Art Basel opens," he says, "there will be three other new buildings here. And Gibson Guitars has opened a 10,000-square-foot studio, where musicians can hang out and where there will be small recitals. There are a lot of things that are combining in this neighborhood that will transform the way we think about design."
There's no question, says Mera Rubell, the collector, "that the city's art scene is evolving. Last March, MoMA's International Council brought 80 museum patrons here for a tour of Miami and all the collections. Would that have happened ten years ago? Probably not."
For Rubell, the best evidence of change is the art itself and the artists who are making it. "What excites us is that for this Art Basel, our collection will feature an exhibition of the work of a home-grown artist—painter Hernan Bas," she says. "As far as I'm concerned, the artist is the real fruit of the tree. And the fact that we can mount an exhibit like this proves that we already have the beautiful ripe fruit, and that everything has come full cycle."
Freelance journalist Phoebe Hoban writes about culture and the arts for the New York Times, ArtNews and other publications.