Meet Team USA's Marlen Esparza, the New Face of Women's Boxing
The flyweight pugilist has spent all her life waiting for the chance to compete on the Olympic stage. Now, she just needs to win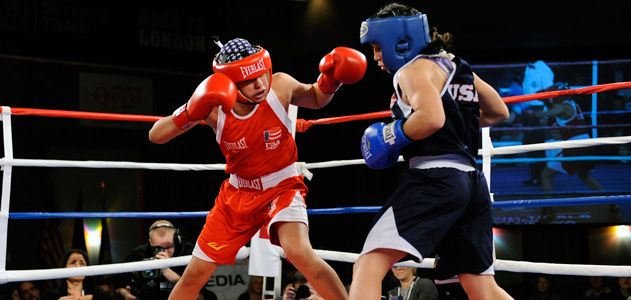 When Marlen Esparza was young, about 5 or 6 years old and growing up in Houston, she watched boxing on television, often VHS tapes of Julio Cesar Chavez, the Mexican fighter who won six titles in three weight classes in the '80s and '90s. Her father, David, who immigrated to the United States was a supervisor at a welding plant and was a huge fan of the sport.
Esparza recalls accompanying her father as he dropped her brothers off at Houston' Elite Boxing Gym where Rudy Silva, then training to become a police officer, took only boys under his wing. "My brothers didn't like [boxing]. But I always wanted to try it so one time I did."
She was about 12 the first time she convinced her father to let her go, but Silva needed convincing as well. After first refusing to train her because she was a girl, Silva then relented, but worked her hard, hoping she would quit. Esparza just worked even harder back, winning a local Golden Gloves tournament that first year.
She quickly fell in love with the sport she had been longedto compete in for years. "My whole life and everything about it has been about boxing," she says, and she's not exaggerating. She fell so deeply in love that she has worked out two or three times a day, year after year, preparing for fight after fight, passing up a chance to attend Rice University so she could dedicate herself to a sport that has, until recently, remained out of the limelight.
While reports of staged women fights go back as far as 1720 in London, a women's national championship in the United States has only been contested since 1997. Dallas Malloy, with the help of the American Civil Liberties Union, sued U.S. Amateur Boxing in 1993 and won the right to the first amateur fight, defeating Heather Poyner that October.  Women's professional boxing burned bright in the mid-1990s with the ascension of Christy Martin's career (and Sports Illustrated cover story) and the bouts between "the Daughters:" Laila Ali and Jacqui Frazier, scions of the heavyweight greats Muhammad Ali and Joe Frazier. In 2001, they fought before 8,000 people in upstate New York.
This weekend, Esparza fights for Team U.S.A. in the first Summer Olympics where women's boxing is an official sport. Esparza, who turned 23 on the first Sunday of the Games, is currently ranked sixth in the world, and will compete this Sunday, August 5.
At 5'3', Esparza is a flyweight (112 pounds). She's also the new look of boxing, at least international boxing, where skills mean more than brawn. Amateur international boxing is not about battering an opponent, but outmaneuvering her during four, two-minute rounds. Boxers earn points for clean blows to their opponent's head or upper body; power doesn't matter. If three of the five judges hit electronic buttons within a second of each other after a punch is delivered, the boxer earns a point.
Esparza has called the style "noodle arms" and says it's like fighting an octopus. It's as much cerebral as physical. She scouts her opponents, changing her style when necessary. Every fight is her against the world. "I fell in love with boxing because I like getting in the ring and being smarter than my opponent," she says. "When I win, it's not just about beating my opponent, but it is also about beating the symbol of them and everything they stand for."
But years before she mastered her brainy style, Esparza was a wild child. In the year before she began training with Silva, she was sent to an alternative school after behaving belligerently in class. "When I started dedicating myself to the gym and boxing, my trainer said that I also had to do things right at school and work through things with my behavior," she says. "When I started winning in boxing, everything got easier with my behavior. My grades got better. It was tough at home when my parents got divorced, but boxing helped me get through it."
Soon, Esparza was back in a regular high school, where she took up cross-country, swimming and volleyball to improve her conditioning. When her parents divorced, she remained with her father so she could continue training with Silva.  After she won her first national title at 16, Silva encouraged her to join the debate team so she would be better with the media. She graduated from high school as class president with a high GPA, but put off attending college at Rice University to continue her training.
Her grueling schedule has paid off; she has only lost twice to U.S. opponents, once when she was 12 and once to Christina Cruz, her toughest foe, in 2011. Each time, she retooled. "From the first loss to Johanna Mendez, I learned to train harder," she says. "From the second loss to Christina Cruz, I learned to fight smarter."
During training, which is six days a week (down from seven after a trainer convinced Silva the body needs a day of rest to get stronger), Esparza gets up early to swim and work on strength training. Lunch is pork loin or chicken breast and vegetables (she put on six pounds of muscle to move up to the 112-pound class, the lowest for women boxers). Then, she often naps. Silva meets her at the gym at the Fellowship of Nations in Houston, where she began training last year after the gym they started at more than a decade ago closed.  She jumps rope, hits the bags and spars under his watchful eye. Later, she goes for a run of anywhere from a mile to four miles.
Esparza punched her ticket to London by winning the U.S. Olympic trials, going undefeated and beating Washington D.C.'s Tyriesha Douglas, 32-17, in the final. Then she had to finish as the highest flyweight at the world championships in China in May where eight boxers from the weight class earned automatic Olympic berths. She started fast, defeating Argentina's Paola Benavidez, 20-10, in the first round before downing Vietnam's teenage phenom, Luu Thi Duyen, 28-13. But her win streak stopped when Esparza dropped a 16-8 decision to Ren Cancan of China, the eventual world champion now ranked number one among flyweights.
Like other losses, Esparza says she learned from this one and will come back stronger. She's been boxing internationally since she was 16, so she knows her opponents well. She's taken to listening to hymns lately as part of her pre-fight routine.
She wants to be calm, dissecting her opponents, always thinking, always seeking the peace of mind that will let her do her best. "In order to seek calmness, you have to try and outsmart your opponent and not just throw punches aimlessly," she adds.
"In London, I will have to beat [Cancan] by fighting a smarter fight and have a more technical approach," she says. "When I fought her in China, I had already qualified for London so mentally I was not the same as I was in the other rounds. This time I will be more mentally prepared."