Maurice Hines on the Legacy of the Apollo Theater
The legendary dancer talks about starting his career in Harlem and his upcoming Sammy Davis Jr. project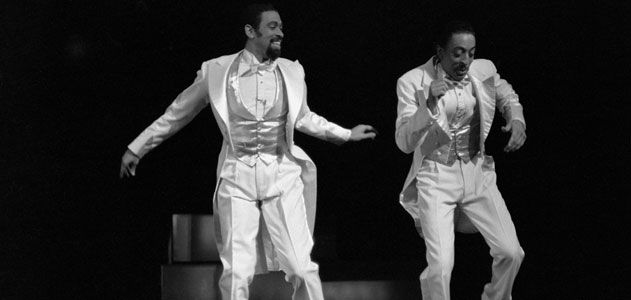 Dancer, singer and choreographer Maurice Hines, who began dancing at the Apollo Theater with his brother, Gregory, when the two were children, reminisces about the legends he observed and the lessons he learned at the famous Harlem theater.
How old were you when you first appeared at the Apollo?
Gregory and I were brought to the Apollo by Henry LeTang, who choreographed the movie The Cotton Club (1984). We were, I think, 7 and 5, and we did the Apollo almost every other week. We worked with a lot of great, great stars. Of course, there were a lot of rock 'n' roll acts there at that time, the Flamingos, Ruth Brown. And we also worked with Dinah Washington, Diahann Carroll and a lot of comedians: Nipsey Russell, Redd Foxx.
Was the Apollo audience tougher than other audiences?
Had we got up there and tried to be cute little kids, yeah, that's boring. They got cute little kids on the street. Henry LeTang said, "You got to dance, you got to flip, you got to jump around. You got to get the audience loving you so they have no decision to make. There's no 'Will I like them?' No, no, no!"
What was the most important lesson you learned there?
We did this show with John Bubbles. It was about 1957. John did stuff from Porgy and Bess, from his tap act with Buck and Bubbles, and numbers from his various movies like Cabin in the Sky (1943). The audience, who were mostly younger kids into rock 'n' roll, loved him. And Gregory and I couldn't understand it. He told us, "We must always tell the truth to the audience. If I were to try to sing what Larry Williams did [Williams had a hit at the time with "Bony Maronie,"] which is not my style, they would laugh at me. But because I believe in what I'm doing and because I do it so well, they'll respond." He was a tap dancer, too, one of the greatest, and Gregory and I were tap dancing then. He said, "Never do a step that you don't love because the audience will see it." I never forgot it and Gregory didn't either.
What was John Bubbles' contribution to tap?
He invented rhythm tap because he was basically a flat-footed dancer, which means that he used his heel in the same way he used the toe. As wonderful and phenomenal as Bill "Bojangles" Robinson was, he tapped mostly on his toes. John Bubbles put the foot down in a combination, rather than just putting the heel down like a period at the end of a sentence—that's what most dancers did—and he used the heel throughout; therefore he could dance at any tempo. He was like a drummer.
Did having theaters for African-American audiences, such as the Apollo, change the landscape of entertainment?
No doubt about it. Nothing could have stopped the creativity of the black performers. But those black theaters gave them a venue. When you're doing four shows a day, you could make mistakes on the first show because you could correct it by the second show. You could perfect your art that way. Ella [Fitzgerald] learned to scat more because she could play with the musicians and try something new the next show. There'll never be anything like the Apollo again. First of all, performers today would never do four shows a day. They can barely do one concert. They're not trained to do it.
We worked with giants. But the performer I fell in love with, I do a tribute to him in my concerts when I do them, was Nat King Cole. When I saw Nat King Cole at the Apollo—I didn't know who he was at that time—I think I was 11, maybe younger, 9, and Gregory was 7. Daddy wanted us to see all the greats, so every week there was a star. This man comes out and they didn't say his name and the audience is screaming and yelling. He had not sung a note; he just stood there. I said, "Daddy, he hasn't done anything. Who is that?" Daddy said, "That's Nat King Cole. He doesn't have to do nothing. Watch, he'll stand there and then he'll sing." So when I saw Michael Jackson do it in his concert, and he just stood there and the audience applauded, I think everybody thought that was new. Nat King Cole did that.
What do you think about the recent inductions of Michael Jackson and Aretha Franklin into the Apollo Theater Hall of Fame?
I think it's wonderful to recognize greatness, and when you're talking about Aretha Franklin and Michael Jackson, you're talking about greatness. I do think we have a tendency to do what is hot; of course, Aretha's been hot most all of her career and that's as it should be. She is the Queen of Soul. And Michael, they try to say his career went down—everybody's career goes down. Sinatra's went down, you know, hills and valleys. But what he contributed to the music business was spectacular. I hope they will also do Lena Horne, who just passed away, Mahalia Jackson and all those people that opened the doors. They paid the dues; without them opening those doors, none of us would've had a chance, including Aretha.
Who are the tap dancers that you admire most?
My idol was Fayard Nicholas of the Nicholas Brothers because he used ballet without balletic training. They could hoof, but he was also pulled up and did wonderful things with his hands. They kept it alive, thank goodness, and danced until they died. Bunny Briggs was a great influence on me. He was a great tapper, did close floor work. That's really my expertise. Very few people are great at it. Savion [Glover] is great; Jason Samuels [Smith] is great; Sammy Davis was great. My brother, of course, that kind of greatness I don't see. When you see greatness, it's rare. We see hype and we see lip-syncing but tap dance—you can't lip-sync that. You got to do that. The Manzari brothers [John and Leo] are great. I'm getting ready to choreograph the life story of Sammy Davis Jr. for Broadway and we've been doing auditions all week and the Manzari brothers came in and got [parts] with one number.
Tell me about your Sammy Davis Jr. project.
It's called Cool Papa's Party. We did a little version of it at the MetroStage in Virginia. In fact, I won the Helen Hayes choreography award for it. So we're doing a bigger presentation. And I'll be choreographing it like I did in Virginia. We haven't found a guy to play Sammy yet, because that's almost impossible. The only one who could've ever played Sammy was my brother. They don't make'em like Sammy and my brother anymore. Or like me, to be frank with you.
My dancers—we did Sophisticated Ladies in Washington, D.C., and had great success with it, turning away 200 people in a 1,200-seat house the last two weekends. That show's going on the road, London—but my dancers were falling out like flies. It was so cute, 17- and 20-year-olds missing shows. I'm 66; I didn't miss one show. They said, "How're you doing 12 numbers a show?" On the weekend that's 48 numbers. "I said cause I'm trained not to miss a show." I hope one day the show goes to the Apollo.
Why? What makes the Apollo so special for you?
Because Duke [Ellington] was a big star there. The show represents not only the greatness of his music, which, of course, stands alone, but it was also a very glamorous show. Those were very glamorous times. We didn't know there was another downtown. There were a lot of nightclubs and jazz clubs [in Harlem] and Duke and all the great musicians lived on Sugar Hill in Harlem. When you did the Apollo, it represented the top of the line and the people came to the Apollo dressed to the nines to see those shows.
Also, it's coming home to me. Since Gregory did the show before me, it'll be like Gregory and I on that stage again when we started at 7 and 5. I did Gregory's memorial at the Apollo. Everybody came, Diahann Carroll, Chita Rivera, all of our friends came and performed. I had pictures of Gregory, and I tapped with a spotlight next to me, as if Gregory was tapping with me. I did the same soft shoe we did. It was very emotional. So I want this show to go there.
Why are you doing a show about Sammy?
Sammy Davis Jr. was the greatest all-around entertainer in the world. He did everything. He played every musical instrument, he tapped unbelievably, he sang fantastically—forget about "[The] Candy Man"—he could sing "My Funny Valentine" and all of that. Also, what he did on the Apollo stage, I'll never forget it, which is why I fell in love with him and said I'm going to do that. He sat on the edge of the stage with a cup of tea and just talked to the Apollo audience. I think it was for about ten minutes. He needed to rest his voice, but he just talked. Now the Apollo audience ain't no pushover, but he had them in the palm of his hand with a cup of tea. That kind of rapport means the audience loves everything you do and say.
What is the Apollo's place in history?
It was the premier showcase. If you didn't play the Apollo, you hadn't made it. It was sort of like the Orpheum circuit; if you didn't play the Palace on Broadway, you hadn't made it. It was the same way with the Apollo. You could play the Howard in D.C., the Uptown in Philly. All over the country, they had these wonderful African-American theaters for African-American audiences. But the prestige was the Apollo. We were called "the Hines Kids direct from the Apollo Theater." We became big on that circuit because we came from the Apollo Theater.