A Massive Aerial Sculpture Is Hoisted in Downtown Vancouver
Artist Janet Echelman combines ancient techniques with modern technology to create her largest-ever net sculpture for TED's 30th anniversary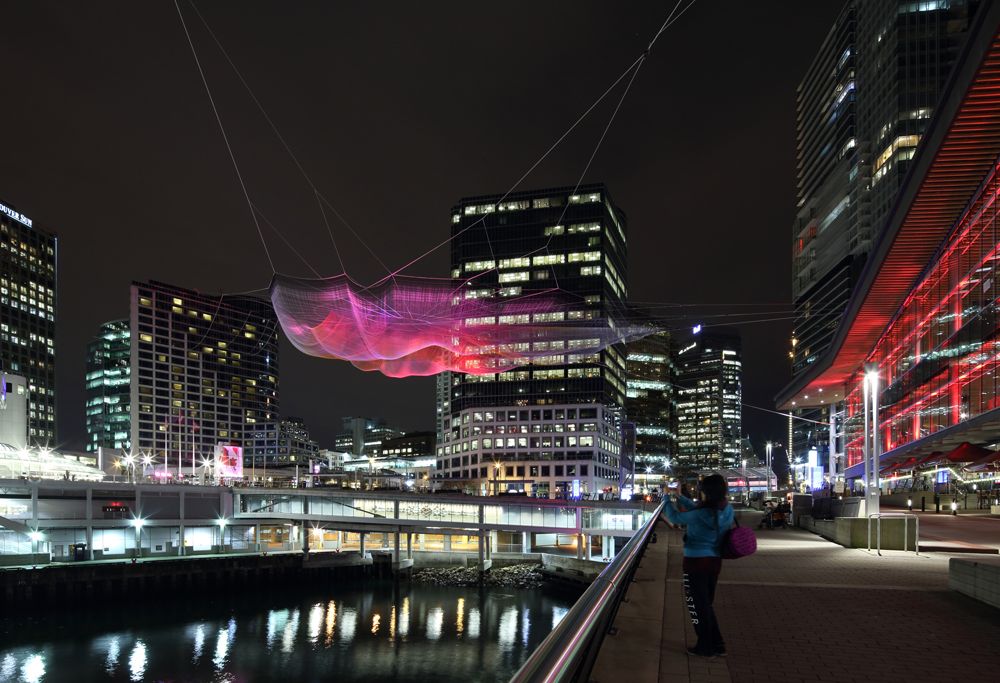 This week, astronauts and beatboxers, magicians and climate scientists, and filmmakers and activists are mingling in Vancouver, where TED is hosting its annual conference. As speakers and the event's 1,200 attendees muse about the landmark innovations of the past three decades and those that lie ahead, let's hope they look up.
High above the plaza, a billowing sculpture spans the 745 feet between the 24-story Fairmont Waterfront Hotel and Vancouver Convention Center. The 3,500-pound net—a complex matrix of hand and machine-made knots—is "like a custom-knitted sweater for the city," its artist has said, and the Daily Mail likened it to a nebula. To me, it looks like a giant web spun by Spider-Man. But whatever you call it, it is a feat of engineering for sure.
Skies Painted with Unnumbered Sparks is the largest aerial sculpture that Janet Echelman has ever made. The Boston-based artist has collaborated with architects, engineers and lighting designers in the past 16 years to construct, as she puts it, "living, breathing sculpture environments that respond to the forces of nature" in cities around the world. TED invited her to make this site-specific piece in Vancouver to mark the nonprofit's 30th anniversary.
Echelman discovered her medium—fishing nets—while in India on a Fulbright lectureship in 1997. She had planned to teach painting and exhibit her work in the country, but when the set of paints she had shipped from home never made it to the fishing village of Mahabalipuram, where she was staying, she took up sculpture. From local fishermen, Echelman learned ancient techniques for knotting fishing nets, and, together, they fashioned nets in shapes that she sketched, hanging them like wind socks.
"There is this resiliency and adaptability of the netted structure that is brilliant. If one part of the net fails, the other nodes take the forces, and it is immediately redistributed by the entire system," says Echelman. "Learning to work with it and how to make volumetric form with it is still an unfolding process for me."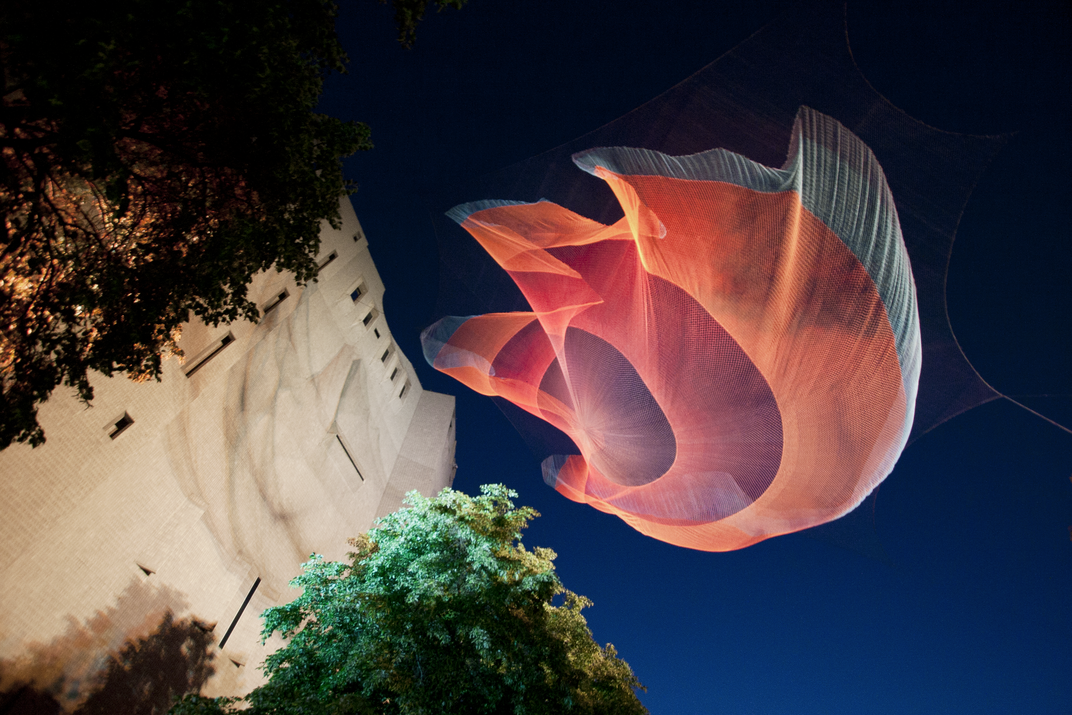 In many ways, science informs the artist's work. Echelman based the shape of an aerial sculpture called 1.26, first displayed in Denver in 2010 and later in Sydney and Amsterdam, on a simulation the National Oceanic and Atmospheric Administration made of a tsunami formed by the Chilean earthquake that year. The name, 1.26, is in reference to the 1.26 microseconds that the earthquake sliced off the length of the Earth's day by shifting its mass.
But what is a shorter day, Echelman muses, when there are longer ones to come? "I've been thinking a lot about time and the day, and the fact that the Earth's rotation is slowing so that my experience of a day is splitting off from atomic measurement of a day," she says. 
For Skies Painted with Unnumbered Sparks, Echelman collected data sets of her own subjective experience of the day based on looking up at the sky. She took photographs of the sky every five seconds for a 24-hour period. Then, she calculated the hue and brightness of the sky and graphed those figures radially to come up with the sculpture's form.
"I don't see any separation between art and science. Some people like to experience my work in a purely visual manner, without any additional content, just the pure kinesthetic color and form experience. And others are interested to understand these references to science and data sets," says Echelman. "For me, as an artist, I invite people to enter the work in whichever way draws them in."
But the sculptures aren't just depictions of science and art—they're also marvels of engineering. Before mounting them for display, Echelman must overcome the monumental logistics involved in creating something that, as it seems to hover in the air, must be able to withstand up to 90-mile-per-hour winds.
With the help of software engineers from Autodesk, a company that makes 3D design software, Echelman's studio has worked to develop a special tool for her to use to test the viability and structural integrity of her sculptures before they are hoisted into the air. The artist uses Honeywell Spectra fiber that is 15 times stronger than steel. But, with the software, she can input a sculpture's specifications and watch, in a simulation, as she exerts the forces of gravity and wind, all the while adjusting the aesthetics of her design to accommodate the environmental conditions.
What Echelman finds exciting, as an artist, is infusing a traditional craft with modern technology. "Fishermen have been splicing ropes for their traps for centuries if not millennia," she says, "but we are using those techniques in new ways with new materials to create a new kind of urban art."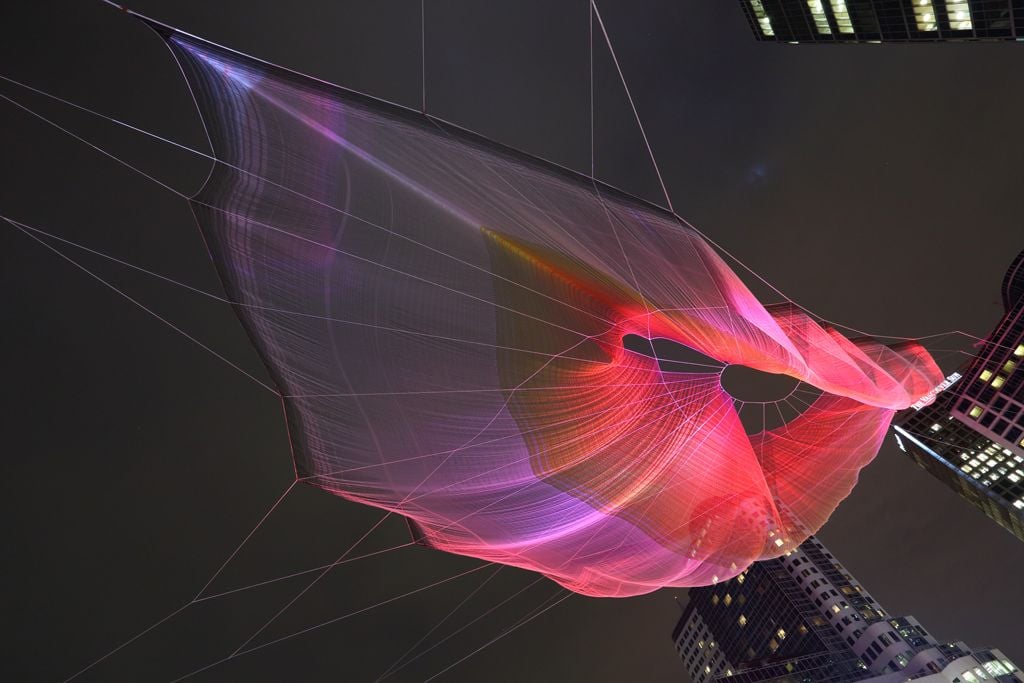 Echelman collaborated with Aaron Koblin, creative director of Google's Creative Lab, to install interactive lighting on the Vancouver sculpture. At night, five high-definition projectors cast a giant canvas—literally, a massive Chrome window—onto Skies Painted. Visitors with smartphones or tablets can interact with the sculpture through an app; a swipe or swirl of a finger on their touchscreen produces, in real time, a colorful ripple or pattern on the netting.
"Each person becomes a participant and actually completes the art for me," says Echelman. "I don't know how it will unfold."
Skies Painted with Unnumbered Sparks will be on display at the Vancouver Convention Center until tomorrow, March 22. Echelman hopes for it to travel to other venues in the future.