Martin Schoeller's Signature Style
Known for his photographs of celebrities and politicians, the artist doesn't put his portrait subjects on a pedestal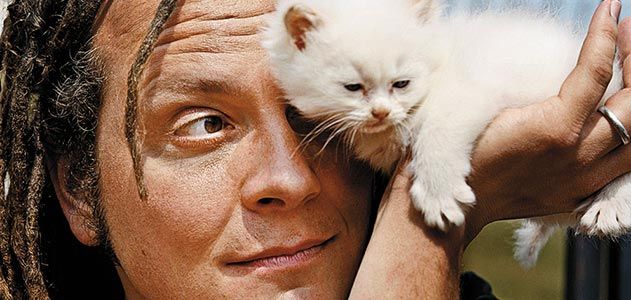 Photographer Martin Schoeller's signature style is large, close-up portraits. He has photographed hundreds of celebrities and politicians, including Brad Pitt and Sarah Palin. Schoeller's work was recently on display at the National Portrait Gallery. He spoke with the magazine's Abby Callard.
Who are your influences?
Bernd and Hilla Becher, the German couple who photographed industrial sites. They displayed photos of objects that performed the same function, such as water towers, and allowed people to compare and contrast the architecture. That always fascinated me, and informed my approach toward taking portraits—working with people from different walks of life, but using the same photographic technique to invite comparison.
What attracts you to extreme close-ups?
It's probably a reflection of my personality. I feel comfortable being close to people. Some photographers don't want that level of intimacy. But I always felt that close-ups allow you to capture the most essential part about a person, without being distracted by their clothing or the physical background.
Also, many photographers are about making people look good to please their subjects and clients. But there's an underlying artifice to that approach; it's putting people on a pedestal and celebrating them. So these minimalist, extreme close-ups are much more honest and much more interesting to me.
Who was the first person you photographed in this style?
Nobody famous in the beginning. I made friends with these guys who owned a deli in New York City's Lower East Side, and they let me tape my shower curtain to their window to serve as a simple backdrop. I picked that street corner because of the nice daylight and just photographed people as they walked by me, [after] asking if I could take their picture.
Who was your favorite subject?
It's hard to say. I once went to the White House to photograph Bill Clinton. Spending half an hour with the president of the United States was quite memorable. And quite stressful.