Marrons Glacés: $4 a Nut, But Worth Reminiscing Over
The ultra-sugary confections, popular in France and Italy, have a creamy texture and unmistakable warm chestnut flavor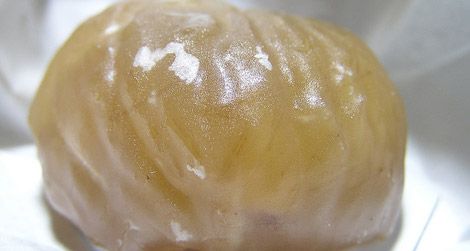 When I was in New York City earlier this week, I decided to check out Eataly, the Italian food emporium slash gastronomic theme park that opened near the Flatiron building a year ago. (There are also locations in Italy and Japan.) Aside from a large selection of imported products—pasta, anchovies, olives, oils, spices and much more—the complex includes six restaurants. Rather than specializing in different regions, each eatery focuses on a different kind of food: pasta, pizza, seafood, salumi, etc. Chefs Mario Batali and Lidia Bastianich are partners in the venture.
At first, the atmosphere reminded me less of Italy—one of my favorite places—and more of a high-end and very crowded food court. It wasn't until I ate something that I was transported. I sat at the counter of the pasta/pizza restaurant and ordered the daily special, half-moon spinach ravioli in a lemon sauce, sprinkled with pistachios. It reminded me of something I had tasted in Rome years ago, at dinner with an American expat acquaintance and her Italian friends that has crystallized in my memory as my quintessential Roman experience.
Afterward I roamed the food aisles, not buying anything because it was mostly too expensive. Then I spied the candy counter. At the end of a row of chocolates was something I hadn't encountered since that Rome trip: marrons glacés, or candied chestnuts. These ultra-sugary confections are popular in France and Italy, and although I don't always like overly sweet sweets, I remembered liking their earthy, nutty flavor when I tasted them more than a decade ago.
But they were $4 apiece for something smaller than a golf ball—two or three bites at most. I could have gotten a whole dish of gelato for the same price. Then again, gelato is relatively easy to find in the United States—if not always of the same quality you'd find in Italy—but a marron glacé is a rare sight. I decided to go for it.
It was worth it. As I bit into it, I was immediately hit with a sugar rush. The finely granular, almost creamy texture was similar to some Mexican confections (also very sugary) made with sweetened condensed milk. But then there was the unmistakable warm chestnut flavor, which anyone who has tasted roasted chestnuts from a New York City cart in winter (or elsewhere) would recognize.
For a piece of candy, it was expensive. But for a one-minute mental vacation to a favorite memory, it was a bargain.
The reason candied chestnuts are so pricey is that it takes a long time to make them, plus the cost of importing them—I don't know whether anyone makes them domestically. You can make them yourself, if you have four days to spare this winter, when chestnuts are in season. There are also shortcut versions that take only an hour, but that seems like sacrilege.
As for me, I'll probably just wait until the next time I encounter one—even if it takes another 15 years.