Maria Anna Mozart: The Family's First Prodigy
She was considered to be one of the finest pianists in Europe, until her younger brother Wolfgang came along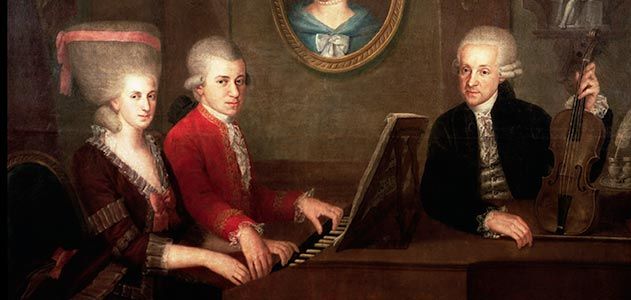 "Virtuosic." "A prodigy." "Genius." These words were written in the 1760s about Mozart—Maria Anna Mozart. When she toured Europe as a pianist, young Maria Anna wowed audiences in Munich, Vienna, Paris, London, the Hague, Germany and Switzerland. "My little girl plays the most difficult works which we have … with incredible precision and so excellently," her father, Leopold, wrote in a letter in 1764. "What it all amounts to is this, that my little girl, although she is only 12 years old, is one of the most skillful players in Europe."
The young virtuoso, nicknamed Nannerl, was quickly overshadowed by her brother, Wolfgang Amadeus Mozart, five years her junior. But as one of Wolfgang's earliest musical role models, does history owe her some measure of credit for his genius?
"That's a very interesting question," says Eva Rieger, retired professor of music history at the University of Bremen and author of the German-language biography Nannerl Mozart: Life of an Artist in the 1800s. "I've never really considered that possibility, and I don't know of anyone who has before."
Such a suggestion may seem far-fetched to Mozart fans and scholars. "To answer the question of how much Nannerl influenced Wolfgang musically, I would say not at all," says Cliff Eisen, professor of music at King's College in London and editor of the Cambridge Mozart Encyclopedia. "I'm not sure there is evidence that the dynamic was in any way exceptional beyond what you might think between one relatively talented musician and one who far outshines the other."
Not so fast, say other scholars. "No musicians develop their art in a vacuum," according to Stevan Jackson, a musical sociologist and anthropologist at Radford University in Radford, Virginia. "Musicians learn by watching other musicians, by being an apprentice, formally or informally." Being in a musical family with a musical sibling, in particular, can heighten one's musical interest, expertise and musical drive, Jackson says.
Leopold Mozart, a court musician, began teaching Maria Anna, his first-born child, to play harpsichord when she was 8 years old. She progressed quickly, with 3-year-old Wolfgang often at her side. After a few years, Wolfgang tried to play sections from Maria's music book. "Over time, Nannerl's playing became more and more brilliant, her technique perfect," Rieger says. "Young Wolfgang was probably impressed by that and inspired to play."
Wolfgang's early forays into music-making took his father by surprise. "'This minuet and trio were learned by Wolfgang in half an hour, at half-past nine at night on the 26th of January 1761, one day before his fifth birthday,'" Leopold jotted in Nannerl's music book, according to Maynard Solomon's Mozart: A Life. Because of Wolfgang's apparent aptitude, Leopold soon launched his son's music education instead of waiting until the boy was 8.
Those three years could have made a real difference in Wolfgang's brain development, says Gottfried Schlaug, director of the Music and Neuroimaging Laboratory at Harvard Medical School. He and his colleagues have found remarkable differences between the brains of professional musicians and nonmusicians; the most pronounced differences showed up in musicians who began their training before age 7. "An early start seems to rewire the brain more dramatically," Schlaug says.
Wolfgang's early musical start also had the benefit of two teachers, his father and his sister. "Nannerl was of an age where she understood and was more aware of what her father was doing," says Noel Zahler, director of the School of Music at Carnegie Mellon University. "Nannerl probably interpreted for Wolfgang and reinforced for Wolfgang what Leopold was trying to teach. She showed him that music is not only fun, but a way to communicate without words."
That education continued as the children began performing together. In 1762, Maria, 11, and Wolfgang, 6, traveled to Munich to play for Elector Maximilian III. "The little child from Salzburg and his sister played the harpsichord," Count Karl von Zinzendorf wrote in his diary, which is cited in Otto Erich Deutsch's Mozart: A Documentary Biography. "The poor little fellow plays marvelously. He is a child of spirit, lively, charming. His sister's playing is masterly, and he applauded her."
Being paired with a skilled musician on stage can be an intense and transforming experience. "Whether Wolfgang wanted to please his older sister or outshine her, her musical accomplishments may have driven him harder than perhaps he would have on his own," Jackson says.
Maria and Wolfgang toured for more than three years, covering several thousand miles by horse-drawn carriage, stopping in 88 cities and performing for many thousands of people. "This might be conjecture, but I have to think that Nannerl had an enormous influence on Wolfgang during the tours, especially the early tours," says Zahler. "Touring intensifies the performing relationship. At a certain point, the music becomes second nature and musicians begin to concentrate almost entirely on deepening the interpretation. Being older, Nannerl would have had deep insights to share."
While on tour outside London in 1764, Leopold fell ill. Their mother told Wolfgang and his sister that they must be quiet; they couldn't even play their instruments. Maria Anna gathered some parchment and a quill pen and wrote down Wolfgang's first symphony (K. 16). Decades later she recalled the incident, remembering that he had said: "Remind me to give something good to the horns!"
Only a fly on the wall would be able to tell for sure whether Maria Anna merely took dictation or collaborated on the piece. Composing a symphony is certainly a challenging and complex undertaking. As a trusted friend, family member and intimate music-making partner, Nannerl could have been exactly what Wolfgang needed to make the leap from sonatas to symphonies, Zahler says. "They probably had lots of discussion about what he was doing," he says. "I'll bet she not only reminded him about the horns but also suggested some things for the horns and for other parts of the composition as well."
Just how far Maria Anna could have gone as a musician, we'll never know. In 1769, when she was 18 years old and eligible to marry, her father ended her days on the road. While he and Wolfgang toured Italy, Maria stayed behind in Salzburg. She did not marry until 1784; in the meantime, she composed music. Wolfgang wrote from Rome in 1770: "My dear sister! I am in awe that you can compose so well, in a word, the song you wrote is beautiful."
But we'll never know what her composition sounds like, for it has been lost.
Elizabeth Rusch is the author of the children's book For the Love of Music: The Remarkable Story of Maria Anna Mozart (Random House), the first nonfiction book about Maria Anna published in English.