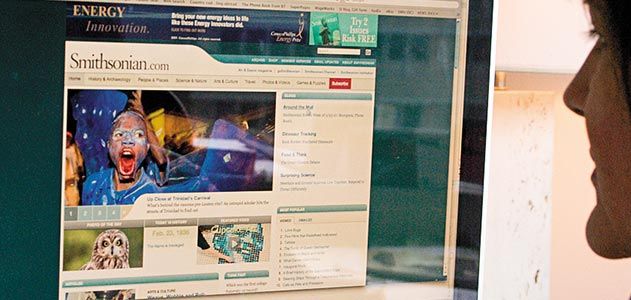 Not long ago, publishing and other media businesses mostly aimed to sell blockbusters. At a January conference on the Smithsonian's digital future, Chris Anderson, editor in chief of Wired magazine, explained that until recently the scarcity of shelf space, movie screens and TV channels winnowed out all but best sellers. But now the Web has dramatically increased consumer choice. Sites such as Amazon.com, Netflix and iTunes still offer best sellers, but they also offer millions of esoteric titles. In his book, The Long Tail, Anderson argues that the "future of business is selling less of more." Today, he says, public interest is shifting to a huge number—the long tail—of individual niche interests.
With 137 million objects and specimens in our collections and a staff of thousands of specialized curators, scientists and numerous other professionals, the Smithsonian Institution (SI) potentially has one of the world's longest tails. While many visitors to our Web sites will view our best-loved artifacts—the Wright Flyer, the Ruby Slippers, the Hope Diamond—many others will seek out less popular items. For every object in our collections, there will be at least a few passionate advocates. In the future, increasingly—through blogging, twittering, photo and video-sharing, Wiki communications and myriad other ways—Web visitors all over the world will share their knowledge and curiosity with us and with one another.
The Smithsonian has already digitized hundreds of thousands of objects and created hundreds of innovative Web experiences; last year we hosted more than 172 million virtual visitors. At the recent digital future conference, 35 Web and new media leaders helped us "Reimagine the Smithsonian in the Digital Age." In addition to Anderson, we heard creativity expert Bran Ferren; Here Comes Everybody author Clay Shirky; and George Oates, former chief designer of the photo-sharing Web site Flickr. The group viewed some of our collections and spoke with the creators of SI Web-based initiatives. We discussed such challenges as encouraging user-generated content while maintaining the Institution's quality standards.
New SI Web initiatives emerge daily. In February, the National Museum of the American Indian announced progress toward putting its entire 800,000-item collection online—with each item inviting Web visitors to add to our knowledge about it (www.AmericanIndian.si.edu/searchcollections). As we travel the many roads inspired by our collections, the Smithsonian will embrace the Internet's new interactive engagement. Do log on to www.si.edu. And enjoy the ride.
G. Wayne Clough is Secretary of the Smithsonian Institution