LISTEN: The Freewheeling, Foot-Stomping Dust Busters
The Brooklyn string band brings it all back home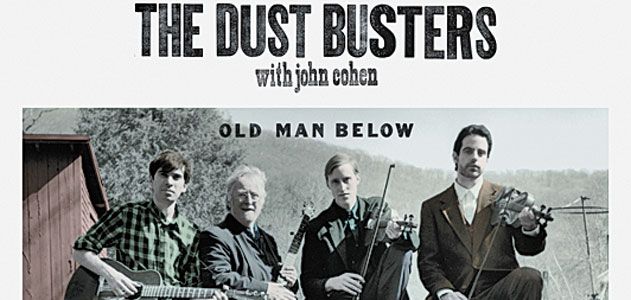 For Old Man Below, an album of string-band music released in August on the Smithsonian Folkways label, the Dust Busters enlisted the assistance of John Cohen, who helped propel the 1960s folk revival. The result, says Dust Busters frontman Eli Smith, offers "a direct connection to a previous era." With Walker Shepard and Craig Judelman, Smith enjoys layering songs with unusual instruments, such as the manjo (a mandolin with a small banjo head) and the bantar (a six-string banjo guitar). "It's just great, fun music to put on in the car." He spoke with the magazine's Leah Binkovitz
How did you fall in love with string band music, it's not exactly the most widely available?
I grew up in Greenwich Village, New York where there was some hit stream of string band music, music going back into the '60s or '50s or even as early as the 30s or 40s with people like Aunt Molly Jackson, Woody Guthrie and Pete Seeger. I had played guitar since I was six years old and I knew that I loved music, but it wasn't until I was in high school and I discovered old time folk music that I actually found music that I really loved.
Was that common. Were other kids in your high school listening to the same stuff or were you kind of on your own?
No, it was very uncommon. I was the only person in my high school that was into the music. Although, in a sort of anachronistic way, I was actually going to a high school–Elisabeth Irwin High School–where Pete Seeger and Woody Guthrie and Leadbelly used to actually do shows at that high school in the '40s, but I was there in the '90s, so I missed that.
Did you find a likeminded community when you went to Oberlin College?
Yes! I went to Oberlin and when I got there, I immediately got a radio show on WOBC and I did a folk music show for four years. My very first interview was actually with Mike Seeger (of the New Lost City Ramblers). I started a jug band with some friends who were mostly jazz majors, they were studying jazz at the Oberlin Conservatory, but I convinced them to play jug band music and they did it very well.
How did you meet the other two Dust Busters?
Walker and Craig are also both college boys but they went to Bard College in upstate New York. I didn't meet them until later, my jug band broke up and I came back to New York. Then, through mutual friends, I met Peter Stampfel of the old band The Holy Modal Rounders. I started playing with Peter and Walker's father had actually played in the band in the 60s, so Walker got to know Peter Stampfel through his father. We all met while playing music at Peter's house.
What makes this community unique? It sounds like there's a lot of collaboration.
Having grown up in New York and been interested in this stuff since high school in the late '90s, from my perspective, the scene in New York is just so much better than it was then. There's a number of great performers and people collaborating and playing together from different generations. And there's a venue for it now, which is this place called the Jalopy Theatre that's in Red Hook, Brooklyn. So, that's wonderful that there's all these people who are interested in the music and there's a place for them to meet and play together.
In 2009, I started the Brooklyn Folk Festival and we're in our fifth year next year. Just last year I got hired by the New York City Parks Department to produce the Washington Square Park Folk Festival, which will have its second year this year in September. Things are cooking, we've got the theater, folk festivals, and lots of other stuff. It's quite exciting.
Why do you think this album will appeal to audiences today?
People from the past are speaking the same language we speak today and speaking to issues that are universal. And it gives you a direct connection to a previous era and people that you've never met. There's a lot of sustenance there for people to dig into. On top of that, it's just great fun music to put on in the car when you're driving around or listen to at home.