Law and Order: Ice Cream Truck Unit
Here's the scoop on four cases of criminal behavior involving the local ice cream man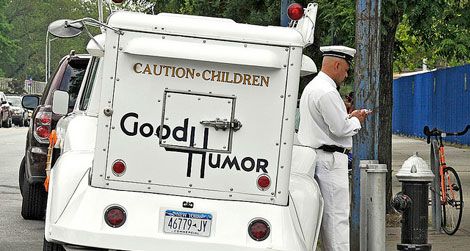 With summer heating up, ice cream trucks are hitting the street—but not all vendors are full of good humor and they can turn a Dreamsicle day into something nightmarish. Following up on a past list of food-related crimes, here's the scoop on four cases of criminal behavior involving the local ice cream man.
New York City, New York. March 2004. Ice cream with nuts.
Luis and Juana Marrero, a husband and wife in their 60s, drove an ice cream truck for almost 35 years, but 51-year-old Fernando Esparza, who operated a rival truck, became intent on taking over their route. An ongoing dispute between the two vendors came to a head when Esparza and his wife attacked the Marreros, injuring Luis and leaving Juana with skull fractures and internal bleeding that landed her in the hospital for over a month. The Esparzas were indicted on charges of attempted murder and assault and plead guilty. Fernando was later sentenced to 10 years in prison.
Spring Lake, North Carolina. January 2009. Bring in da noise.
Many eating spots use music to set a mood—and ice cream trucks have their own distinctive soundtrack that gets kids running to the curb. Unfortunately for Dwight Bell, the music mix coming from his Daddy D's Sweets and Treats truck landed him a $50 citation for disturbing the peace. This is not an isolated incident of ice cream trucks running afoul of noise ordinances. Some jurisdictions have banned ice cream truck vendors from using amplified music, restricting them to using hand bells. For some citizens, ice cream trucks are a source of noise pollution, but for the vendors, the music is a means to a livelihood.
New York City, New York. March 2011. Soft serve and hard drugs.
Ice cream is supposed to be a feel-good food in and of itself, so pairing it with a highly addictive substance like oxycodone seems like overkill. And yet, a Lickety Split ice cream truck belonging to 29-year-old Louis Scala was at the center of a Staten Island drug ring. After serving ice cream to the kiddies, adults would approach the truck to get black market prescription painkillers. Approximately 43,000 oxycodone pills were peddled between 2009 and 2010, netting roughly $1 million before Scala and his cohorts were arraigned in March of this year. This is not the first time an ice cream truck has been used as a front for a drug operation. A 1974 Chicago case involved a truck where a request for a "chocolate sundae" was code for $500 worth of heroin.
Uniontown, Pennsylvania. May 2011. Losing one's cool.
Some ice cream truck drivers suffer from anger management issues, which seems to be the case with 29-year-old Bernard Geisel. In late May, Geisel, driving an F&S truck, tried running a Miss Polly's Sweet Treats ice cream truck off the road. It wasn't the first time he had harassed this competitor. Then, on the evening of May 31, Geisel broke into his boss' home with a baseball bat after a dispute over money. Geisel was restrained until police came to the scene and he stands charged with burglary and simple assault.