Last Fan Standing
Why I'll always root for the home team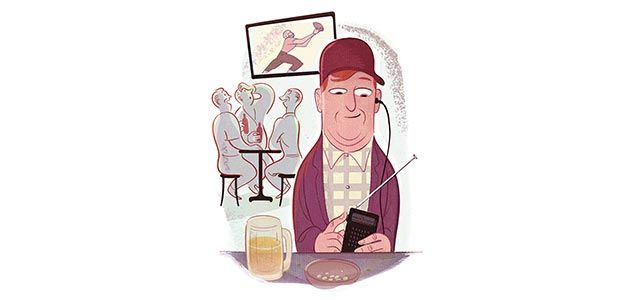 Early in this past season's National Hockey League playoffs, I turned on a telecast of a Washington Capitals-New York Rangers game. I have lived in Washington for the past 25 years, but I was rooting for the Rangers. Growing up, they were "my" hockey team. To this day, whenever and whomever they play, I want them to win.
And hockey is the least of my New York sports allegiances. I remain, half a century past the peak of my sports passions, a fervent fan of the Yankees, Knicks and football Giants. I'm even a fan of the baseball Giants, five decades after they renounced the Polo Grounds for San Francisco.
So it's been, across several decades and each of the other cities in which I've lived: Atlanta (during two sizable stretches), Los Angeles, San Francisco. Call it disaffection or contrariness, arrested development or incurable nostalgia. Whatever the malady, the symptoms are as clear in Washington as they were elsewhere: I'm a fan who doesn't give a hockey puck about any of my current city's teams.
Though my attitude probably has more to do with the impressionability of youth, it may also be peculiar to men of my, ahem, era. When I was growing up, professional leagues had few franchises, and the ones that existed stayed put. Players switched teams only when they were traded or released. Fan loyalty, on an individual as well as a group level, came easily; you knew, for example, that the Yankee Clipper and Yogi would be in New York forever. Yankee haters may find this hard to believe, but the fact that the Yanks won the pennant year after year was for me just icing on the cake.
Location also mattered. Living in the New York City suburbs meant you had three baseball teams to embrace (but never all three: rooting for both the Brooklyn Dodgers and Giants was emotionally impossible); and for several years, the National Football League offered its own Brooklyn Dodgers, and, later, the rival All-America Conference league put forth its own New York Yankees. A kid had to be comatose not to live and die for at least a couple of teams!
As the baseball Yankees eventually sank into mediocrity, joining both the Giants and, God knows, the Knicks, my adopted cities sprouted some terrific teams: the Lakers and transplanted Dodgers in Los Angeles, the charismatic 49ers in San Francisco and, eventually, the former Milwaukee Braves in Atlanta. I spurned all of them, going to games only when their New York counterparts came to play and then rooting for the visitors. After free agency arrived, New York stars relentlessly changed hats, but my loyalty to the teams—and whatever outlanders they brought aboard—has never wavered.
Such devotion comes at a price. I can't share in the up-close ecstasy or anguish (Washington is awash in one or the other after every Redskins game). My baseball teams seldom appear on home TV, and on autumn Sundays, I often have to join a small, furtive group in a dingy sports bar in order to see the football Giants play; in craven deference to the rowdy Redskin majority, management usually turns off the sound on our set.
Two of my best friends, who've also moved around a good deal, have switched caps, so to speak, whenever they've called a new city home. They chide me for not doing the same. As with a one-night stand, they are confusing transitory pleasure with true love. Sure, the latter imposes problems and frustrations, but it's so much more rewarding in the long run.
My grave marker shall therefore bear a list of my teams and this epitaph: "In victory or defeat, in places near or far, forever true."
Roger M. Williams, a longtime magazine journalist and author, writes occasional sports articles from his home in Washington, D.C.