Kelly Slater, the Chairman of the Board
An ode to surfing's fiercest, most successful competitor – who now has a place in the Smithsonian collections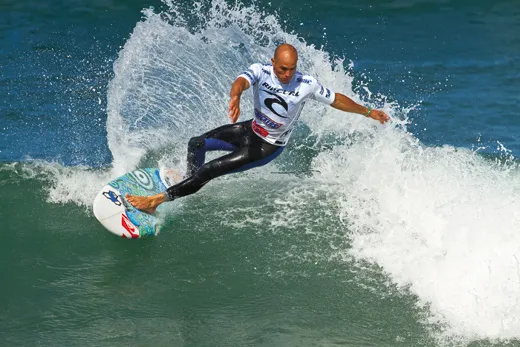 On a bright summer morning in 1990, Kelly Slater, a lean young man from Cocoa Beach, Florida, only a couple of years out of high school, paddled his surfboard into eight-foot waves at a beach area called Trestles, in San Clemente, California. By the end of the day, after a fierce series of acrobatic rides against top competitors, Slater took the $30,000 first-place prize in the Body Glove Surfbout. Anyone who witnessed his performance that day saw the beginning of the greatest winning career in the history of surfing, and one of the mythic careers in all sports.
After more than two dominant decades—he won his most recent world championship at Ocean Beach in San Francisco in 2011, not long before turning 40—Slater may be the greatest athlete in the world who hasn't become a household name. He is, however, the closest thing to a crossover star that surfing has ever produced. He's been on the cover of Interview magazine ("Half Fish, Total Dish"), played guitar with the group Pearl Jam, formed his own rock band, posed for a Versace underwear ad and even appeared in the role of an aspiring surfer in nine episodes of the tele­vision series "Baywatch." Today, his place in the saga of sport has achieved iconic status: one of his sleek foam-and-fiberglass boards, embellished with a pattern of interlocking circles, and the initial "K," is displayed at the National Museum of American History (NMAH).
In 2009, Surfer magazine named Slater the greatest surfer of all time. Matt Warshaw, author of the encyclopedic History of Surfing, summed up Slater's accomplishment. "He has 11 world titles," Warshaw told me."And his closest competitors have four and three, respectively."
Slater still lives in Cocoa Beach, where a street is named after him. Unlike famous big-wave beaches in California, Hawaii and Australia, his hometown shorebreak, just south of Cape Canaveral, is not what could be called a surfer's paradise. Slater describes the swells he rode during his childhood as "tiny ripples," but because of that, he says, they were "user-friendly." His connection to the ocean started early. "My parents lived at the beach," Slater told me. "My dad surfed and my mom hung out getting a suntan all day. I probably got too hot and jumped in the water." At the age of 5, Slater began riding a plastic foam belly board, meant to be ridden lying down. But Slater, all of 40 pounds, learned to stand up on his. "When I was 8," he recalls, "I got a real surfboard, and I was hooked."
What makes Slater surfing's superman? "He loves improv," Warshaw says. "He just makes stuff up on the fly. He can change his mind halfway through a turn and make it come out completely different than he originally intended. He also ranges all over the line to find a great wave, instead of stubbornly staying in one place hoping the wave will find him."
Slater, who studies jujitsu, compares surfing to a martial art, requiring the same kind of efficient movement that creates power and leverage. A surfer, he says, must master stance and balance and have the strength to stay in contact with the board during radical maneuvers.
The board at NMAH was custom-made by Channel Islands Surfboards in Santa Barbara, California, expressly for wave conditions at Bells Beach in Australia, where Slater used it in April 2010 to win the Rip Curl Tournament. Different beaches and breaks call for different surfboards, and Slater has been closely involved with design innovation throughout his career. "Some waves are flatter in the curve of the face," Slater says, "and provide less speed. Others are bigger, faster and hollower [on the face]. You have to adjust the shape of the board accordingly. For curvier waves, a curved board works best."
Slater's strength and athleticism, says Warshaw, allow him to achieve both quick turns and speed. Any YouTube video of Slater in competition displays his winning formula. Coming down across the face of a wave, with tons of water cresting high over his head, Slater executes turns that carry him back up the wave, then he turns and heads down again. Other surfers may use similar maneuvers, but Slater's stellar record proves his total mastery of technique.
According to NMAH curator Jane Rogers, the Smithsonian board represents what had been a daunting episode for Slater. "Bells Beach was a significant event in Slater's career," she says."He was injured in the first round but managed to come back for a win. And this after some fans and writers had suggested he was getting too old for the game."
What, I asked Slater, had been his biggest challenge during two decades of winning championships? "To stay on top of the evolution of maneuvers on small waves, and to get enough time and training on big waves," he told me. "But nothing ever seems mastered in the ocean. It's all moving around and happening, and it's up to you to read the choices right and just respond."
Owen Edwards is author of the book Elegant Solutions, which draws connections between design, technology and emotions.