Jazz Man
Louis Armstrong before he was Satchmo? A youthful Ella? For photographs of musicians great or obscure, just about everyone turns to Frank Driggs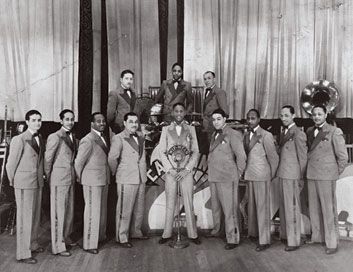 There's a certain way jazz musicians from the 1930s pose for photographs, half-turned to face the camera, symmetrically arrayed around the bandleader, who can be identified by his regal smile and proximity to the microphone. Publicity stills of the period were the equivalent of English court paintings, hackwork intended to exalt their subjects and attract admiration to their finery. Bandleaders even took titles borrowed from the aristocracy: Duke Ellington, Count Basie, Earl Hines . . . well, Earl was actually the man's given name, but he lived up to it in a way no tracksuited rap star could approach, no matter how big the diamond in his earlobe. There's a picture of Hines with his band on the stage at the Pearl Theater in Philadelphia, exuding swank. Their suit pants, which bear stripes of black satin down the seams, break perfectly over their gleaming shoes; their jacket lapels have the span of a Madagascar fruit bat; their hair is slicked. They were on top of their world. The year was 1932, and about one in four Americans were out of work.
If Frank Driggs could go back in time and choose his year of birth, he would pick 1890, so he would have been in his prime during the swing era, which he defines as roughly from the 1920s until its slow postwar decline into bebop and modernism. He was around for the very end of that era as a young man in New York City, and much of his life since then has been devoted to recapturing the spirit of those times, for which a stack of recordings as tall as a man is necessary but not sufficient. The missing element is supplied by photographs, of which Driggs may be the world's leading collector. In his office on the ground floor of an 1827 town house in Lower Manhattan are eight mismatched filing cabinets, holding folders crammed with trumpeters, trombonists and clarinet players, the four registers of saxophone players, stride piano players, scat singers, percussionists and slap-bassists. These were the bands who made music for Decca and Victor, who played Roseland and Birdland, the Savoy and the Cotton Club, the Blue Note, the Blue Room and the Black Cat. Last year he found someone to count them, and the total came to something over 78,000, including 585 of Count Basie, 692 of Benny Goodman, 1,083 of Louis Armstrong and 1,545 of Duke Ellington, which Driggs considers proportionate to Ellington's stature. Pull out a drawer at random and Patti Page is followed by Charlie Parker, Cole Porter and Bud Powell, interspersed with the likes of Benny Peyton, a drummer whose four-decade career rates but one paragraph in the 1,300-page New Grove Dictionary of Jazz. "Who would know who Benny Peyton is?" muses Driggs, a dry, understated man of 75. One cabinet over, Duke Ellington's great collaborator Billy Strayhorn goes in front of Barbra Streisand. "As well he should," Driggs mutters.
The stories Driggs tells about the pictures put you in mind of the Jazz Age writer William Bolitho's description of the saxophone, endlessly sorrowful yet endlessly unsentimental: spare lists of bands and recordings and tours, ending, most often, in obscurity. The forgotten Peyton played all over Europe and South America in the 1920s and led his own combo. He toured the Soviet Union with Sidney Bechet, the great clarinet player. "You couldn't live like that today," Driggs observes, lamenting the sharp decline in glamour attached to jazz musicians. A rock musician might approximate that kind of life, but he would have to listen to his own music, which Driggs considers an unbearable price to pay.
Another picture: Peyton's contemporary, the alto sax player Rudy Jackson, who played with Duke Ellington, which for a sideman is like having been one of the guys manning the oars the day Jesus came aboard. But sometime after the recording of "East St. Louis Toodle-oo" in 1927, Ellington replaced Jackson with the (comparatively) better-known Barney Bigard, and Jackson went off to tour India and Ceylon for the better part of a decade. "Alot of those bands went to India between the wars," Driggs says. Moral: "Bands stayed together for a few months, then they'd run out of bookings and break up."
He reaches into a folder and extracts a photograph of a group called the John Kirby Sextet, which had a brief heyday in the late 1930s. The Grove dictionary notes their recording in 1938 of a song called "Rehearsin' for a Nervous Breakdown." The picture Driggs holds is from 1940, when the sextet appeared at the Pump Room of Chicago's Ambassador Hotel in blindingly white formal wear, shoes and grins. No shadow of a crease or pucker mars the perfect contours of their dinner jackets. Yet before the decade was out, Kirby would be playing bass and leading no-name pickup trios at a restaurant in Milwaukee. Afew years after that, he would be dead at 44; of the six men in the 1940 photograph, only two lived past their 50s. Driggs fishes up a murky print of Kirby in his decline that looks as if the photographer had shot through a cloud of cigarette smoke. "That's the nature of the music business," Driggs says. "It's good for a while, and then it's sh-t."
That wisdom sounds hard-won, but in fact Driggs himself earned a perfectly good living from the music business for most of his life. His secret was to avoid becoming a musician. Growing up in a small town in Vermont, where his family managed a resort hotel, and later in the New York suburbs, he listened
to jazz on the radio. He learned the trumpet by playing along with recordings, a hobby he still pursues, sometimes while sitting in his car waiting for a parking spot to open on his block. After graduating from Princeton in 1952 he became a regular at theaters and clubs and ballrooms from Greenwich Village to Harlem, "before they all closed and became bowling alleys." He was an NBC page, then a record producer for RCAVictor and Columbia, specializing in rereleases of classic 78s. Along the way he built up his collection of memorabilia and photographs, mostly publicity stills and amateur snapshots by friends and acquaintances. Since 1977, he has made most of his living off reproduction fees from the collection, which was recently appraised at $1.5 million. Almost any jazz reference book published in recent years has relied on it, as did the Ken Burns documentary series on jazz. The course of Driggs' life was determined by his inability to read music, which kept him from playing professionally. He got to know a lot of famous musicians, but, he says, "I didn't drink enough to hang out with them." Mostly he was a family man who went home at the end of the day, or at least before the end of the night, to his wife and four stepchildren in Brooklyn.
The musicians led uncertain, peripatetic lives, as an afternoon browsing Driggs' archive proves. The white-suited piano player in the John Kirby Sextet was Billy Kyle, who had been with the Mills Blue Rhythm Band (not to be confused with the Mills Brothers) in 1937. Joe Garland played saxophone with the Mills band, and Edgar Hayes played piano. By 1938 Hayes had formed his own group, taking Garland with him. Driggs has a photograph of them touring Stockholm in matching overcoats and fedoras. Also in that picture was trombonist Clyde Bernhardt, who can be seen in a picture from 1943, at the Ubangi Club in New York, with the horn player Cecil Scott, who shows up with his nine sidemen in a 1929 picture of Cecil Scott's Bright Boys. That picture includes trombonist Dicky Wells, who in 1937 was photographed at the Apollo playing with Teddy Hill's band, whose saxophone player was Russel Procope, who three years later shows up back where we started, with the John Kirby Sextet. Sooner or later, everyone played with everyone else, because they either quit for more money or got fired for asking for more money or woke up someplace strange and missed the train to the next date. It's all in the pictures.
Not just the pictures, though; a lot of it is in Driggs' head, which is why he hopes to find an institution to buy the collection, relieving him of running the business as well as providing support for the necessary cataloging and conservation work. The photographs and recordings will survive, but Driggs is of the last generation with firsthand memories of these groups. For that matter, they were past their prime even by the time he got to hear them. "When I heard Teddy Wilson 35 years ago, he was nothing like he was back in the 1930s and '40s," Driggs says. "By then he was supporting three or four ex-wives and just going through the motions." Things haven't gotten any better, in Driggs' view. In the handful of clubs that even New York City can sustain, the white guys play Dixieland and the black musicians want to emulate Miles Davis or John Coltrane, an ambition that baffles Driggs, whose recollection of Coltrane is succinct: "He'd play a 40-minute solo at the Apollo and the audience would walk out." (Driggs does, however, possess around 100 photographs of Davis, and half that many of Coltrane.) In all of New York City today there are exactly two groups that meet Driggs' standards. On Tuesday nights, he goes out with his lady friend Joan Peyser (author of an acclaimed biography of Leonard Bernstein) to a place in Midtown Manhattan to hear Vince Giordano and His Nighthawks, a big band in the classic style. On Monday nights, they go to a club in Chelsea, where they listen to Kevin Dorn and His Jazz Collective, a sextet that plays instrumental and vocal standards from the '20s and '30s. Dorn is a personable young drummer, and his group includes some talented musicians. Driggs thinks they could dress with a little more class—they mostly wear sports jackets over open-necked shirts, the occasional fedora or newsboy cap—though he recognizes the impracticality of expecting them to keep a dinner jacket given what they're probably paid.
But as they launch into "Exactly Like You" or "When Dreams Come True," if you close your eyes and conjure up the smell of smoldering tobacco and spilled bourbon drying on the tablecloth, you might imagine yourself back at the Famous Door hearing Benny Morton and Walter Page swap solos, with a guy on drums who played with a guy who played with Ellington.
A sideman puts down his horn and sings "When I Take My Sugar to Tea" in careful measures, uncannily evoking the reedy tones of an early 78. The saxophonist launches into his eightbar apotheosis, the high-hat does its stutter-step, and Driggs and Peyser hold hands through "East of the Sun, West of the Moon." They sit in the front, close to the bandstand, and as long as they don't look behind them, they can ignore the fact that hardly anyone else is in the room.