Inviting Writing: When Independence Means Self-Reliance
We were well on our way to a nice harvest when we noticed ominous signs, a presence that ravaged our homestead in the middle of the night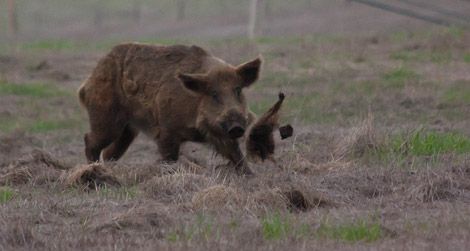 For this month's Inviting Writing series, we asked for stories about food and independence: your decisions about what, how or where you eat; the first meal you cooked; or about how you eat to the beat of a different drummer. Debra Kelly and her husband have taken food independence to an extreme: They have lived on 23 remote acres in California since 1978, experimenting with solar energy and eating organic, home-grown food. And sometimes fighting for it.
Confronting a Nemesis
By Debra Kelly
I live on a remote mountaintop. A four-wheel-drive kind of place. Living here requires independent thinking and action. In this place are deep canyons and heavy forests of redwood, oak, pine and madrone, crisscrossed with old logging trails and overgrown with brush. Our homestead is a solitary retreat. It is modest and handmade. We travel along eight miles of pitted, potholed and curvy dirt road—like a stream bed in some parts—until we reach pavement. In this setting, independent people and food grow and thrive.
Living far from a town makes you self-reliant. We planted a garden and fruit trees to supplement our diet. We were well on our way to a nice harvest of veggies, and our fruit trees were still young and fragile, when we noticed ominous signs on the ground. A presence pressing in on us. It ravaged and stalked our homestead in the middle of the night. It peeled the limbs off our young fruit trees, like you would peel a banana. It tore a path of destruction through our place like a rototiller without a driver. It was wily and fast afoot. It has tusks it could use if it were challenged. Although this independent food is prized by famous chefs around the globe, it was my nemesis. It was the wild pig.
Wild pigs began roaming the mountains in increasing numbers. One pair was so bold that they dared saunter up on our deck at night! Our St. Bernard lay silent as a lamb as they approached him. I heard a noise and looked out the window to see one pig at his head and one pig at his tail. He was afraid. I stoically said to my husband, "the pigs gotta go."
We hatched a plan. We knew their habits. The problem was that their hearing was so acute. They could hear our footfalls inside the cabin, which would send them running into the darkness and safety of the woods. How then would we be able to shoot them? They would hear us get out of bed, climb down the ladder from the loft, get the gun and open the door. SIMPLE. We decided to shoot them without leaving our bed!
Yes, it was a master plan by masterminds….
Our bed was a mattress on the floor of a loft. It faced a picture window flanked by two smaller opening windows. We would leave one window open, just to slide the barrel of the gun out of it, as we lay on our bellies, ever watchful. My role would be to hold a powerful flashlight and turn it on the pigs below. My husband would finish them off. We'd have a luau and a boatload of meat for a season! We pledged to stay awake. It would be a piece of cake.
Midnight passed—no pigs. One in the morning passed—no pigs. I yawned and said, "this will be the only night they fail to come." More time passed and we fall fast asleep. Then it happened. I awoke abruptly to the sound of a snort and a rustling below. I carefully, gently, shook my husband awake. He rolled into position and gave me the signal to turn on the flashlight. So I did. All hell broke loose, in an instant. Instead of the light piercing the darkness below, it bounced off the picture window glass, reflecting back at us, our own image. In a split second, my husband let loose both barrels, out of the window to the ground below. A short squeal resulted and they thundered off into the forest. At that moment, with the sound of the blast reverberating off the walls and ceiling of our small cabin, my heart pounded like a Ginger Baker drum solo. We looked outside to find no blood, and no pigs anywhere. Our master plan thwarted. We missed. The food got away!