Inviting Writing: Sweet Independence
My mission was to sample as much sugar as my stomach and allowance allowed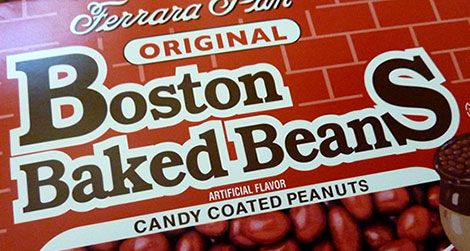 For this month's Inviting Writing series, we asked for stories about food and independence: your decisions about what, how or where you eat; the first meal you cooked—or ordered in—after moving out of the house; or about how you eat to the beat of a different drummer.
Our first story is about the thrill of illicit food. Nikki Gardner is a writer and photographer who lives in Williamsburg, Massachusetts. She blogs about art, food and stories at Art and Lemons.
A Mission for Candy
By Nikki Gardner
After years 7 years of living under my mother's strict sugar-free household rules, I couldn't take it anymore. It wouldn't be far off to say that I kind of freaked out. My mission, which I bestowed upon myself, was to sample as much sugar as my stomach and allowance allowed.
My younger sister and I were allowed an occasional doughnut before a special Sunday church outing, a piece of birthday cake, or ice cream scoop. But there was a red line between candy and me: it was NOT allowed.
I remember clearly the ride home from school that day. I rode up to the stoplight, smiled and waved at the crossing guards, and made it through two crosswalks. Then I stopped. Parked my bike outside the Burger Dairy, which was another mile or so from our new neighborhood. The fluorescent lights flickered inside. One wall was dedicated to butter, bread, cheese, eggs and milk. Staples we often stopped for between trips to the grocery store. This was my first time there alone. The woman behind the cash register sized me up. We both knew I wasn't in it for the milk that day.
She wore one of those black hairnets and snap-up white jackets like the lunch ladies at school. I was nervous and broke from her stare and busied myself with the business at hand. The coins in my pocket jangled recklessly, ready to be laid out on the counter. In a moment of haste, I pulled out 30 cents or so and quickly did the math. Thirty cents could get me a box of Lemonheads or Boston Baked Beans, a cherry Blow pop, a Fireball, and 2 pieces of Bazooka comic gum.
The cashier popped and cracked the small pink stash of gum in her mouth. She seemed as old as dust to me and she was all business. We were alone in the store and the small bubbles she blew between her coffee-stained teeth echoed in there.
I slid my money toward her. She wore black cat eye glasses. I noticed her eyes go squinty and small, like dots made with a ballpoint pen. I wasn't sure what she would do. Rough me up a little about spending my college fund or give me some wisecrack about ending up like her one day, which seemed pretty okay to me.
"That it, sweetheart?"
"Um, yeah."
A few gum cracks later, I walked out of there clutching my candy stash. I went back a number of times and it wasn't until I developed a few cavities that I came clean, well not totally clean, but eating less candy anyway. So I switched to the fast food burger joint and replaced one restriction with another. But that's another story.