Inviting Writing: Road Trips, Gambles and Sultan's Revenge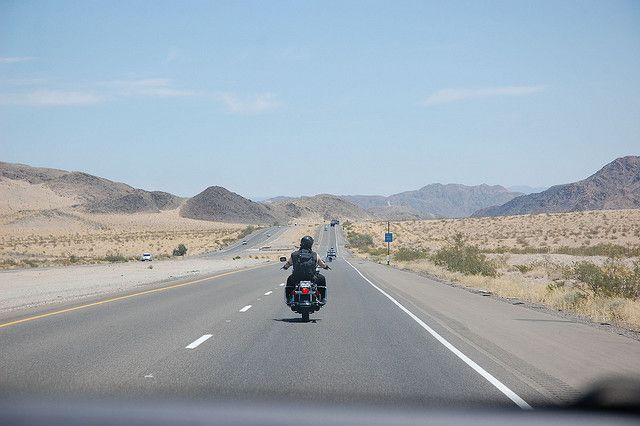 It's time for a new Inviting Writing topic. This month's theme is one of my favorite summer activities—road trips.
The rules are simple: Tell us a true story that somehow relates to that theme (and food, of course), and e-mail it to [email protected] with "Inviting Writing: Road Trips" in the subject line. We'll pick three of the best, lightly edit them and publish them over the next few Mondays here on the blog. For more guidance, please read this and peruse last month's stories about "picnics."
I'll get things started with a story of my own. Surprisingly, as much as I love taking to the open road, the only food-related road trip story (actually, two) I could come up with isn't very appetizing. Let's see if some of the budding Jack Kerouacs out there can do better—it shouldn't be hard.
ROAD TRIPS, or WHAT HAPPENS ON THE WAY TO VEGAS...
For my 30th birthday, a couple of good friends and I decided to take a road trip to Las Vegas from Los Angeles. We planned to gamble a little, sit by the pool, maybe see a show—nothing unusual. But my first indication that things weren't going to go exactly as planned was that another friend, who had been living overseas, decided to surprise me by flying in to join us for the weekend trip. That was great, but the real surprise was that she also needed to crash at my cramped 1-bedroom apartment for the next month.
I shrugged off this unexpected twist and we were on our way. Driving from L.A. to Las Vegas on a Friday evening is rarely pleasant. A good portion of the 17 million or so inhabitants of the L.A. metropolitan area funnel onto the 10 and 15 freeways heading east, trying to get home to the suburbs or out to the desert for a weekend escape. A trip that would take about four hours without traffic can stretch to hours longer, as cars crawl along the blacktop.
I made my first gamble of the weekend before we even crossed the Nevada state line: hungry but not wanting to add more stops to our stop-and-go journey, I ate a sandwich from a national-chain sub shop located inside a gas station mini-mart.
A couple hours later, after the traffic had thinned and we were driving through the night on the lonesome desert highway, an ominous gurgling in my gut told me that I had made a bad bet. There was nowhere to stop for miles, and I wasn't about to squat behind a tumbleweed in the dark, where I was sure rattlesnakes and scorpions were lurking. Luckily, a small cluster of lights soon appeared on the horizon, indicating my salvation—a clean public restroom—was near.
The only other time I experienced food-borne illness was also on a road trip, although not in the classic sense—I was on an overnight bus trip between Istanbul and the Cappadocia region of Turkey, during a solo European backpacking adventure in my 20s. This time, the fact that I was alone among strangers in an unfamiliar culture made the onset of the gut-gurgling even more disconcerting.
I was laid up for three or four days in the small village of Göreme with what some travelers call "Sultan's Revenge." During that time, multiple locals tried to cure me with home remedies—the pansiyon (guesthouse) owner urged me to drink a glassful of equal parts honey and water; the tour-office worker's concoction included hot water, honey, lemon juice and salt; and the restaurant owner insisted that raki, the ever-present anise-flavored liquor, was the cure for what ailed me. A visit to the doctor, facilitated by the raki-pushing restauranteur, finally did the trick.
Other than the first day, during which I was feverish and bedridden, being sick may have actually been a positive thing in the long run. Forced to slow down and hang out in town rather than go out exploring the area's tourist sites, I got to spend a good amount of time talking to the local Turkish people.
That's the great thing about road trips—you don't always know where they might lead you.