Inviting Writing: Food and Sickness
The one food I had thought to stock was a half-gallon of ice cream—mint chocolate chip—and once the nausea passed it became my sustenance for the next week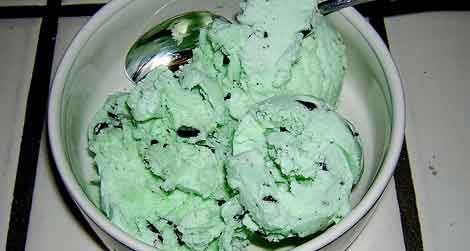 After a fun month of reminiscing about lost foods, it's time to move on to a new Inviting Writing series. I was going to try to come up with a wedding-themed story for June, but I couldn't think of one I hadn't already written about. Instead, for this month's topic I focused on something mentioned during most wedding ceremonies: sickness. Was there a special food your parents gave you to make you feel better? Something your grandfather swore staved off illness? Or even something you ate that made you sick? However you interpret the theme, send your true, original personal essays to [email protected] with "Inviting Writing: Sickness" in the subject line by Friday, June 3. We'll read them all and post our favorites on subsequent Mondays. Remember to include your full name and a biographical detail or two (your city and/or profession; a link to your own blog if you'd like that included). I'll get things started.
Minty Meditations
by Lisa Bramen
My version of Marcel Proust's madeleines—the tea-soaked crumbs that unlocked forgotten childhood memories for the French writer—is mint–chocolate chip ice cream. One taste and my teeth ache, not because of the sugar or the cold, but from the memory of having my wisdom teeth pulled during my sophomore year of college.
I'm instantly transported to 1989. I was lying on the futon mattress on the floor of my dark bedroom, in pain despite the Tylenol with codeine I'd taken. It was the first time I didn't have someone to take care of me when I was sick. My roommates—a dating couple—kindly picked me up from the oral surgeon, where I was too groggy from the anesthesia to notice them laughing at my chipmunk cheeks and catatonic shuffle (they later re-enacted it for me). They looked in on me occasionally, but were no substitute for a nurturing mother.
My mother would have made sure I followed instructions and didn't take my medication on an empty stomach—apparently, a few sips of Mocha Mix non-dairy creamer do not qualify as food for pill-popping purposes—preventing me from such violent retching that I felt like my stomach was going to turn inside-out.
The one food I had thought to stock was a half-gallon of ice cream—mint chocolate chip—and once the nausea passed it became my main sustenance for the next week.
The book we were reading for my literature class was Maxine Hong Kingston's The Woman Warrior, and I read it in dreamy, ice-cream-accompanied stretches between painkiller naps. Kingston's memoir spoke to me with startling relevance, not because her Chinese-American childhood in any way resembled my upbringing but because she so beautifully expressed emotions I recognized as my own. One harrowing episode, in particular, resonated: writing of her struggles with speaking aloud in class, she recounted how one day she took out her self-disgust on an even quieter, meeker Chinese girl in the bathroom after school. She tormented the mute girl, trying to force her to speak, but she only ever sobbed.
College was a time when I was trying to outgrow my own shy, quiet tendencies, and this scene made me cringe with empathy for both the silent girl and her abuser. Only recently I had forced myself to confront a professor I felt had been sexist, but my triumph was followed immediately with the negating humiliation of having my eyes fill with tears.
Kingston wrote, "The world is sometimes just, and I spent the next eighteen months sick in bed with a mysterious illness. There was no pain and no symptoms, though the middle line in my left palm broke in two."
Though my sick-bed days were briefer and less poetic, Kingston's stories, read in the woozy and vulnerable state I was in, merged with my own memories as one long mint-scented fever dream. It's taken years for me to be able to eat mint–chocolate chip ice cream without feeling a queasy ache. Yet somehow The Woman Warrior is still one of my favorite books.