Inviting Writing: Food and Independence
Deciding what, how or where we eat is one of the earliest ways we assert our individuality. Do you have a story to share?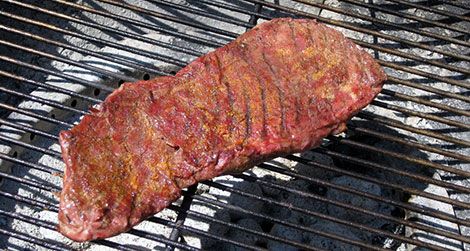 Our last Inviting Writing prompt inspired some surprisingly pleasant memories of cafeteria meals, from the social dynamics of the school canteen to a fancy subsidized office food court. This month we move from the collective to the individual, exploring the theme of food and independence. Deciding what, how or where we eat is one of the earliest ways we assert our individuality. You might have a story about the first meal you cooked—or ordered in—after moving out of the house. Or about how you eat to the beat of a different drummer. Maybe you only eat what you grow or kill yourself, living independent of the food industry. We want to hear what food and independence means to you.
Send your true, original essays to [email protected] with "Inviting Writing" in the subject line by Friday, September 16 (which happens to be Mexico's Independence Day). We'll read them all and post our favorites on subsequent Mondays. Remember to include your full name and a biographical detail or two (your city and/or profession; a link to your own blog if you'd like that included). I'll get things started.
All Bun, No Burger
by Lisa Bramen
As a child, I was never a fan of meat unless it was slathered in barbecue sauce or otherwise camouflaged. My parents instituted a two-bite rule—I had to eat at least two forkfuls of everything on my plate, meat included, or no dessert. Although my family briefly flirted with vegetarianism in the early 1980s, after my mother saw a report on animal cruelty, the experiment didn't last long.
Then, at the age of 16, as I was gnawing a piece of gristly steak at a cookout and thinking how gross it was, a revolutionary thought occurred to me: I didn't have to eat meat, or anything else, if I didn't want to. I was now old enough to make my own food choices.
The next day I declared my culinary independence to my mother, explaining that I planned to quit eating meat. As far as I remember she accepted my decision without objection. Although she didn't cook separate meals just for me, I think she tried to accommodate my preference by making vegetarian side dishes that would work as my main course. In retrospect, she probably should have just told me that if I wanted to be so independent I should learn how to prepare my own meals.
My early years as a vegetarian weren't always easy. It was still far from mainstream to avoid meat in the late 1980s, something that only wacky hippies did, and restaurants rarely had good vegetarian options, if they had any at all. A trip through Texas, in particular, proved challenging. Even a green salad was a rarity outside of the big cities there.
Still, I managed to avoid eating meat for almost a decade—not counting two times when I ate it by accident. The first incident was within a week of going vegetarian. I had somehow forgotten that one of my favorite after-school snacks, frozen taquitos, were filled with meat. I think I finished them anyway, as a last hurrah. The second time was a few years later, at a hostel in Italy, when I accepted an offer to share another guest's pasta without realizing it contained beef. Too bashful and polite to point out my mistake, I ate a bowlful.
One day I tried ordering a cheeseburger with no meat at a McDonald's. The cashier looked at me like I was speaking in tongues. He said, "You want a cheeseburger—without the burger?" When I assured him that was what I wanted, he puzzled for several minutes over how to charge me for such an odd request. I told him I didn't mind paying the regular price, but he insisted on adding up the components individually—bun, cheese, mustard, ketchup, pickles. I think it ended up costing about 17 cents. When the cooks got the order, they came out to the counter, grinning, to get a look at the freak who had placed it. I have to say, though, it wasn't half bad. Condiment burgers became a staple of my diet. In-N-Out Burger even added a meatless burger—they call it a grilled cheese—to their secret menu. Theirs includes lettuce and tomato; I recommend asking for grilled onions, too.
Being a vegetarian was much easier once I moved to San Francisco—where no one seemed to have realized that the 1960s were over—to go to college. The campus food court sold tofu burgers, and I discovered a vegetarian Chinese restaurant nearby that made to-die-for sweet-and-sour fried walnuts.
After nearly 10 years as a total vegetarian (and a brief stint as a vegan), my resolve broke down one day in France. I had been wandering for hours looking for something I could eat, when hunger finally got the best of me and I ordered scallops at a café—surely one of the least complex forms of life, I reasoned. From there it was a slippery slope. I gradually started eating other seafood. A few years later I started eating poultry and a few years after that, the smell of cooking bacon—the downfall of many an herbivore—proved too tempting to ignore.
I still eat far less animal protein than the average American, but I could no longer be described as a vegetarian. And other than those two exceptions, I still haven't had another bite of beef in almost 25 years.