Inviting Writing: Aunt Molly's Mysterious Greens
Today's memory about cardoons comes from Susie Petitti Tilton, who works at Williams-Sonoma and has a small business baking decorated sugar cookies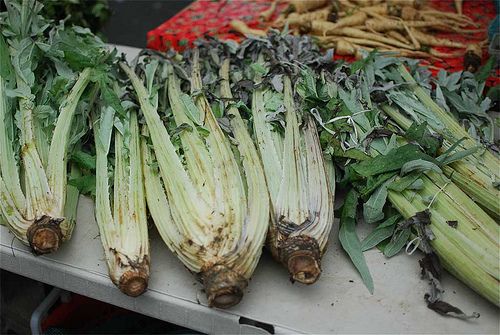 For this month's Inviting Writing, we asked you for stories of lost foods—cereals, soft drinks, cookies or foreign foods that you savored once but can no longer easily find. Today's memory comes from Susie Petitti Tilton, who works at Williams-Sonoma and has a small business baking decorated sugar cookies. She blogs about a town in Italy called Faeto where her grandparents came from—and recently heard from a man whose great-grandfather was her great-grandfather's brother. "The Internet does indeed shrink the world!" she writes. Her website is called Sweetie Petitti.
In Search of Lost Cardoons
I am the daughter and granddaughter of grocers; you could say I come from a lineage of foodies. When I was growing up, we always had the most amazing things to eat, even though we lived in a very small Iowa town. In addition to the products we sampled that came through the grocery stores, we had many relatives in Chicago, and our favorite Italian bakeries there were always on the must-visit list. We also had a garden that only an Iowa farmer could rival. I spent many summers with my dad picking beans, tomatoes, cucumbers and zucchini, among other things.
My grandparents were Italian immigrants, and I had a large extended family of great Italian cooks. One summer, my dad's Aunt Molly arrived for a visit. We were excited to enjoy her amazing biscotti (which we still call, appropriately enough, Aunt Molly Cookies), home-made ravioli and her chocolate cake. She was a beautiful woman, very tall, and  quite skilled in the kitchen. She headed out one day into our woods armed with a knife, and emerged with an arm-load of leafy greens—plants I had looked at my whole life with no idea what they were. They resembled rhubarb, but grew wild in the woods where I played. Aunt Molly called them cardoni; most would call them cardoon. She cut off the large leaves and cleaned the stringy stalks with a paring knife. I remember her dipping the stalks in egg and flour and then frying them in a pan until they were golden brown. We sprinkled salt on them and ate them as fast as she could make them. The flavor is unlike anything I have ever eaten in my life.
My whole life, I have been on a mission to find my childhood treat. I found seeds one spring—they are in the thistle family—and planted them in my garden. It was one of my first summers in the Deep South, and I was unprepared for the violent summer heat, and my cardoons did not survive. Recently, an international market opened here, and I have had a great time tasting all kinds of produce that hadn't been available before. Imagine my surprise when I was shopping one day and saw cardones. The spelling was Spanish and they were cultivated in Mexico. They didn't look like the cardoons of my childhood, which were much smaller, but I have since found there are many varieties.  Of course I bought a large bunch and headed straight to the computer. Every article and recipe I found suggested soaking or cooking the cardoon in lemon juice to remove any bitterness, and then frying or cooking them in a gratin. I don't remember the soaking step all those years ago, but Aunt Molly may very well have done this.
After cleaning the stalks with a paring knife, I peeled the largest of the fibers off the stalk, trimmed off any dark spots and cut the stalks into manageable 3-inch lengths. I soaked them in lemon juice for about four hours and then rinsed and dried them. I simply beat a few eggs and dipped the cardoon pieces in the egg, dredged them in flour and fried them in canola oil. Lots of salt is a must. Many people compare the flavor to artichokes, and they are in the same family, but I disagree. The flavor is unique. But sadly, my cardones weren't exactly Aunt Molly's Cardonis. They took me back to my childhood but were not as I remember.  A trip to my small Iowa town is on the agenda for the summer, and while my kids are picking fresh sweet corn and nibbling mulberries, I will be wandering the woods looking for cardonis, just like Aunt Molly.