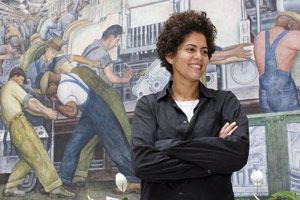 The Detroit Institute of Arts (DIA) is temporarily closed as it completes a giant project to renovate, expand and re-hang its galleries. Some works of art that won't be moved are the iconic Diego Rivera frescoes that depict the colorful mix of people, machines and brute force that built The Motor City.
But the famous works won't be left out of the museum's massive makeover. When the DIA reopens on November 23, the murals will be joined by a new work by contemporary artist Julie Mehretu, who has been commissioned to create a large-scale mural that will pose a counterpoint to those of Rivera.
Mehretu (above, in front of Rivera's murals) is a native of Ethiopia who was raised in Michigan. She is known for her complex abstractions, which incorporate graphic elements borrowed from architecture and calligraphy. Her style is El Lissitzky on LSD. Like Zaha Hadid, Mehretu excels at a whirling Constructivism that is better suited for 22nd-century Reykjavik than Vitebsk circa 1917.
Mehretu's new mural will be the highlight of "City Sitings," a larger exhibition of the artist's work that will be on view from November 23 through the spring of next year. No word on whether Mehretu will prowl the city for inspiration, as Rivera did before beginning his work in 1931, or if her work will spark similar controversy. When Rivera's murals were revealed to the public in March of 1933, angry Detroiters voiced their grievances in an indignation meeting that took "Senor Rivera" to task for his use of "Communist motifs" and one city councilman called them "a travesty on the spirit of Detroit."
Meanwhile, Rivera found that Detroit agreed with him. He took home a hefty paycheck from project underwriter Edsel Ford and working through the summer in heat that climbed to 120 degrees, he lost over 100 pounds in the 11 months it took him to complete the murals.